Rainforest, Rivers & Ruins in Belize
So much to experience, so much to do in Belize! Choose from cushy, full service lodges to multi-day expeditions camping in the rainforest; explore charming villages or ride a wild river deep in the rainforest. Jump in and create your best adventure ever in amazing Belize!

3 Days - 2 Nights
Descend ancient ceremonial caves, and climb towering Mayan temples, combined with exploring the beautiful town of San Ignacio and it's vibrant market.  
More...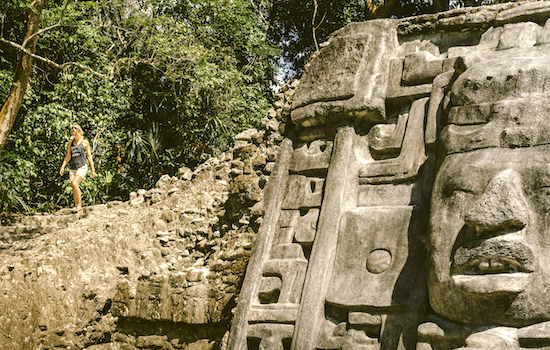 3 Days - 2 Nights    
A three day inland adventure into the Crooked Tree Wildlife Sanctuary,the New River and Mayan ruins of Lamanai.
More...
First time with Island Expeditions, but I have been on very many such trips and this company is outstanding among them.
Kathleen L.
Lighthouse Reef
Pedro and Vens were absolutely outstanding guides. They really immersed us into the Mayan culture. Our time on the Moho river was superb. Learning so much about the Mayan culture was an unexpected plus.
Glen C.
Epic Belize


We can't get over what a perfect trip we had to Glover's. The staff were all amazing in making a reality a castaway island fantasy for us. And I will never forget how many shades of blue the sky and water were while we were there. We're already dreaming of coming back!
Erica T.
Glover's Getaway