Glamping in Paradise - The Outer Atolls of Belize
If you're looking to experience the most pristine coral reefs in Belize, you'll want to include Island Expeditions' basecamps at Glover's and Lighthouse Atolls, in your travel itinerary. The Global Biodiversity Framework considers Glover's and Lighthouse Atolls as the finest examples of tropical coral reef ecosystems in the entire Western Hemisphere and that's precisely why we've established two unique basecamps at these premier locations.
Our Basecamps in Paradise
Island Expeditions' basecamps are designed to provide maximum comfort with a minimal ecological footprint. You'll be on a breathtakingly beautiful, remote island surrounded by pristine coral reefs but you won't be roughing it. At our basecamps you sleep in walk-in Tent-Cabanas with comfortable beds, there's a central bathhouse with showers and eco-friendly composting toilets. Our dining pavilion overlooking the sea, is where you'll enjoy fully catered meals, a self-serve bar and a wonderful place to gather after the day's adventures. These trips are perfect for group travel, family travel, couples and solo adventurers.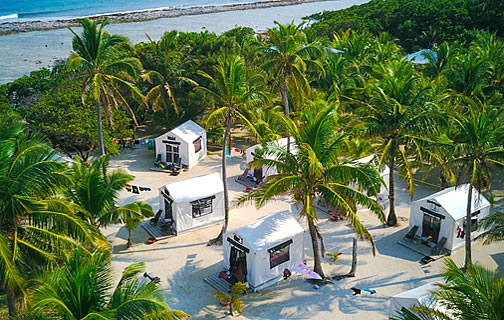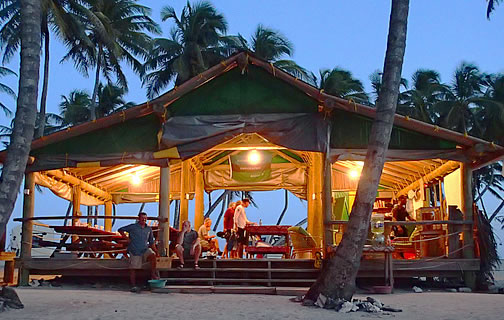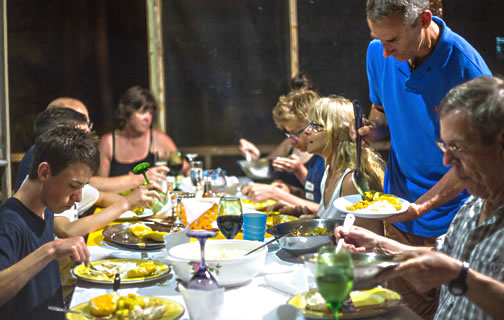 Glover's Reef Atoll
On the outer edge of the Belize Reef System, Glover's Reef is the top-rated all inclusive destination for snorkeling, Paddleboarding and diving in Belize with thousands of acres of protected coral reefs and cayes.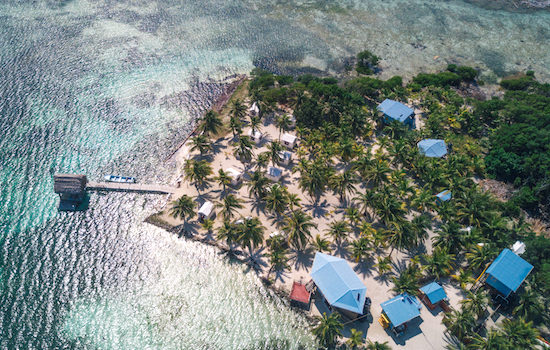 8 Days - 7 Nights    
This trip combines an inland exploration of the wild south of Belize with the opportunity to explore and stay on a remote coral atoll.  
More...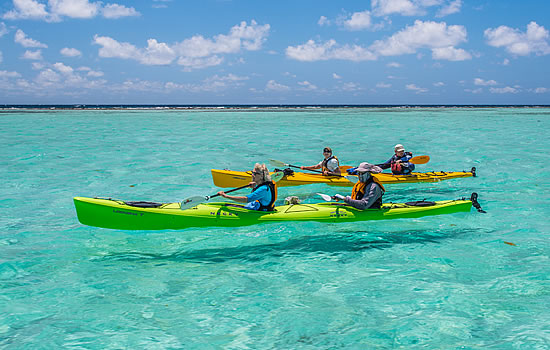 10 Days - 9 Nights
A multi sport journey taking you off-the-beaten path to rich coral reefs, jungle rainforests and remote Mayan villages.
More...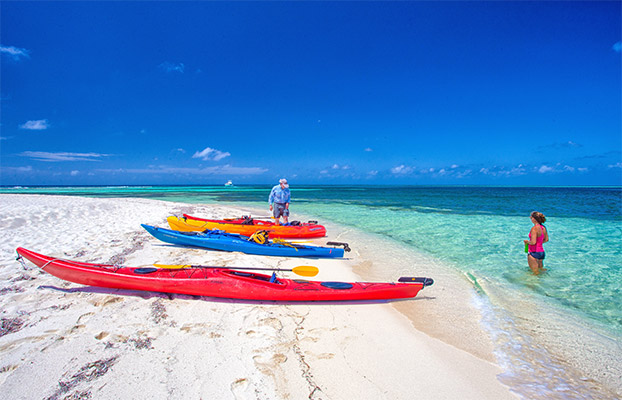 4 Days - 3 Nights or 5 Days - 4 Nights
Snorkel with the tropical fish, learn to paddleboard or sail your kayak to secluded beaches and untouched reefs.
Lighthouse Reef Atoll
Our all inclusive basecamp home on Half Moon Caye is about as perfect a tropical Island setting you could dream of, with serene beaches and awesome walk in snorkelling sites.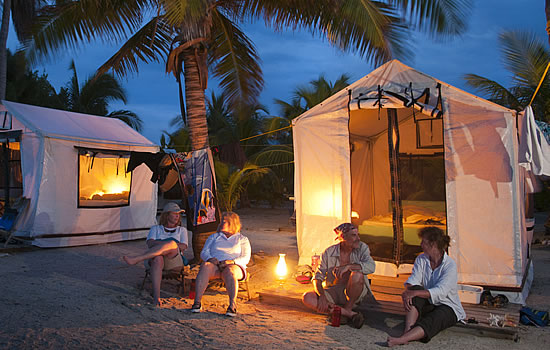 7 Days - 6 Nights or 9 Days - 8 Nights 
This trip starts with an overnight inland discovery of Crooked Tree Wildlife Sanctuary, then heads out by boat to Lighthouse Reef Atoll.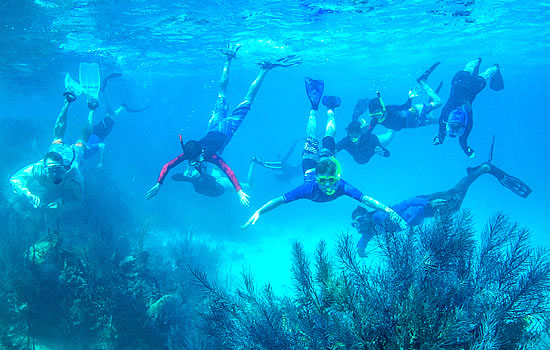 9 Days - 8 Nights    
A jewel of white sand cayes encircling Belize's richest coral reefs plus the Mayan ruins of Lamanai and the Crooked Tree Wildlife Sanctuary.
More...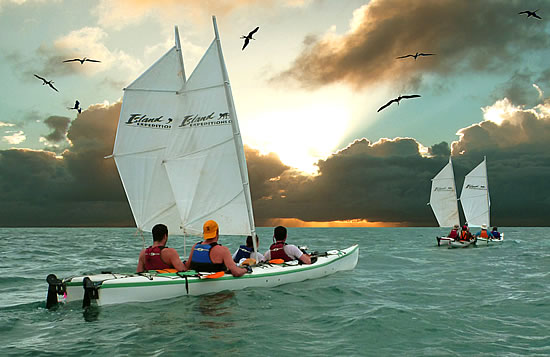 5 Days - 4 Nights    
Explore and stay on the furthest island group, at Lighthouse Reef Atoll, a protected marine park 56 miles offshore of mainland Belize.   
More...
Belize Barrier Reef
Stretching over 180 miles along the coast of Belize is the 2nd longest barrier reef in the world. This reef is part of the Caribbean's larger Mesoamerican reef that extends from Honduras to the Yucatan Peninsula. Our favorite places are in the southern region of Belize where the snorkeling is awesome, the cayes are beautiful and we enjoy the friendly island culture staying at our selection of small Belizean lodges.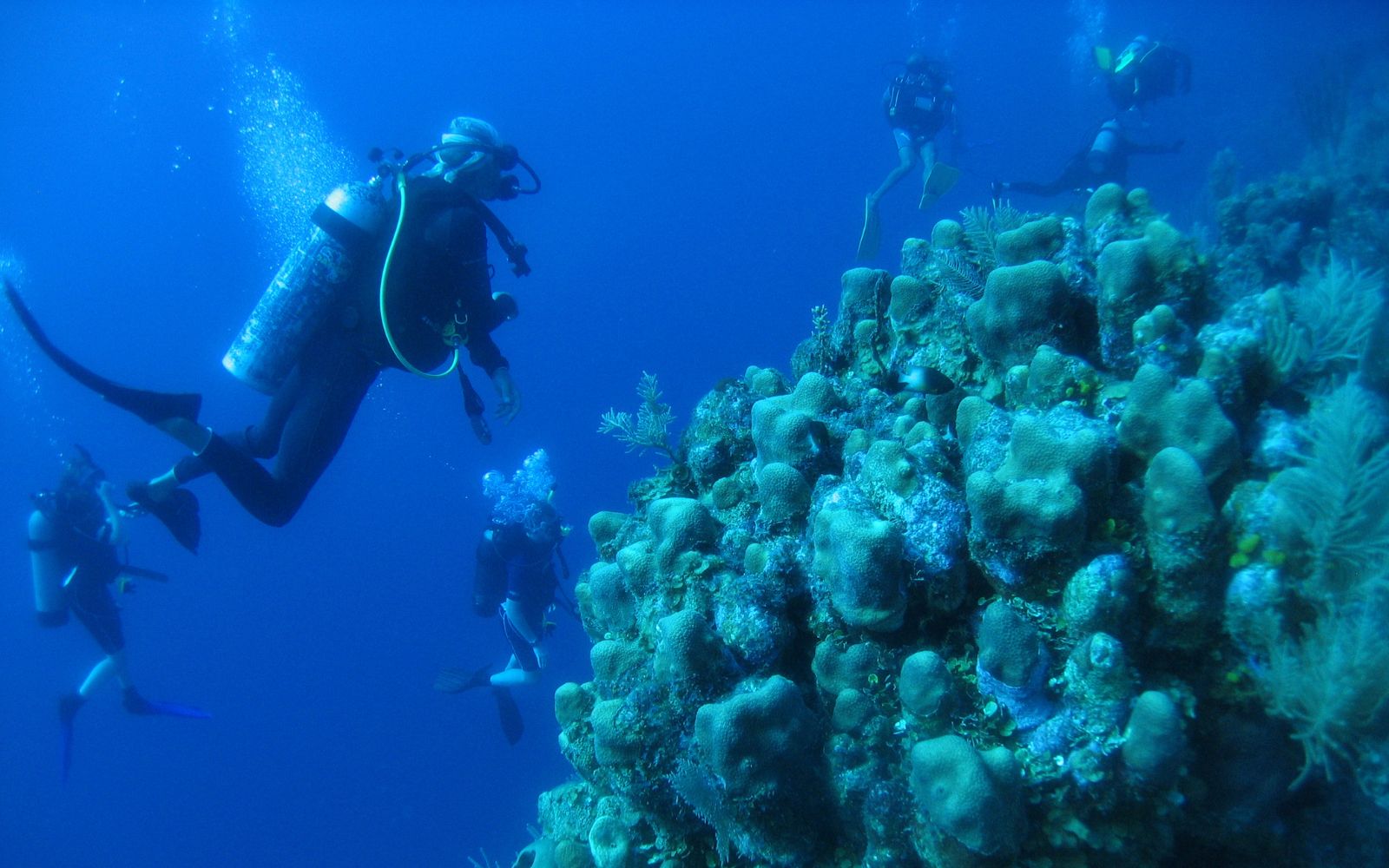 3 Night / 4 Days or 4 Night / 5 Days
A 3 or 4 Night Scuba Adventure to explore the underwater wonders of the Belize Barrier Reef  More...
Halfmoon Caye and the Island Expeditions' base camp experience is our idea of paradise. This was out tenth trip to Lighthouse . We loved it just as much this time as on our first visit.
Doug K.
Lighthouse Reef Adventure

We spent a month traveling in Belize. Glover's Reef was the high point of our experience!
Everett A.
Glover's Getaway

This was a trip of a lifetime for us! Lori and I grew up in Colorado, about as far from the ocean as you can get. Every day was a new and exciting adventure... Sailing along the reef over turquoise waters was one of the top 10 days of my life,
Paul & Lori K.
Paradise Island