Book a Trip with Island Expeditions in 3 Easy Steps!
To ensure you have a better understanding of the process in which to contact us and book a trip, we have outlined the steps involved in booking your adventure of a lifetime.
Here's how to book a trip with us:
Step 1:
Call 1-800-667-1630 or email info@islandexpeditions.com to discuss with an Island Expeditions' representative which trip is best suited for you or your group. We will confirm availability on your preferred departure.
We will work with you to make sure your international flight arrangements are organized for the proper arrival and departure dates in conjuction with your trip. Please check our flights page to ensure you are finding flights in the appropriate price range, or contact our office and we will scour our online resources to make sure you are getting the best possible fare.
Many of our guests plan extra travel in Belize, either before or after their trip with Island Expeditions. Let us know and we will be happy to provide you with some suggestions.
Step 2:
Visit our Online Booking Page once you have chosen the trip that is right for you and established that we have space on your preferred departure. Fill out the trip registration form from the following page, hosted on a secure web server:
Option 1 - Book Online
1) Click on the image below to be taken to the Island Expeditions Trip Builder, our online booking engine.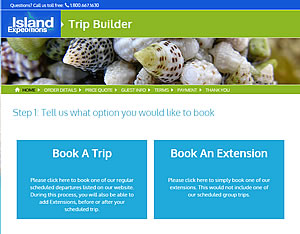 Island Expeditions Trip Builder
Online Booking Engine
PLEASE READ: This is our new online booking engine, which will allow you to book a Trip and Extensions.  Upon completion of this booking form, one of our Guest Services representatives will be in contact with you to confirm your reservation within 48hrs after you have submitted it. Please call us at 1-800-667-1630 with any questions or concerns.
Option 2 - Book by Fax
1) Click on the link to open a PDF version of our Trip Registration Form.
2) Print the document, fill in the information, sign it, and fax it to us at 1-604-894-2314.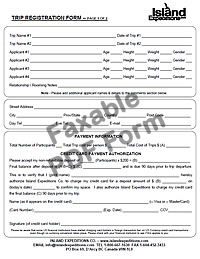 Faxable Belize Trip Registration Form 
Regular Season Departures
Faxable Belize Trip Registration Form  
Holiday Season Departures
PLEASE READ: The following form is to be opened on your computer and printed off so you can manually sign the document. Please fax the completed document to our office at 1-604-894-2314.  It is always a good idea to give us a call or email to let us know you have faxed in your form so we can confirm its receipt with you.
Please contact us at 1-800-667-1630 with any questions or concerns.
Step 3:
Purchase Cancellation Insurance within 48 hours of your reservation.  You can purchase travel medical insurance through your insurance broker, your employer's insurance provider, any licensed insurance agent/company and your credit card may offer travel insurance.  Other popular providers are CAA or AAA.
We will be in contact shortly after you submit your online form or fax your trip registration form to our office.
Reservation Process Upon Registration:
WITHIN 48 HRS - Upon receipt of your $200 deposit and a completed Belize Trip Registration Form, we will confirm your arrangements via email. Included in your trip confirmation will be a link to your Pre-Trip Information Package - complete with background information on your destination, articles on wildlife, ecology etc., as well as what to bring and how to pack. Also included in your confirmation email will be a link to your Medical Information Form and Release of Liability Waiver which you will need to complete, sign, and return to our office at least 30 days before you depart. To better facilitate last-minute bookings and groups with multiple addresses, we also have an online version of our Pre-Trip Information Package, behind the "After I Register" section of this site.
40 DAYS PRIOR TO DEPARTURE - Your Medical Information Form and Release of Liability Waiver are due to be completed and submitted to our office.
60 DAYS or 90 DAYS PRIOR TO DEPARTURE - Full payment is due 60 or 90 days prior to departure. When reserving a place on a trip within 60 days of departure, final payment is due 7 days after you receive your Trip Confirmation email.
TWO to THREE WEEKS PRIOR TO DEPARTURE - You will receive final trip rendezvous details by email.
ONE WEEK PRIOR TO DEPARTURE - We will contact you by phone to go over any last minute details, answer any questions you might have, and to ensure you are comfortable with all of the arrangements.
The Guest Experience staff in our sales and administration office is available to you as a resource for any questions regarding Belize. We do send you the link to our comprehensive Pre-Trip Information Package, outlining your arrival logistics, packing list, and other relevant information however, there are always questions that need to be answered so please feel free to contact us at anytime!
Consumer Protection Information for our Valued Customers - Please be aware that some US banks have begun charging Credit Card holders a 'Foreign Transaction Fee'.  Although no currency conversion takes place during your transaction(s) with IE, please be sure to check your credit card statements.  This recent development does not happen with all credit cards.  This surcharge, although initially appearing small, translates into a larger fee on group bookings or larger packages and on final trip payments.   Although IE has no jurisdiction regarding these fees and how they are implemented , we feel it is important that our customers are aware of the fine print on their credit cards before selecting which card to use in the payment process.  Please contact your financial institution to see if this new fee applies to whichever card you intend to use on your authorization/registration form.
We are specifically aware that these charges appear when customers use some of the low or no fee credit cards from the following banks - Associated Bank, Bank of America, Citibank, and Fidelity Investments.  

In some cases these charges are deceptively displayed on the statement as paid directly to Island Expeditions Ltd

. Please contact us directly if you would like to report a card, make alternative payment arrangements, or if you have any questions.
Office Resources
To begin the process, all you need do is call and talk with an Island Expeditions' travel representative and you are on your way to a world of adventure.

The following resources are available to help you choose your trip and ensure you are properly prepared for your vacation in Belize:
Reservation staff that have first-hand knowledge of IE trips and all aspects of travel in Belize.
Special online resources to ensure you are getting the absolute best airfares to Belize from any major city in North America.
Detailed trip itineraries describing the day-by-day activities and accommodations on each trip.
Assistance and advice from our experienced reservation staff for planning independent travel before or after your IE trip.