Where are the best beaches in Belize? The best snorkeling?  Where are the Rainforests and Mayan ruins?  Where do you want to stay? 
It's easy to see on any Map of Belize that the country has a long stretch of coastline along the Caribbean Sea, with distinctive offshore barrier reefs and hundreds of small islands or cayes. Belize has always been known for its spectacular corals and abundant marine life.  Many people are not aware that there are no coral reefs directly off the coast of the mainland.  One has to travel east of the mainland to the barrier reef or the atolls to find the turquoise clear waters and abundant coral reefs. Not surprisingly, the Belize Barrier Reef is a choice destination for those interested in snorkeling, kayaking, fishing, and scuba diving.
Belize, also has significant areas of undisturbed wetlands, Caribbean pine forests, and rainforests, all of which provide ideal habitat for healthy and diverse populations of wildlife.   With over 35% of the landmass under some form of conservation protection, Belize surpasses all other countries in Central America for protected lands.
Great archaeological sites to visit include the ruins of ancient Mayan cities such as Lamanai, located to the northwest of Belize City, and Altun Ha, situated 31 miles north of Belize City. Other sites of interest to mark on your Belize map would be the ATM Caves, Chechem Ha caves, Xunantunich and the ruins of Lubaantun in the far south. A visit to a Mayan site should be a part of any Belize vacation
Belize Trips & Special Offers
Island Expeditions offers a wide range of package tours in Belize.  From safe, fun family vacations to snorkeling and rainforest adventures, we have tour packages to suit everyone.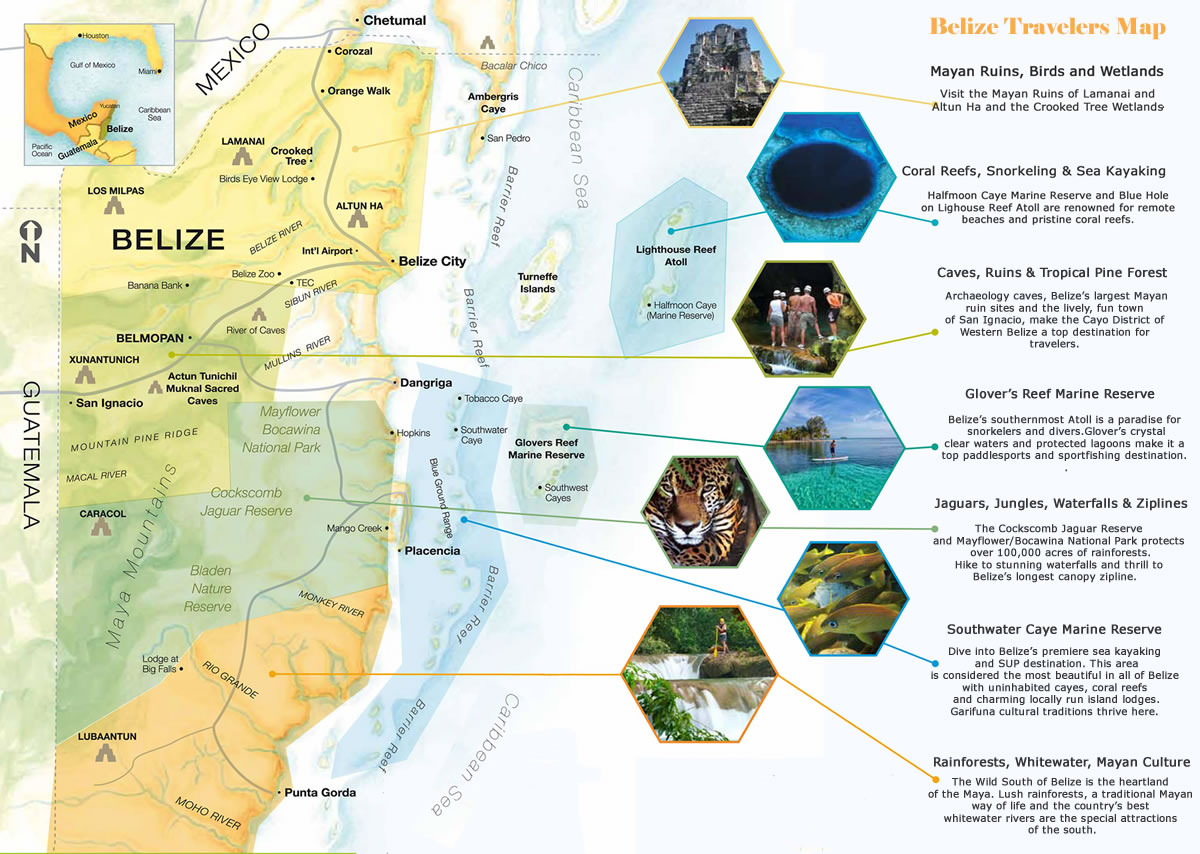 Explore Island Expeditions Adventure Tour Packages: 
Belize Atolls & Barrier Reef Tours:  12 different tours to choose from, ranging from 4 to 9 days.  Choose from sea kayaking & snorkeling in the most famous Marine Reserve in Belize to Diving, Snorkeling, Kayaking & Paddleboarding on remote reefs.   

Rainforest Rivers & Ruins Tours:  Choose from 9 tours lasting from 3 to 10 days. Explore rainforest canopies, Bocawina National Park, a jaguar reserve, Mayan temples or spectacular caves.  
Unsure where to go?  Check our our suggestions of the top places to go in Belize
Yes - at Island Expeditions we also can create the perfect Belize group tours. 
If you haven't been to Belize with us yet and are looking to go but not sure where to start, check out our Trip Specials page, we've got lots of last-minute deals here.