Experience the beauty of Glover's Reef, with a week Kayak Rental on the Belize Barrier Reef
Duration:
When:
Weekly, November through April
Group size:
6-22 people per trip. 2-6 guides per trip.
Accommodations:
Dangriga Hotel, Glover's Reef Basecamp, Expedition Camping on the Cayes
Activities:
Swimming
Stand-up Paddle Boarding
Sea Kayaking (Paddling)
Sea Kayak Sailing
Scuba Diving
Fishing
Price: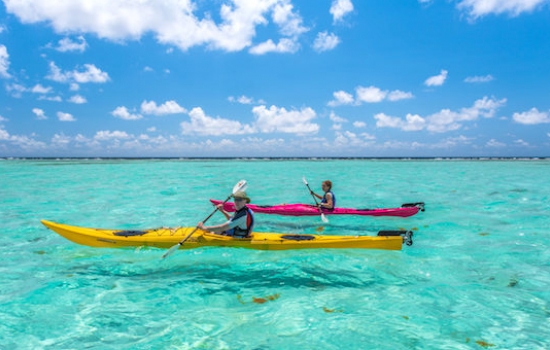 About the Trip
Glover's Getaway & Kayak Rental Combo
$1160US + $125 Local Taxes & Fees Single Boat
$1110US + $125 Local Taxes & Fees Double Boat
$1330Cdn + $165 Local Taxes & Fees Single Boat
$1280Cdn + $165 Local Taxes & Fees Double Boat
The Glover's Getaway and Kayak Rental Combo combines a self guided kayaking trip on Belize's Southern Barrier Reef with a Basecamp adventure on Glover's Reef Atoll, a protected marine park and UN world heritage site thirty-six miles off the shore of mainland Belize. 
This trip is ideal for experienced paddlers wanting the independence of self-guided paddling, with the opportunity to explore and stay on one of Belize's remote coral atolls.
Four days at a unique Basecamp on Glover's Southwater Caye, a remote 13 acre island. Sleep in comfortable tent-walled cabanas and dine on fresh seafood, tropical fruit and local fare. 
Kayak, SUP and snorkel amongst Glover's tropical islands and 700 patch reefs. 
Five days of self-guided kayak exploration. Includes kayaks, gear and transportation to your start point, as well as assistance and guidance with route and trip planning. 
Day 1
Accomodation:
Dangriga Guesthouse
Meals:
Dinner is not included on this night
You will need a Provision Day to prepare for your paddling adventure. Arrive in Dangriga and take a short cab ride to your hotel for the night. Check into your room, before heading over to the Island Expeditions' Operations Base. Our friendly staff will help you prepare for your self-guided trip. They will also offer pointers on shopping for dry goods, and provide you with a vegetable order list for your Wednesday boat run.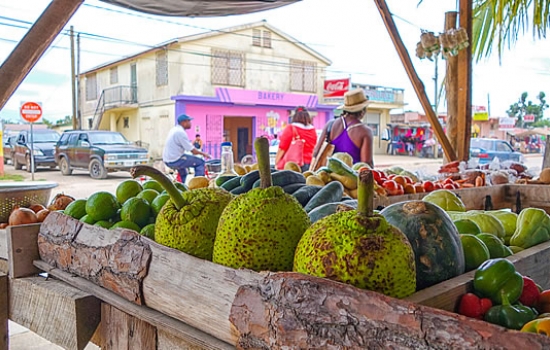 Day 2
Accomodation:
Glover's Reef Basecamp
Meals:
Breakfast, Lunch, Dinner
Depart early morning by charter boat to our Southwest Caye Basecamp on Glover's Reef Marine Reserve. Upon arrival, you'll be able to settle into your ocean view tent cabanas before meeting your guides for some professional kayaking and snorkeling instruction. 

Due to the isolation from the mainland, the waters are exceptionally clear with a fabulously rich reef system. We spend days exploring the atoll with both single and double kayaks, some of which are rigged for sailing. Glover's is one of only four atolls in the Caribbean Sea and is home to 700 patch reefs and snorkel sites.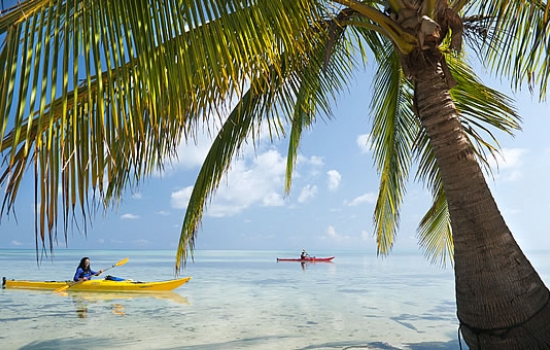 Days 3-5
Accomodation:
Glover's Reef Basecamp
Meals:
Breakfast & Lunch
For our last morning at Glover's Reef the choice is yours; you may choose to don a mask, snorkel, and fins for a final visit to your favorite coral reef, or fly fish on the flats with your most productive Bonefish fly. After lunch a motorboat charter will pick up the group for a return trip to Dangriga. On the charter back from Glover's Reef, you'll be dropped off at Tobacco Caye on the Southern Barrier Reef. Your gear, food, water, and kayaks will be awaiting you, and from this point you can begin your own self-guided adventure. You'll be entirely responsible for planning your route and activities, and making decisions regarding safety. There will be no guides, meals, or lodging provided for this portion of your trip.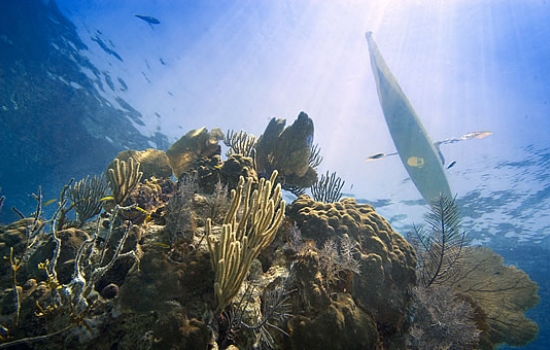 Days 5-9
Accomodation:
Camping
Meals:
N/A
Each day, choose how active you wish to be, how far you would like to travel, and which island you wish to camp on. Sea kayak to nearby patch reefs, paddle to a nearby island resort for a cold beverage, or drag a fishing line near a local patch reef to see what bites your hook - the choice is yours. 

Before heading to the cayes our staff will review your intended camps, and let you know where the best spots are for fishing and snorkeling in any given area. On your last day, you can either paddle back to Dangriga or pre-arrange for a motorboat charter to take you back to the mainland. 

Our Dangriga Operations Base is open daily from 8am to 5pm. We are available by VHF Radio and phone during these hours. The base serves as a place to log itinerary changes, and can provide daily weather reports. You may also call if you require support.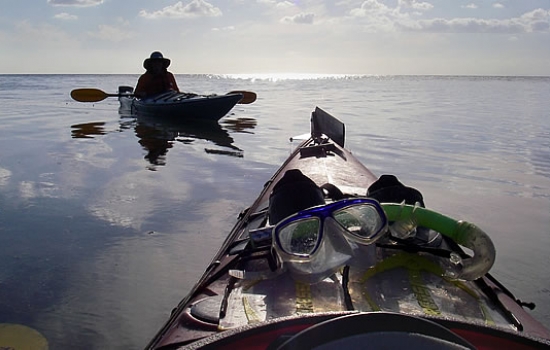 About the Route
Glover's Reef Atoll
Thirty Six miles offshore lie a group of tropical islands, cradled with a turquoise lagoon and surrounded by a living coral reef.
Glover's Reef Atoll, considered one of the richest tropical marine environments in the entire Caribbean is protected as a Marine Reserve and is a designated a UNESCO World Heritage Site. The Atoll is 32 km long by 12 km wide, encompassing a turquoise clear shallow lagoon with an estimated 850 coral heads and pinnacles rising to the surface. On the eastern edge of the atoll, five post-card perfect sand cayes, fringed with coconut palms lie atop the reef crest. The prevailing NE Trade winds blow across hundreds of miles of open sea before reaching the atoll where the swells break and dissipate in foaming white surf. This east wall of the atoll is breached in three places by channels, allowing for a tidal flow of water into the lagoon that sustains one of the most diverse coral ecosystems in the Caribbean.
At our basecamp perched on the white sand shores of Southwest Caye - with stunning views facing east over the main reef crest and the open Caribbean Sea - we are ideally located for snorkelling, sea kayaking and kayak sailing, diving and fishing. Led by guides who are skilled naturalists, fishermen and kayakers, your experience at Glover's is a blend of adventure, island culture, tropical vacation and learning. The remarkable abundance of life and the complex, simple beauty of this richest of tropical marine environments leaves its mark on all those who are fortunate enough to visit.
The Belize Barrier Reef
Off the coast of Belize lies a biological gem among the world's tropical marine habitats. 
Extending north and south for one hundred and eighty miles the barrier reef offshore of Belize is considered the most diverse section of the entire Mesoamerican Reef system. The Belize Reef is unmatched for snorkelling, sea kayaking and diving with an incredible diversity of corals and an abundance of tropical fish. Our area of exploration is within the Southwater Caye Marine Reserve and UNESCO World Heritage Site. We travel from caye to caye by sea kayak, staying at small, family-run lodges, soaking in the easy-going, friendly Belizean character and each day venturing out to explore the magic and beauty of this tropical marine wilderness.
In Belize, we find a continuous reef structure running the length of the country and paralleling the coast. From the mainland coast, the reef cannot be seen; it lies 10 to 20 miles offshore. Travelling east from the mainland, the reef first becomes visible as a line of white surf crashing over the reef crest, with blue sea to the outside marking the deeper habitat of the fore reef. Approaching closer, we first enter the reef's lagoon; a shallow area of turquoise waters, brilliant white sand flats and waving beds of turtle grass and corals.  Cuts or breaks in the outside reef are common; this is where wave action cuts out channels into the lagoon which serve as navigation routes to and from the open sea. Shielding the coast of Belize from the full force of the sea, the barrier reef is a unique example of a living community of coral animals that has profoundly changed geography. Sheltered behind this living reef, small cayes (islands) of coral-sand form and in the sheltered lagoons mangroves thrive. The mangrove's submerged roots trap sediments, which create important habitat for juvenile fish, countless marine invertebrates and a rich array of seabirds.