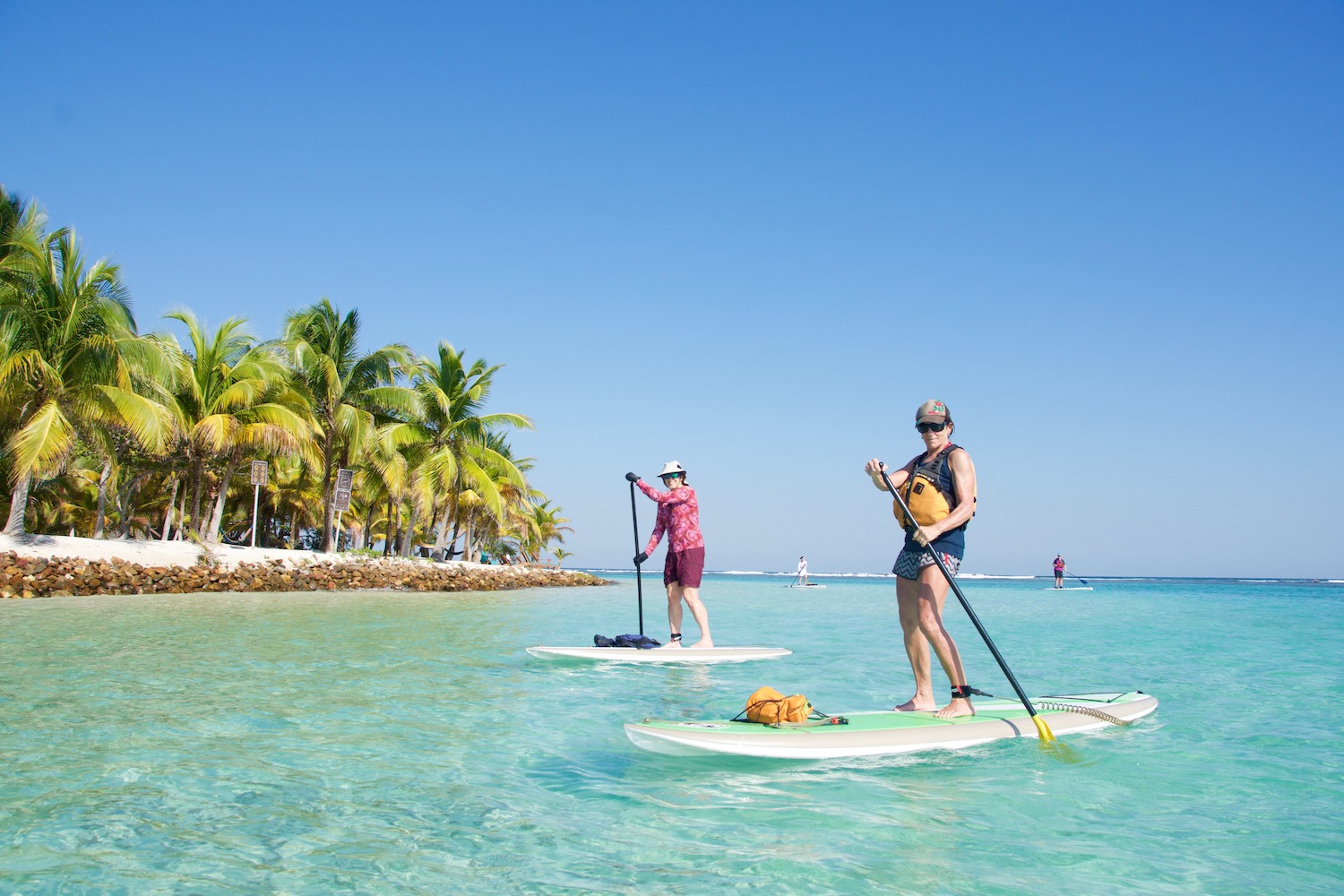 We are delighted to see Belize and our SUP trips featured in this recent Lonely Planet article as one of the "9 best places for long-distance SUP adventures". The article highlights our stand-up paddleboarding trips in the beautiful Southwater Caye Marine Reserve. The Coral Islands SUP trip is the ultimate lodge to lodge paddleboard experience created with SUP master instructor, Norm Hann.
We are also thrilled to see Norm's Great Bear Rainforest SUP trip featured in the article. During the summer months, Norm specializes in offering SUP and eco adventures trips to the Great Bear Rainforest on the remote north coast of British Columbia, Canada.
"...Whether you're after challenging river rides through sharply-hewn canyons, or leisurely quests through virgin rainforests, secluded beaches and tropical lagoons, these nine long-distance stand-up paddle boarding (SUP) destinations promise epic adventures and the kind of fresh perspectives that only a SUP can provide. After all, SUP has not only proven itself to be one of the world's fastest-growing sports, but also a meditative mode of exploration."
" ...Southwater Caye, Belize. You'll have to travel off the coast of the small Central American nation of Belize to experience one of the world's only lodge-to-lodge SUP tours. Island Expeditions offers a six-day trip between the palm-draped islets of Tobacco Caye, Billy Hawk Caye and Southwater Caye. Paddle by day over the Belize Barrier Reef – part of the second-largest coral system in the world after the Great Barrier Reef in Australia – exploring sheltered lagoons, narrow mangrove channels and crystalline waters ripe for snorkelling. Then hop into a hammock to watch the sunset each night from a family-run lodge…"  9 best places for long-distance SUP adventures - Article by Mark Johanson - Lonely Planet (read the full article)
Join us in Belize on a SUP adventure of a lifetime!
We offer two dedicated Belize paddleboard trips. 
For this upcoming season of winter 2020, we still have spots available on the March 7 and April 4 Coral Islands SUP trip. 
The Coral Islands SUP trip with Norm Hann is sold out, but you can join Norm on the Glover's SUP Adventure & Skills Camp with Norm Hann on Feb 5.
We also offer paddleboarding as part of our daily guided activities on these trips:
Find out more about Stand Up Paddle Boarding in Belize in this video:
Do you need help planning your Belize vacation?
Connect with one of our knowledgeable Trip Planners who would be happy to plan or review your Belize itinerary. Contact us at 1-800-667-1630 or email: info@islandexpeditions.com
Related Posts
WestJet Magazine - Dan Rubinstein. "Exploring Belize On a Stand-Up Paddleboard"
Belize Paddleboard Trip: Glover's SUP Adventure and Skills Camp with Norm Hann
Norm Hann: Paddling with Passion in Belize
Belize Coral Islands SUP with Norm Hann Expeditions: 2019 In Photos
Norm Hann: Paddling in Belize - Why I love Glover's Atoll
SUP in Belize: One of the Best Places to Paddleboard on Earth