Bring your SUP skills to another level at Glover's Reef Atoll with a 4 day Tropical SUP Adventure with Norm Hann
Duration:
Group size:
6-15 people per trip. 1-2 guides per trip.
Accommodations:
Glovers Reef Basecamp on Southwest Caye
Activities:
Swimming
Stand-up Paddle Boarding
Snorkeling
Sea Kayaking (Paddling)
Sea Kayak Sailing
Fishing
Extensions:
Rainforest Canopy Extension, Cayo Caves & Temples Extension or the Maya World Extension. Visit our
combining trips page
for more suggestions and info.
Price: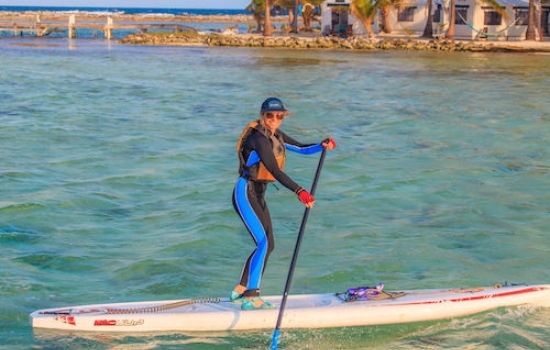 About the Trip
Discover the magic of Stand Up Paddling in tropical waters. Take a break from winter and elevate your SUP paddling to an exciting new level with accomplished coach, SUP instructor and expedition paddler Norm Hann. Glover's is a protected marine park and a UN World Heritage Site and one of Belize's most pristine and wild marine habitats. These coral reefs and islands are located thirty-six miles offshore of mainland Belize. For this special departure, our focus will be on SUP. Learn, explore, paddle and snorkel among the turquoise lagoons and rich coral reefs. Stay at Glover's Reef Basecamp on Southwest Caye, where you will sleep in comfortable, safari-style tent cabanas and dine on fresh fish and local cuisine.
Day 1
Accomodation:
Glover's Reef Basecamp
Meals:
Lunch, Dinner
We travel by water taxi beyond the main Barrier Reef to our private Basecamp on Southwest Caye within Glover's Reef Marine Reserve.  We depart from Dangriga at approximately 8am and typically arrive at Southwest Caye before 10am. Guides introduce you to your new environment and you'll have time to settle into your tent cabana and enjoy a swim before lunch.  After lunch, Norm conducts a flat-water skills workshop followed by an intro from your Belizean guides to snorkeling the coral reefs.  Enjoy an evening paddle around Southwest Caye before dinner.  Our talk this evening focuses on hydration and nutrition for paddling.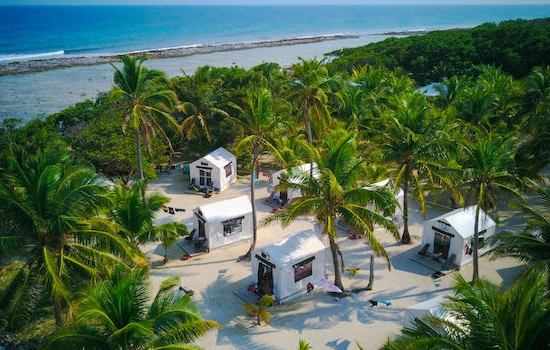 Day 2
Accomodation:
Glover's Reef Basecamp
Meals:
Breakfast, Lunch, Dinner
With the Caribbean Sea just steps from your tent cabana, why not start your day with an early swim.  Before heading out on the water we begin with a warm-up stretch and movement – then to the water!  Today, our route parallels the inside reef crest, shallow waters that are rich in coral reefs and marine life.  Return to camp for a delicious lunch and chill time before we get back on the water.  In the afternoon we focus on board control in different conditions and downwind techniques.  At some point in the day, either from the boards or the support boat, we have the chance to snorkel among the coral reefs.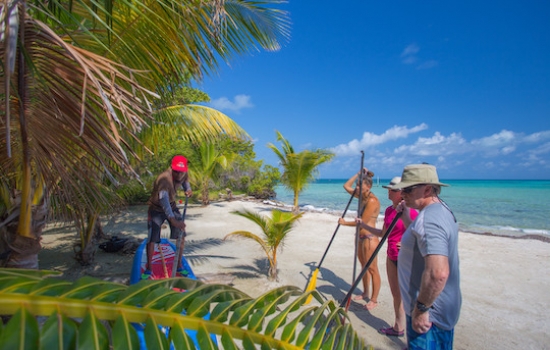 Day 3
Accomodation:
Glover's Reef Basecamp
Meals:
Breakfast, Lunch, Dinner
For those who like to rise early, we have a first-light fishing mission in the skiff where you can try your hand at Belizean style hand-line fishing.  Snapper, barracuda, jacks or grouper can be on the menu.  After our warm-up stretch we'll have a chance to review the core strokes and board control, then our support boat takes us along the reef crest to the northern section of the atoll where we have a chance for a downwind paddle back to our base on Southwest Caye.  This is a full day on the water with lots of variety of paddling and some great snorkeling.  You'll come back to base tired and satisfied.  Enjoy a cold beer, relax in a hammock or have a nap before dinner.  Our after dinner session focuses on gear choices, outfitting your SUP and introduces the concept of multi-day SUP trips.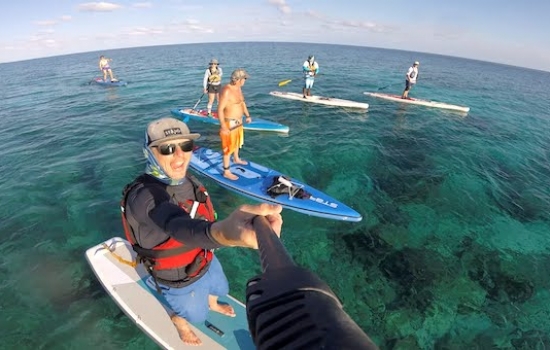 Day 4
Accomodation:
n/a
Meals:
Breakfast
Early coffee and fruit and then join Norm for a paddle as the sun rises over the Caribbean.  For your last morning on the reef, you may choose to don a mask, snorkel, and fins for a final visit to your favorite coral reef, or enjoy a paddle before our motor charter arrives to transport you back to the mainland.  Arrival back in Dangriga is approximately 1:30 to 2:30 pm.
Travel note: For travelers who will be leaving Belize the following day and would like assistance with arrangements please ask us about our Flight & Hotel Packages.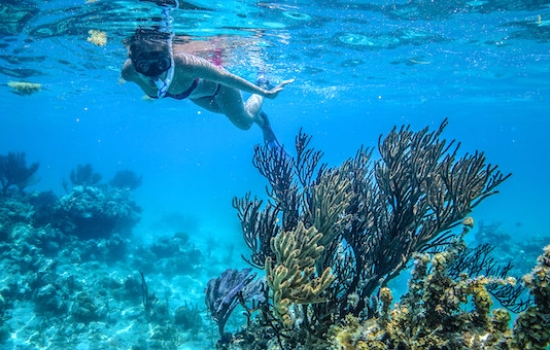 About the Route
Glover's Atoll - One of three coral atolls offshore of Belize, Glover's Reef was named after the English pirate John Glover, who used this remote offshore ring of islands and coral reefs as a base from which to raid Spanish merchant ships during the 17th century.
Today, the attractions found within the atoll (20 miles long by 7 miles wide) are the incredible clarity of the water and the remarkable profusion of marine life. In 1993, the atoll was declared a marine park.  To further efforts to protect this extraordinary environment, the atoll was designated as a World Heritage Site in 1996.  We travel and explore this extraordinary area from our fully-equipped Basecamp by sea-kayak, paddling and sailing the shallow 82 square mile lagoon with over 700 patch reefs. The reefs of Belize have long been known as the richest and most developed in the Caribbean, and Glover's is the best in Belize!
Glover's Reef Atoll
Thirty six miles offshore lie a group of tropical islands, cradled within a turquoise lagoon and surrounded by a living coral reef.
Glover's Reef Atoll, considered one of the richest tropical marine environments in the entire Caribbean is protected as a Marine Reserve and is a designated a UNESCO World Heritage Site. The Atoll is 32 km long by 12 km wide, encompassing a turquoise clear shallow lagoon with an estimated 850 coral heads and pinnacles rising to the surface. On the eastern edge of the atoll five postcard perfect sand cayes, fringed with coconut palms, lie atop the reef crest. The prevailing NE Trade winds blow across hundreds of miles of open sea before reaching the atoll where the swells break and dissipate in foaming white surf. This eastern wall of the atoll is breached in three places by channels, allowing for a tidal flow of water into the lagoon that sustains one of the most diverse coral ecosystems in the Caribbean.
At our Basecamp perched on the white sand shores of Southwest Caye, with stunning views facing east over the main reef crest and the open Caribbean Sea, we are ideally located for snorkeling, SUP, sea kayaking and kayak sailing, diving and fishing. Led by guides who are skilled naturalists and fishermen, marine biologists and kayakers, your experience at Glover's is a blend of adventure, island culture, tropical vacation and learning. The remarkable abundance of life and the complex yet simple beauty of this richest of tropical marine environments leaves its mark on all those who are fortunate enough to visit.