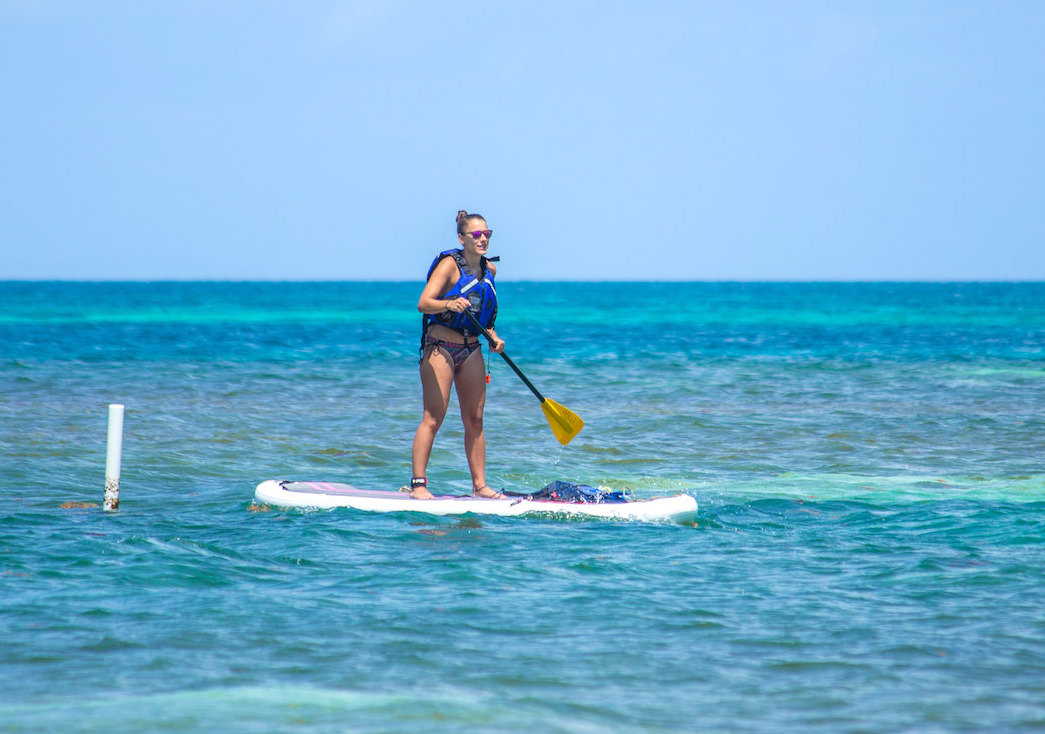 Norm Hann, one of North America's leading master Stand Up Paddleboard (SUP) instructors and a pioneer in the paddleboarding industry will be joining us for his 6th year in Belize.
Norm will be leading the Glover's SUP Adventure and Skills Camp from Feb 5-9, 2020. Norm brings his lifetime of coaching, teaching and guiding experience to help you bring your paddle boarding skills to the next level.
As well as this special trip departure at our Glover's Reef basecamp, Norm will be leading the Coral Islands SUP trip on select dates throughout the winter.
We wanted to share this blog by Norm that highlights a few of his favourite aspects of the Glover's Reef SUP Adventure and Skills Camp.
Paddling in Belize: Why I love Glover's Atoll
I am excited to be heading back down to Belize again for our 6th year running paddleboarding trips with Island Expeditions. Last year was our first year paddling out at Glovers Atoll.
This trip is a little bit different than our Coral Islands Trip. The highlights for me are:
Paddling on an atoll, one of three in Belize. Glover's Atoll is a Unesco World Heritage site, one of the richest marine environments in all of the Caribbean. This atoll sits another 45 min boat ride off the barrier reef where our Coral Islands trip takes place and is absolutely spectacular.


Wilderness Tent Base Camp with sunrise yoga sessions to start the day. The base camp gives me more of a family and team feeling to the experience with our small group numbers and outstanding staff. The Island Expeditions Team out at Glover's is incredible, all of them are really special people.


The opportunity for some paddle surfing if the wind swell conditions line up. This environment allows for some really good sup skills building and if your and experienced paddler you will enjoy the challenge.


I enjoy the cultural depth to this trip. Guests take part in a fun, cultural night of dancing and drumming. The Belizean guides, lifelong fisherman, dive and catch local food like lobster and conch. One of my most memorable experiences on Glover's was actually not paddling it was diving and hunting the west wall of the Atoll. We caught our food, and then brought it home to have it cooked up by the amazing women in the kitchen. A very unique experience.


Glover's basecamp is a great spot for families. I was happy to have my partner Jen and our five year old son Kiel there last year and it was really well set up for a family experience. The staff were phenomenal with Kiel and it was safe, environment for Kiel to enjoy and learn in.
These are just a few of my highlights out there. All I can say is that Glover's is a very unique experience and if you have already done our Coral Islands trip you would love it out here. We are running a 3 night 4 day trip from Feb 2-5th and then our 4 night  5 day trip. We have details on the website and you can reach out if you have any questions about the trip.
Here are a few of the shots from last years trip:
"Miami Beach" south end of Glover's Atoll
Our Wilderness Tent Base Camp
Jackie enjoying the magnificent waters of the atoll.
Our top notch Belizean guides, Rue, Budge and Byron.
Kiel enjoying his own board.
 
About Norm Hann Expeditions
As an early pioneer of the sport in Canada, Norm started paddleboarding and quickly used SUP to explore the British Columbia coast and soon started leading multi day SUP trips to the Great Bear Rainforest as part of his expedition and training company, Norm Hann Expeditions. Norm is a global athlete ambassador with Boardworks Surf and Kokatat and is a Paddle Canada SUP Instructor trainer who has taught and shared the sport with thousands of people in Canada and internationally through his courses and training programs.
Find out more about our other Belize paddle boarding trips with Norm Hann:
Coral Islands SUP Trip
The Coral Islands SUP is a 6-night trip and is the only lodge to lodge SUP and snorkeling journey in Belize. It's an amazing opportunity to elevate your SUP skills to the next level with instruction and coaching from elite paddleboard instructor, Norm Hann. 
Join us on a Belize Paddleboarding Adventure Vacation this Winter
Contact us at 1-800-667-1630 or email: info@islandexpeditions.com for more information on our Belize SUP trips with Norm Hann.