Snorkel and paddle Glover's Reef Atoll - a four day safari-style Basecamp adventure
Duration:
When:
Weekly, November through April
Group size:
6-24 people per trip. 2-6 guides per trip.
Accommodations:
Glover's Reef Basecamp on Southwest Caye
Activities:
Stand-up Paddle Boarding
Snorkeling
Sea Kayaking (Paddling)
Sea Kayak Sailing
Scuba Diving
Yoga
Price: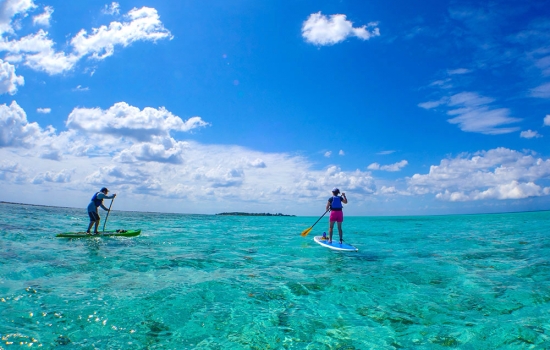 About the Trip
The Glover's Getaway is a 4 day adventure on remote Glover's Reef Atoll, a protected marine park and designated world heritage site thirty-six miles off the shore of mainland Belize.   

Perfect for active families and couples of mixed abilities, this adventure Basecamp offers flexibility and choices in daily guided activities, so traveling companions can do things together or separately. Ideal for those wanting a shorter island Basecamp adventure; combines well with independent travel. Spend 4 Days at a unique, Island Basecamp on Southwest Caye, a remote 13 acre island. Sleep in comfortable tent-walled cabanas and dine on fresh seafood, tropical fruit and local fare. Kayak, SUP and snorkel amongst Glover's tropical islands and 700 patch reefs. 
Special Departure Available on this trip from Feb 2-5, 2020: Glover's SUP Adventure & Skills Camp with Norm Hann 
Day 1
Accomodation:
Glover's Reef Basecamp on Southwest Caye
Meals:
Lunch & Dinner
You'll travel by water taxi beyond the main Barrier Reef to our remote Basecamp on Southwest Caye within Glover's Reef Marine Reserve. We depart from Dangriga at approximately 8 am and typically arrive at Southwest Caye before 10 am. Your guides will introduce you to your new environment and you'll have time to settle into your tent cabana. You'll receive professional instruction, learning the fundamentals of sea kayaking, snorkeling, and tropical water safety. Then you'll paddle to a nearby patch reef and begin exploring some of the 700 snorkel sites that Glover's Atoll has to offer.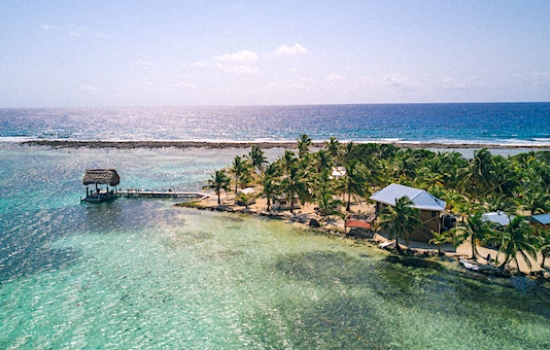 Days 2-3
Accomodation:
Glover's Reef Basecamp on Southwest Caye
Meals:
Breakfast, Lunch & Dinner
Consider starting your day with an early swim or participate in a sunrise yoga session with our resident yoga instructors (yoga is not available on all departures - please check our website or call for a current schedule of trips with yoga instructors). Our itinerary is kept flexible in order to respond to the desires and abilities of both groups and individuals. Activities on days 2 & 3 include: sea kayaking, snorkeling the inner and outer walls of the reef, and learning to sail a kayak. In the mornings and the evenings we host informative sessions on a range of topics - providing an opportunity for guides to share their knowledge of Belize, the marine environments, and local culture. Try your luck in a high stakes game of Hermit Crab racing to finish the day! You always have the choice of just relaxing in a hammock with a good book and a cold beverage.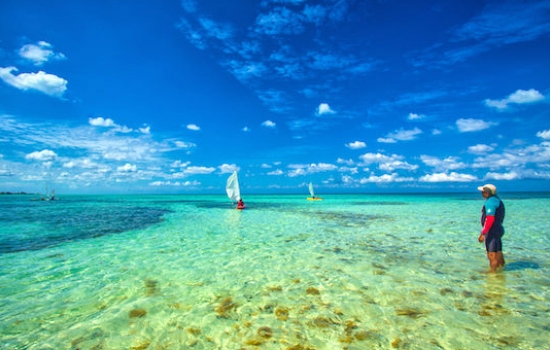 Day 4
Accomodation:
Glover's Reef Basecamp on Southwest Caye
Meals:
Breakfast & Lunch
For your last morning on Glover's Reef the choice is yours. You may choose to don a mask, snorkel, and fins for a final visit to your favorite coral reef, or fly fish on the flats before a motor charter arrives to transport you back to the mainland. Arrival in Dangriga is at approximately 1:30 to 2:30 pm.
If you would like assistance with your travel arrangements from this point please let us know and be sure to ask us about our Flight & Hotel Packages.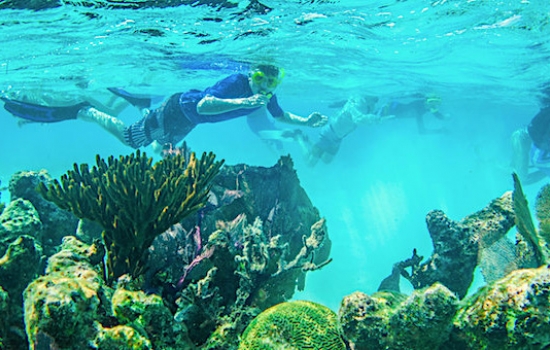 Setting
Glover's Reef Atoll
Thirty six miles offshore lie a group of tropical islands, cradled within a turquoise lagoon and surrounded by a living coral reef.
Glover's Reef Atoll, considered one of the richest tropical marine environments in the entire Caribbean is protected as a Marine Reserve and is a designated a UNESCO World Heritage Site. The Atoll is 32 km long by 12 km wide, encompassing a turquoise clear shallow lagoon with an estimated 850 coral heads and pinnacles rising to the surface. On the eastern edge of the atoll, five post-card perfect sand cayes, fringed with coconut palms lie atop the reef crest. The prevailing NE Trade winds blow across hundreds of miles of open sea before reaching the atoll where the swells break and dissipate in foaming white surf. This east wall of the atoll is breached in three places by channels, allowing for a tidal flow of water into the lagoon that sustains one of the most diverse coral ecosystems in the Caribbean.
At our Basecamp perched on the white sand shores of Southwest Caye - with stunning views facing east over the main reef crest and the open Caribbean Sea - we are ideally located for snorkelling, SUP, sea kayaking and kayak sailing, diving and fishing. Led by guides who are skilled naturalists and fishermen, marine biologists and kayakers, your experience at Glover's is a blend of adventure, island culture, tropical vacation and learning. The remarkable abundance of life and the complex, simple beauty of this richest of tropical marine environments leaves its mark on all those who are fortunate enough to visit.
About the Route
Glover's Atoll - One of three coral atolls offshore of Belize, Glover's Reef was named after the English pirate John Glover who used this remote offshore ring of islands and coral reefs as a base from which to raid Spanish merchant ships during the 17th century.
Today, the attractions found within the atoll (20 miles long by 7 miles wide) are the incredible clarity of the water and the remarkable profusion of marine life. In 1993, the atoll was declared a marine park and to further efforts to protect this extraordinary environment, the atoll was designated as a World Heritage Site, in 1996. We travel and explore this extraordinary area from our fully-equipped basecamp by sea-kayak, paddling and sailing the shallow 82 square mile lagoon with over 700 patch reefs. The reefs of Belize have long been known as the richest and most developed in the Caribbean, and Glover's is the best in Belize!