Considered one of the world's best destinations for scuba diving, and recently recognized for its amazing dive sites.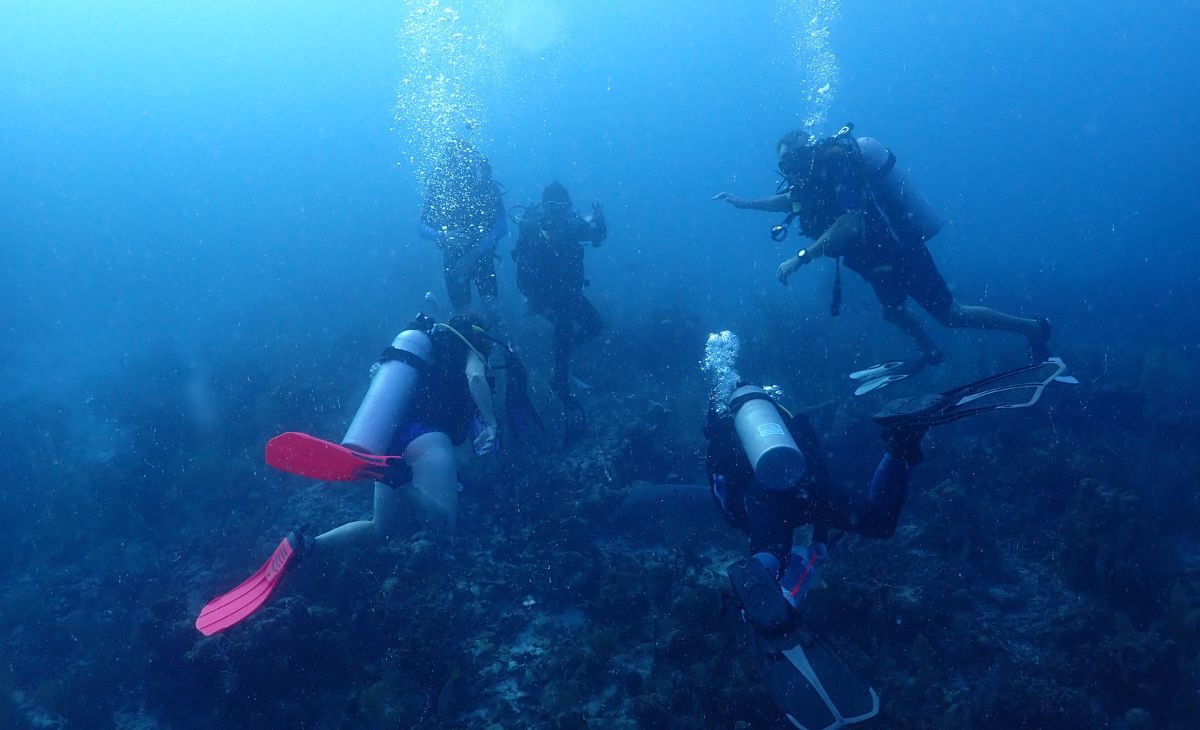 Belize was recently awarded

The Leading Dive Destination 2022

i

n the Mexico & Central America region at the

Wоrld Тоurіѕm Аwаrdѕ 2022
Winning this award is not without merit, as scuba divers from all over the world choose Belize, to experience the largest barrier reef in the Northern Hemisphere.  Belize also hosts three (of four) coral atolls in the Caribbean, the only such structures in the Western Hemisphere. "With more than 400 islands, white sandy beaches, the longest unbroken barrier reef in the Western Hemisphere and 298 kilometers/185 miles of coastline, Belize is a world-class scuba diving destination" (PADI)


The Great Blue Hole of Belize
The Blue hole is definitely in every diver's bucketlist, and it's one of the most famous landmarks of Belize, discovered by the late great Jaques Cousteau.

It is considered one of the greatest geological wonders of the world.  "A site for more experienced divers, a deep dive into the Great Blue Hole will unveil a whole new world full of rare fish and stalactites not found in other sites near the water's surface" - Belize Tourism Board
The giant marine sinkhole is located  70 km (45 miles) off Belize City , it is circular in shape, 318 m (1030 ft) across and 124 m (400 ft) deep, with a surface area of 70,650 square meters (706,470 sq ft).
While the Blue Hole is Belize's best-known dive site for highly skilled divers only, you will also find the best diving sites at Lighthouse Reef atoll where the waters are clear and warm, and rich in marine biodiversity. The atolls provide the ideal conditions for beginners and exciting sites for advanced divers. The dive sites are usually less crowded compared to other sites around the world which is always a bonus.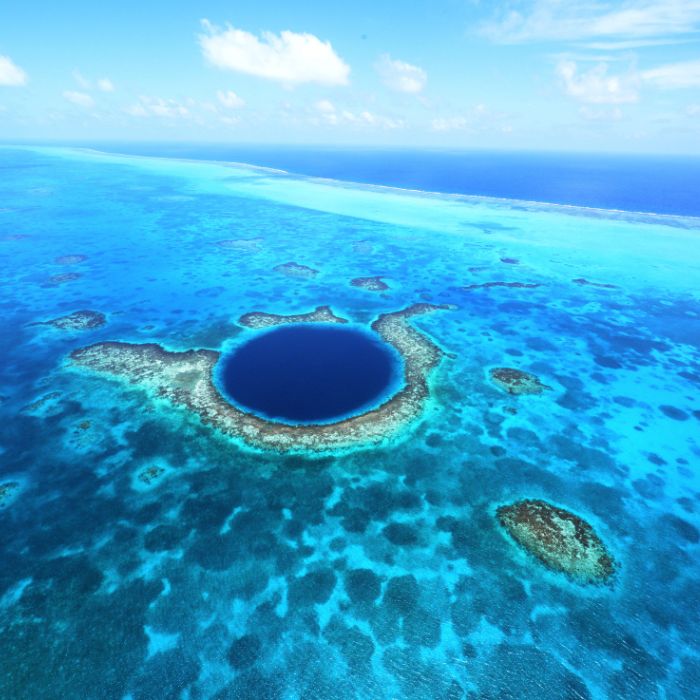 What is an Atoll?
An atoll is a ring-shaped coral formation that surrounds a lagoon. As reef building corals thrive only in warm waters, atolls are only found in the tropics and subtropics. 

The Three Atolls of Belize
Lighthouse Reef Atoll




The most remote of all the atolls in Belize,  located approximately 80 kms southeast of Belize City. The atoll is home to over 20 world-renowned dive and snorkel sites, including the renowned Blue Hole, Half Moon Wall and the Aquarium.  The coral reefs contained within the atoll's lagoon, harbour a remarkable 200 species of fish in a magical setting of changing reef types; including shallow reefs, ledges, shelves and drop offs.  
Glover's Reef Atoll




Located 45 kms off the coast of Belize and named after 17th century pirate John Glover. 

The Glover's Reef Marine Reserve was established in 1993 and it was then designated by UNESCO as one of seven protected areas that together form the Belize Barrier Reef Reserve System in 1996. 




Glover's reef is famous for being the most completely formed coral atoll offering a spectacular abundance  of marine life. This is also one of the less visited atolls offering a pristine diving experience away from busy crowded sites. It includes:  Long Caye Wall, The Aquarium and Manta Wall and The Pinnacles
Turneffe Atoll




Located off Ambergris Caye and Caye Caulker. It is the largest coral atoll in Belize and was officially declared a marine reserve on November 22, 2012. Turneffe Atoll is home to an abundant range of marine life including more than 500 species of fish, 65 species of stony corals, sea turtles, manatees, dolphins, seabirds, and other wildlife.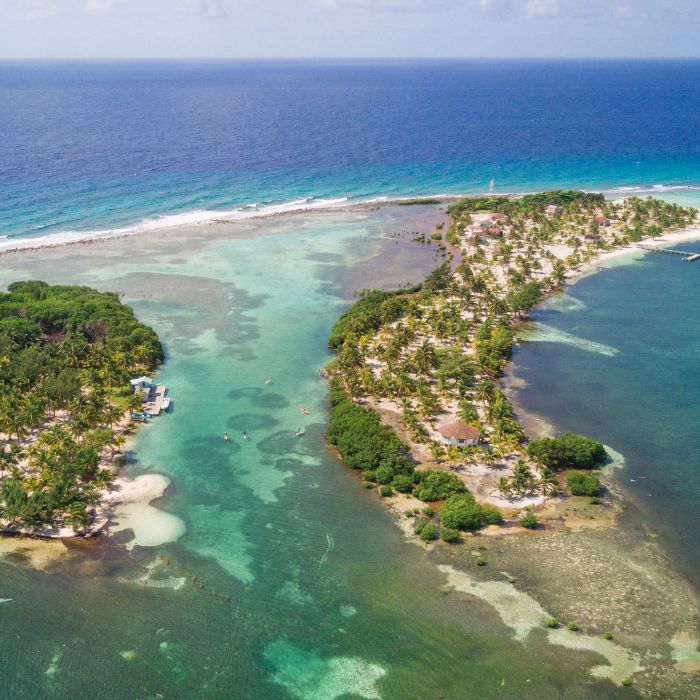 What is it like to dive in the atolls:
"The water at the reef is some of the best in the world. Crystal clear with visibility routinely extending hundreds of feet, you'll always get the best view and diving experience. No matter what month you're visiting, surround yourself with warm water and plenty of marine life to take in including corals, sharks, turtles and stingrays " (PADI)

How to visit the atolls?
We have four trips that visit the Lighthouse Reef Atoll where you can also take part in diving:
Lighthouse Reef Adventure 8-night,
Lighthouse Reef Adventure 6-night,
Maya Reef Explorer
and Lighthouse Getaway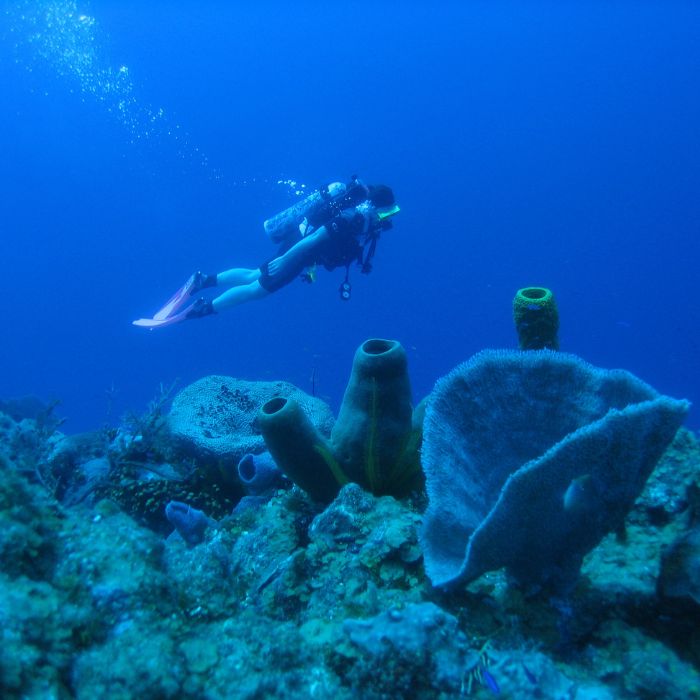 We also offer seven trip options to visit Glover's Reef Atoll:
Glover's Reef &  Maya Mountains,
Ultimate Adventure,
Paradise Islands, 
Coral Islands SUP,
Glover's Getaway 4-night, 
Glover's Getaway 3-night, and
Glover's Getaway & Kayak Rental Combo.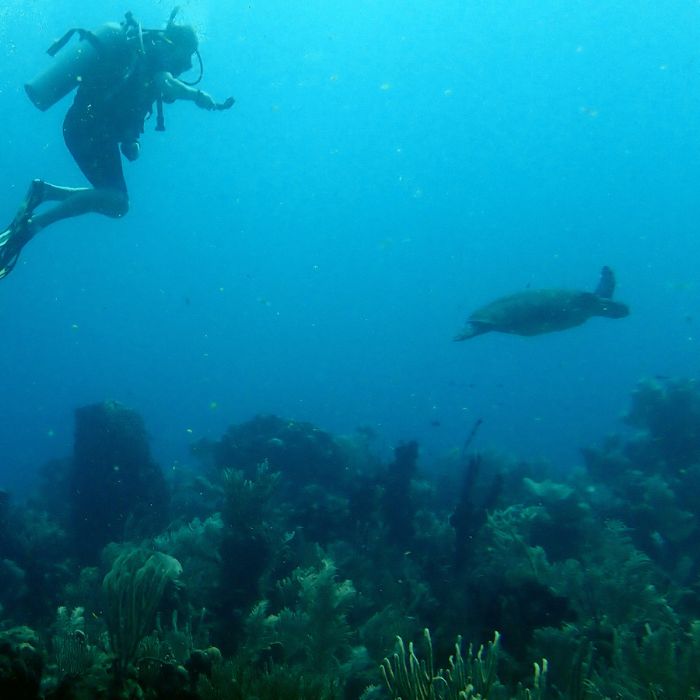 Meso American Reef System - Belize Barrier Reef
Considered the second largest Barrier Reef system in the world, the Meso American Reef System includes 4 atolls of the Caribbean, and the Belize Barrier Reef system.  This reef starts at the northern tip of the Yucatan Peninsula and extends all the way down past Belize into Honduras.  This incredible structure hosts over 700 islands, and offers shelter to the mainland from the open ocean swells.  To dive "Off the Wall" is a spectacular experience.

More diving!
We have a  Paradise Scuba package that includes 4 nights and 3 diving sites: 
Tobacco Caye

South Water Caye

plus Glover's Reef Atoll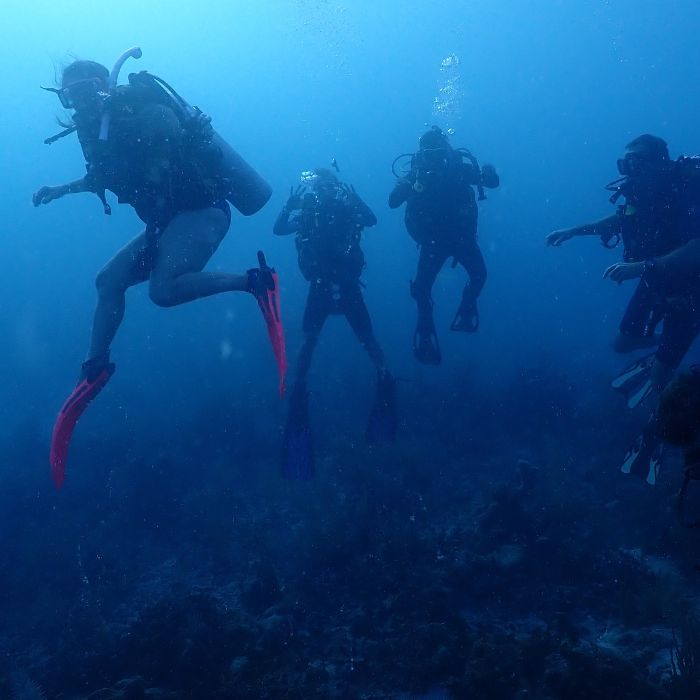 It's important to know that to dive in Belize a diving certification is required.  For those looking get PADI Certified,  or furhter their scuba diving sklills  - we can assist you booking a certification program at Tobacco Caye Paradise.