A 3 or 4 Night Scuba Adventure to explore the underwater wonders of the Belize Barrier Reef
Duration:
Group size:
4-8 people per trip. 1-2 guides per trip.
Accommodations:
Tobacco Caye Paradise
Activities:
Snorkeling
Scuba Diving
Extensions:
This trip works well with Glover's Reef & Mayan Caves, Glover's Getaway, Paradise Islands & Coral Islands SUP Visit our
combining trips page
for more suggestions and info.
Price: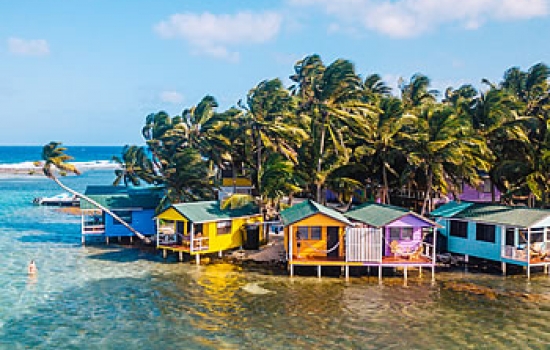 About the Trip
3 Night / 4 Day (4 Dives) - $799 USD per person
4 Night / 5 Day (6 Dives) - $1140 USD per person
This scuba adventure in Belize is a perfect way to explore the world second largest barrier reef from stunning Tobacco Caye.  After starting with several local dives just a stones throw from our home base, we travel further a field to Southwater Caye to explore it's fascinating cut in the reef.  For those choosing to spend an extra day diving, we travel out to Glover's Reef to dive it's world renowned wall dives.  An amazing experience that combines well with several other of our experiences in Belize.
Trips Departs Weekly on Tuesday
Day 1
Accomodation:
Paradise Casitas
Meals:
Lunch, Dinner
10:30 am rendezvous at Island Expeditions Dangriga Base. Our 30-minute boat charter departs here once loaded.  Traveling through several islands and mangrove estuaries, you arrive at Tobacco Caye Paradise Lodge on the edge of the Belize Barrier Reef within the Southwater caye Marine Reserve. . After an island welcome from our host and settling into our accommodations, we meet in the middle of the hammock garden for a briefing of the next days' dives. The rest of the afternoon is yours to acclimatize, walk the island or take out a kayak or paddleboard.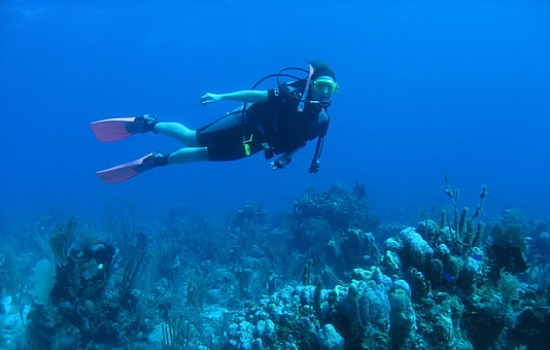 Day 2
Accomodation:
Tobacco Caye Paradise
Meals:
Breakfast, Lunch, Dinner
This morning we rise early with the tropical sun. Relax with your fresh coffee in your hammock before the days' adventures begin. After breakfast, we meet at the dive shop for equipment fitting, safety and procedure briefing and the final muster for our 9:30am boat departure. Our first dive on the Belize Barrier Reef will check out our ability level and make sure our equipment is fitted properly. We return to the lodge for lunch and a siesta. Then we meet at the hammock garden for our next briefing before heading out to our afternoon dive outside the Tobacco Caye Cut. We return to the lodge for dinner and head to the sunset bar next door to toast the day!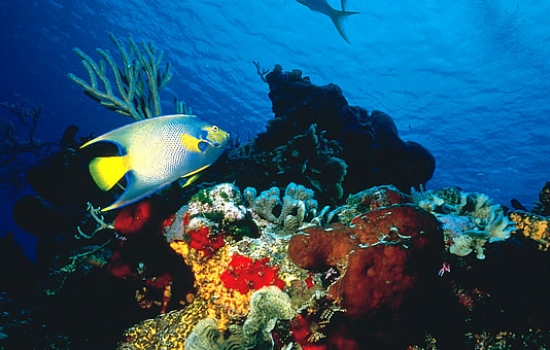 Day 3
Accomodation:
Tobacco Caye Paradise
Meals:
Breakfast, Lunch, Dinner
Today is another early start, after our morning meal we meet at the Dive Center for our day's briefing. Our dive location this day is further afield towards South Water Caye. Traveling 6 miles along the crystal turquoise waters of the Belize Barrier Reef, we arrive at South Water Caye. We turn the corner through the cut and dive the outer reef wall. After our morning dive, we have a picnic lunch on a sandbar. A short stop at Carrie Bow Caye (The Smithsonian Marine Station), we
head out for our afternoon dive. After reaching topside, we travel back north to Tobacco Caye to shower off and clean up for the day.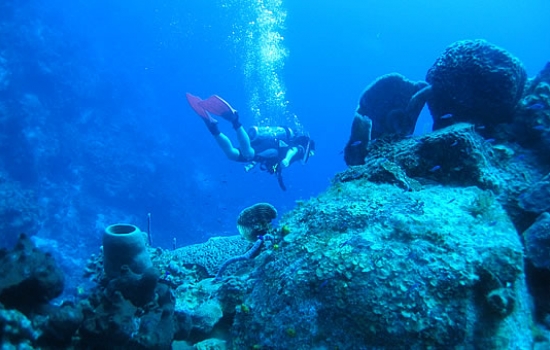 Day 4
Accomodation:
N/A
Meals:
Breakfast
(3 Night Program): For those participating in the 3 Night program, this morning we have a leisurely breakfast and a last walk around the island. Boats back to the mainland at 9:30 am (transfer included in this package).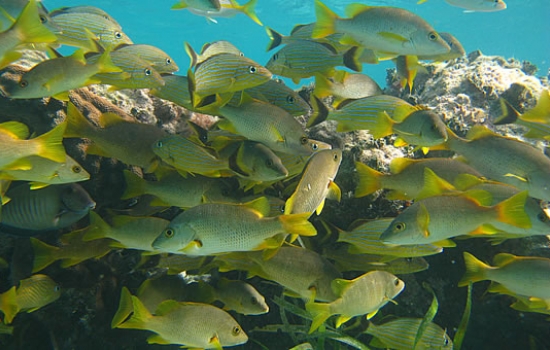 Day 4
Accomodation:
Tobacco Caye Paradise
Meals:
Breakfast, Lunch, Dinner
(4 Night Program): Today we rise for an early breakfast and prepare to head out to one of Belize's most spectacular dive locations, Glovers Reef Atoll. After a quick dock briefing, we travel to one of Belize's most remote reef systems. The boat slows as we approach the turquoise horizon and we suit up to dive the east reef wall facing the open pelagic sea. After returning to the surface, we have a picnic lunch on a secluded private beach on the southern tip of the Atoll. Following lunch, we head westward to dive the spectacular "Western Wall" of the Barrie Reef. We then return to Tobacco Caye for a pre dinner Happy Hour and toast the sun going down for our last night.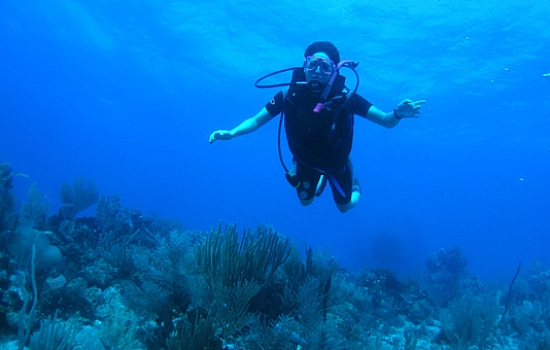 Day 5
Accomodation:
N/A
Meals:
Breakfast
(4 Night Program): For those participating in the 4 Night program, this morning we have a leisurely breakfast and a last walk around the island. Boats back to the mainland at 9:30 am (transfer included in this package).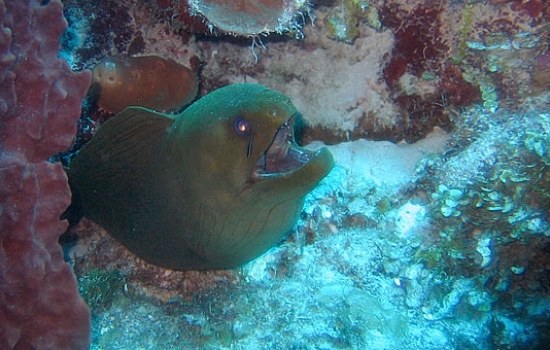 Travel note: Boat to Tobacco Caye runs at 10:30 am, we suggest that you arrive in Belize at least a day prior. International connections out of the country require a departure after 2 pm.  To connect with afternoon departures from Belize City, a short domestic flight is required.  This flight is from Dangriga to the Belize International Airport and costs approximately $110 US.  Please call for details - our office can confirm pricing and book your domestic flight.
We highly recommend not to fly 24 hours after your last dive. Please plan your domestic and international flights accordingly.
Setting
The Belize Barrier Reef
Off the coast of Belize lies a biological gem among the world's tropical marine habitats. 
Extending north and south for one hundred and eighty miles the barrier reef offshore of Belize is considered the most diverse section of the entire Mesoamerican Reef system. The Belize Reef is unmatched for snorkelling, sea kayaking and diving with an incredible diversity of corals and an abundance of tropical fish. Our area of exploration is within the Southwater Caye Marine Reserve and UNESCO World Heritage Site. We travel from caye to caye by sea kayak, staying at small, family-run lodges, soaking in the easy-going, friendly Belizean character and each day venturing out to explore the magic and beauty of this tropical marine wilderness.
In Belize, we find a continuous reef structure running the length of the country and paralleling the coast. From the mainland coast, the reef cannot be seen; it lies 10 to 20 miles offshore. Travelling east from the mainland, the reef first becomes visible as a line of white surf crashing over the reef crest, with blue sea to the outside marking the deeper habitat of the fore reef. Approaching closer, we first enter the reef's lagoon; a shallow area of turquoise waters, brilliant white sand flats and waving beds of turtle grass and corals.  Cuts or breaks in the outside reef are common; this is where wave action cuts out channels into the lagoon which serve as navigation routes to and from the open sea. Shielding the coast of Belize from the full force of the sea, the barrier reef is a unique example of a living community of coral animals that has profoundly changed geography. Sheltered behind this living reef, small cayes (islands) of coral-sand form and in the sheltered lagoons mangroves thrive. The mangrove's submerged roots trap sediments, which create important habitat for juvenile fish, countless marine invertebrates and a rich array and a rich array of coral life as well.
About the Route
The barrier reef, which runs the full length of the belizean coastline, is considered one of the richest marine ecosystems on earth
The 185 mile long reef runs from 10 to 25 miles offshore, and is the longest continuous reef in Caribbean; the second longest in the world. Along the Barrier Reef are over 225 cayes, ranging from small sand-fringed islands perched along the reef's edge, to larger islands of partially submerged mangroves.
Historically, ships avoided this area of the Caribbean because of inaccurate charts and the difficulty of navigating the shallow reef-strewn waters. Teeming with brilliantly-colored fish, sea grass beds, and patch reefs, the reef systems have not seen nearly the level of human impact as witnessed in Mexico to the north and Honduras to the south. We travel in the less-developed southern regions of Belize's Barrier Reef which remains a near-pristine marine ecosystem and is unparalleled in the Caribbean. It is in this region that we find the best sea kayaking and snorkeling. Our base of operation, in the southern coastal community of Dangriga, is the ideal launching point for us to explore this spectacular region.