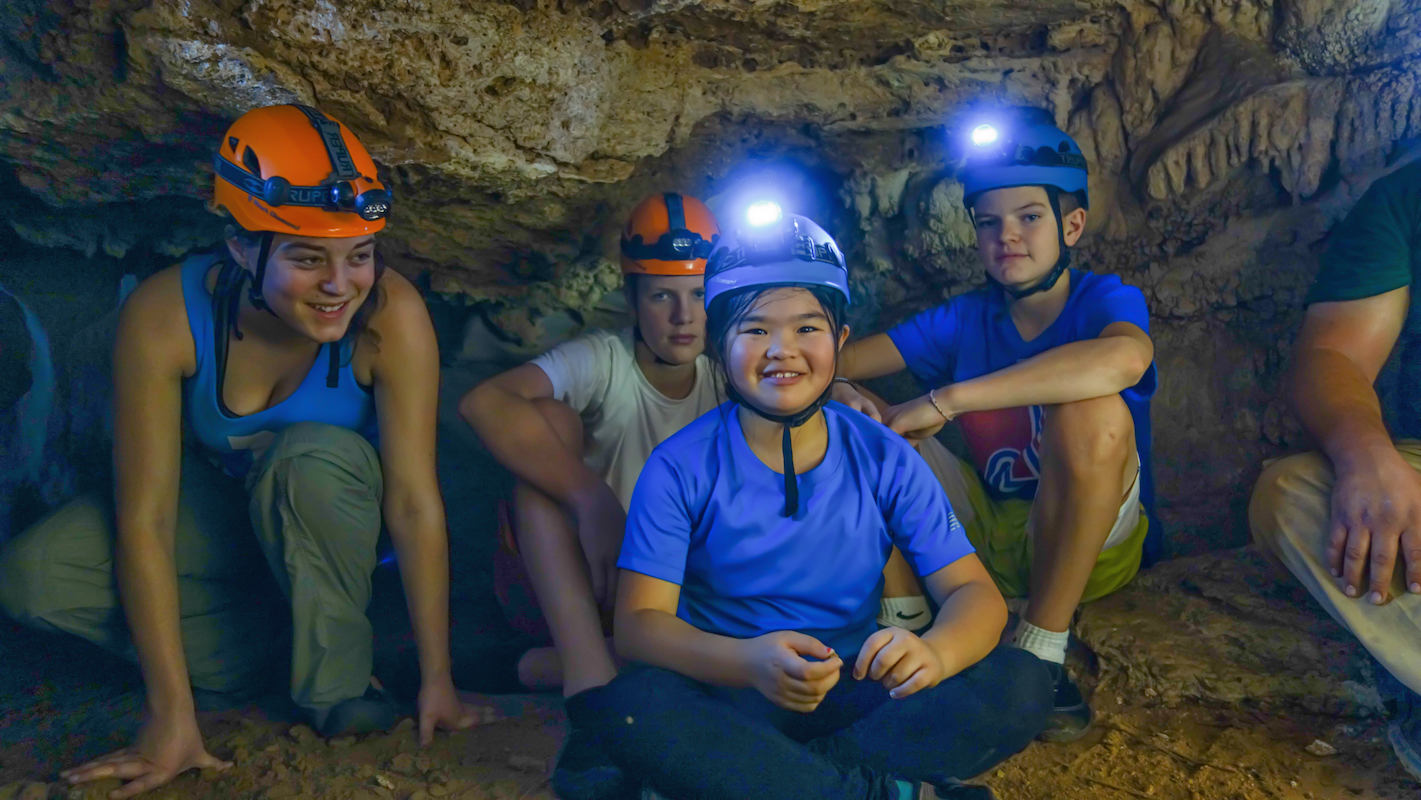 Belize is one of the best tropical travel destinations for outdoor-loving family travellers. There are outdoor adventures galore from snorkelling and paddling the Belize Barrier Reef to gliding through the rainforest on a zipline and hiking to secluded waterfalls and swimming in natural pools. Belize is a family travel playground and is an English speaking, child-friendly destination.
Here's our guide to help you plan your spring adventure in Belize with kids and teens:
What is the Weather like in March and April in Belize?
Spring is the perfect time to visit Belize. In March and April, you can expect great weather with average high temperatures of 87°F (31°C) and lows of around 79°F (26°C). Days are typically dry and if there is rain it will be a short shower. Out on the cayes, nights are cool, with offshore breezes bringing the temperature to a comfortable average of 74F (23C).
Where to Travel in Belize with Kids and Teens?
Belize offers three main areas and experiences for families to enjoy. 
Belize's rainforest is the perfect natural playground for a family adventure. The family-friendly, eco-lodge at Bocawina Rainforest Resort is the perfect place to discover the indigenous birds and wildlife of 7000 acres of untouched, tropical rainforest. Must do guided activities at the resort including zip-lining, hiking, waterfall rappelling and horseback riding.
 
Ziplining at Bocawina Rainforest Resort
Beneath forests and mountains, Belize is riddled with limestone caves with networks of sinkholes and caverns. Two of the most exciting caving options in Belize are the Chech Em Ha and the Actun Tunichil Muknal cave system. Actun Tunichil Muknal, known locally as 'Xibalba' or ATM, is an amazing day-trip, combining a 45-minute hike with travel along a subterranean creek bed almost a mile underground to a ceremonial centre. 
Exploring the ATM Cave
Paddle by kayak or paddleboard and explore Belize's idyllic palm-fringed tropical islands (cayes). There are over 200 to discover and our top picks are the cayes of the South Water Marine Reserve, Glover's Reef Atoll and Lighthouse Reef Atoll. Children and teens of all ages will love discovering the undersea world with a snorkel, mask and fins.
Paddle-boarding at Southwest Caye, Glover's Reef
There are about 12 major Mayan ruins in Belize to explore. One of our favourite Mayan sites to visit with kids is Xunantunich in the Cayo District of Belize. It's one of the few Mayan sites that you can climb and has a stunning view from the top (tip - pack a picnic to enjoy at the top).
 
Admiring the view at the top of  Xunantunich 
The Mayan ruins at Lamanai located in the north of Belize, in Orange Walk District is both an ancient Mayan and colonial history site, making it a fascinating day trip. The ruins can be accessed by road, or by taking the more popular river trip down the New River to the banks of the New River lagoon, which sits beneath the site.
The Mayan ruins at Lamanai
Best Activities for Kids in Belize
Check out this blog post for a list of ideas on What to See and Do in Belize with Kids.
Where To Stay in Belize with Kids
Belize offers all types of family-friendly accommodations, from rustic island lodges, jungle eco-resorts and luxury resorts.
Here's our pick of the best Belize accommodation and resorts for traveling with kids of any age:
The over the water cabanas at Tobacco Caye Paradise
If you are looking for a unique family Belize adventure this Spring, unplug and reconnect at our Lighthouse Reef or Glover's Reef Basecamp.
Our Glover's Reef and Lighthouse Reef Basecamps are popular with families, offering flexibility in terms of which guided activities each family member chooses to participate and the ease to work in relaxation and hammock time.
Lighthouse Reef Basecamp on Half Moon Caye
Our pick for a March or April family trip is our Lighthouse Reef Adventure where you can enjoy 6 or 8 nights of superb snorkeling, sea kayaking and paddle boarding. This trip includes snorkeling at Jacque Cousteau's legendary Blue Hole and the Aquarium. 
Snorkelling the Aquarium at Lighthouse Reef
Family Pricing on our Belize Trips
Knowing that travel budgets are especially important we offer a price break to families with a 20% discount for children between the ages of 6 - 15 when your family is sharing accommodations. With children aged 5 and under please contact us to find out which trips are most suitable. 
Need Help Planning a Family Spring Break Trip to Belize?
We'd love to help you plan a family vacation to Belize. Get in contact with one of our Belize trip planners at 1.800.667.1630 or email info@islandexpeditions.com.
Related Links:
5 Reasons Why Lighthouse Reef in Belize is a Great Family Vacation Location for Spring Break
Belize Vacation Planning: Multigenerational Travel Tips
Best Things to Do in Belize with Kids
5 Tips for Organizing a Family-Friendly Belize Itinerary
Vancouver Sun – Adventure Twins in Belize
Boston Globe – Ambitious Mom Seeks Snorkeling Adventure in Belize
Delta Sky – Unplugged in Paradise