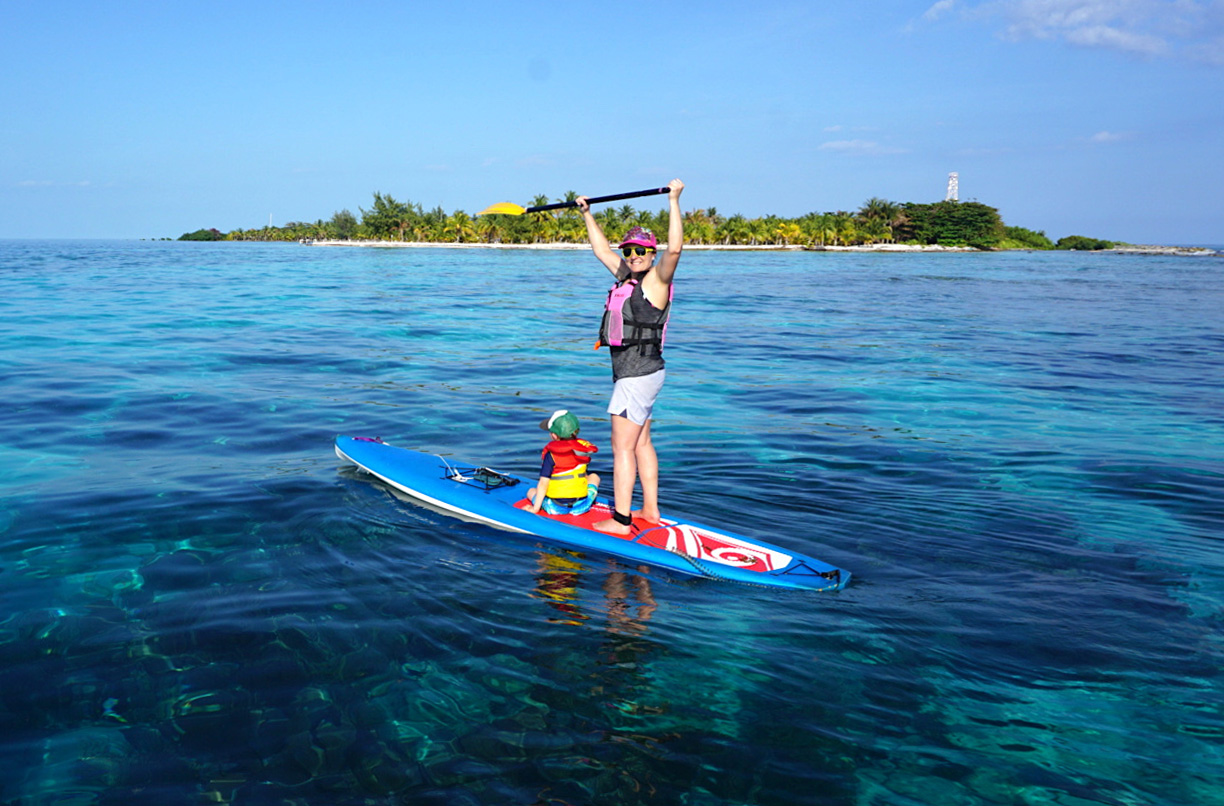 With Spring Break and Easter around the corner, now is the time to plan a trip to Belize and experience this perfect family vacation destination. 
Here are 5 Tips for Creating a Great Itinerary in Belize with Kids:
1. Find Family-Friendly Accommodation
Placencia
Placencia is known for having some of the best beaches in Belize and it's also the perfect location to experience the cultural vibe of this eclectic community. Family-friendly hotels in Placencia include Roberts Grove which offer suites complete with kitchens. 
Hopkins
Hopkins is a small fishing village of about 1500 people located on the Central Coast of Southern Belize.  It boasts a nearly five-mile stretch of beautiful sandy beach, making it the ideal spot for families to play in the waves and relax. It's also a great destination to immerse yourself in the Garifuna culture. Tip - kids will love the Lebeha Drumming Center where they can take a lesson or watch a performance and dance.  The Lodge at Jaguar Reef is the perfect family-friendly Belize beachfront resort with a kids' pool and free use of kayaks, bicycles and paddle boards.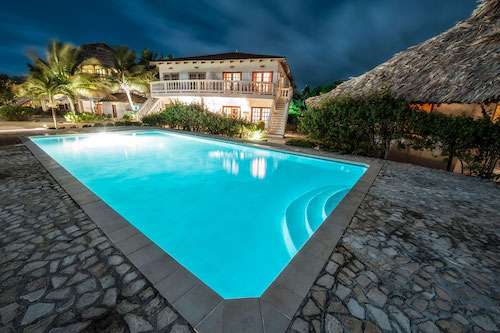 The pool at the Jaguar Reef, Belize
Glovers Reef and Lighthouse Reef Basecamps
Our adventure Basecamps on Glover's Reef and Lighthouse Reef are popular with families.  You can pick and choose which activities you want to do each day, ensuring the flexibility that will make the entire family happy. Activities at both Basecamps include kayaking, snorkeling, paddle-boarding, fishing, swimming and exploring the island or relaxing in a hammock amongst the palm trees.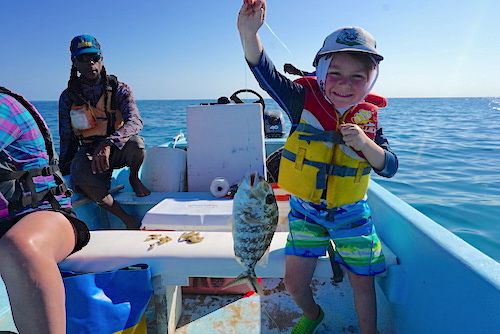 Handline Fishing at Glover's Reef, Belize
2. Experience Belize's Natural Theme Park
Belize is nature's playground - from the remote coral atolls to the lush jungles in the interior -  the options for family adventure are endless. Let the children connect with nature in Belize's tropical rainforest -  one of the oldest intact ecosystems on Earth, containing 50 per cent of the planet's species. The jungle is alive with howler monkeys, birdsong and creatures like the Baird's Tapir.  Stay at the Bocawina Rainforest Resort, an ecolodge with loads of kid-friendly fun located in the heart of The Mayflower Bocawina National Park.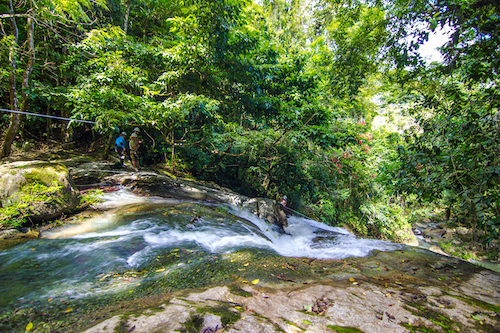 Exploring the Mayflower Bocawina National Park

3. Plan Family-Friendly Belize Activities
Go back in time and explore the Maya civilization of Belize.  The kids will love to run, climb and explore the Mayan ruins of Belize including Xunantunich, Cahal Pech and Caracol. Many of the jungle lodges offer horseback riding, including Table Rock Jungle Lodge and Chaa Creek this a great way for the entire family to enjoy an activity together.  Then, get the adrenaline rushing on a fabulous zipline across the jungle canopy at Mayflower Bocawina National Park.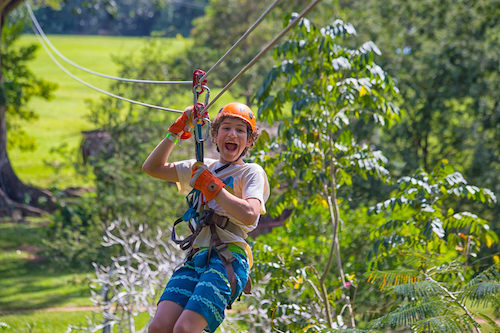 Zipline at Bocawina Rainforest Resort
4. Have an Unplugged Family Vacation
Plan to have an unplugged family vacation where all the family can focus on adventure, away from the screens. A stay at the Lighthouse Reef and Glover's Reef Basecamps offers an off grid experience where kids and teens will be busy kayaking, paddleboarding, snorkeling, fishing and exploring.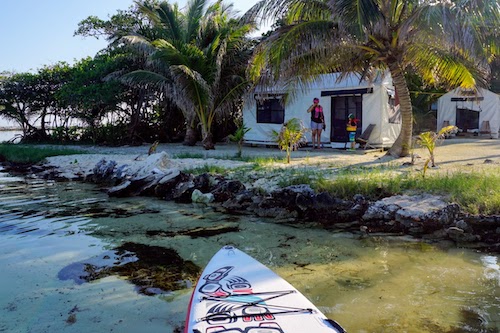 Unplug at the Glover's Reef Basecamp

5. Learn about the Wildlife of Belize
A must do for families visiting Belize is a trip to the Belize Zoo. This is no ordinary zoo - its home to the rehabilitated, orphaned and rescued wildlife of Belize. More than 175 mammals, birds and reptiles, all native to Belize are residents. Expect to see tapirs, toucans, boa constrictors, harpy eagles, jaguars and howler monkeys. It's a wonderful educational experience where the entire family can gain an understanding of Belize's unique ecosystems and diverse wildlife.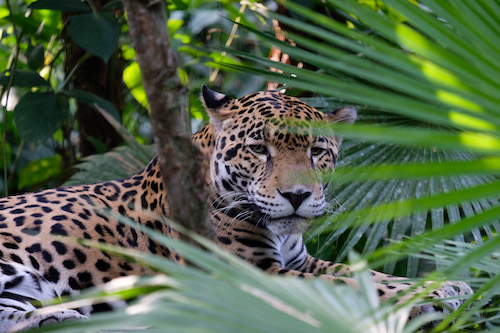 Jaguar at the Belize Zoo
Getting to Belize
Belize is easier to get to than ever, with direct flights from Calgary, Toronto, Houston, Denver, Fort Lauderdale, Minneapolis-St. Paul or seamless connections from the major hubs.  The direct flights make Belize a family-friendly destination from North America with flights under 6 hours and no jet lag to contend with. 
Thinking of a Family Vacation to Belize?
If you are thinking of visiting Belize this spring or Easter, ask about our special family discounts. Contact us at 1.800.667.1630 or email info@islandexpeditions.com and let our Belize trip planners help your family get away to Belize.