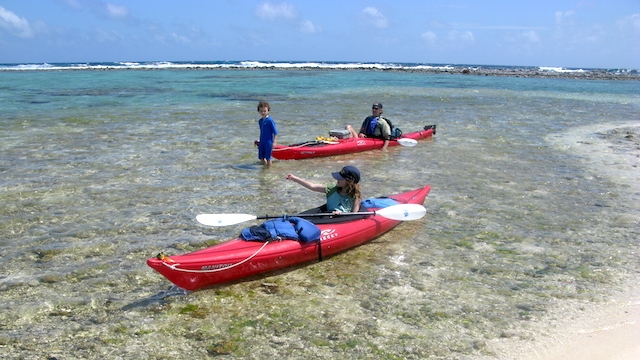 Our Lighthouse Reef Basecamp trips on Half Moon Caye are a great option for families, particularly if you are looking for a destination in Belize for the March Spring Break holiday season. There are no theme parks, kids clubs or zoos on Half Moon Caye, but we promise this will be a family vacation that will create treasured memories!

A family vacation is a time to break away from the exhaustion of the everyday routine. Going on an Island Expeditions adventure holiday together removes everyone from daily responsibilities allowing families to rejuvenate and reconnect through exploring and experiencing.

Explore our Lighthouse Reef Adventure trips.

Here are five reasons why Lighthouse Reef is a great location for your next "Spring Break" family adventure travel vacation:

1. Experience new things together. Learn how to stand-up-paddleboard or sail a kayak.

Our guides at the Lighthouse Reef Basecamp on Half Moon Caye will provide professional instruction - teaching you and your family the fundamentals of sea kayaking, sea kayak sailing, SUP, snorkeling, and safety in the waters of the tropics. The Lighthouse Reef Basecamp is well suited for families of mixed abilities, offering a choice of guided activities on the reef and the flexibility for families to do things together or separately.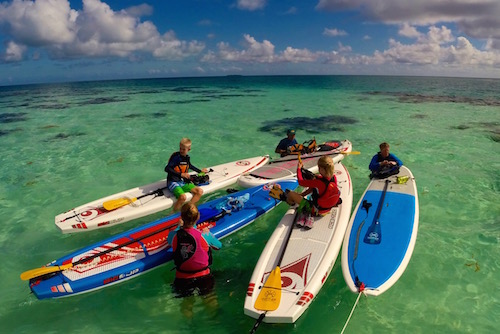 Learning to SUP as a family!

2. Plan a fun vacation that also encompasses an educational and learning experience.

Snorkeling, SUP, sea kayaking and intertidal exploration are all popular family adventure options. Our team of guides are experts in their fields so that you and your kids can experience this UNESCO World Heritage Site world in a unique and special way. Our guides open up the wonders of the underwater world of coral reefs and tropical fish. Explore the underwater world with snorkel mask and fins, learn the ways of the sea and about the Garifuna culture from our Belizean guides. By the end of your trip you and your family will be confident paddling, sailing and snorkeling from a sea kayak.

Spending time on Half Moon Caye isn't all about sea kayaking and snorkeling in this tropical Caribbean paradise. The island itself has some amazing treasures that it will share with your family. At the western end of the island is a nesting colony of approximately 4000 red-footed boobies and frigatebirds. This is an amazing opportunity for children to learn about the natural history of the island.
Red footed boobies at Half Moon Caye, Lighthouse Reef Atoll

3. Unplug and spend quality time with your family.

An important part of a family vacation is finding a destination that allows everyone to relax and have down time. Family life is a constant whirlwind of work, school, after school programs, sports and other activities. Sometimes there can be very little time to actually sit down and have a conversation with your children. Many families also find themselves 'plugged into' daily life - from constant work emails to teens Snap Chatting at every given moment.

Our trips to the Lighthouse Reef Basecamp make it easy to unplug and reconnect with family - there is no WiFi or cell phone service. Without the distraction of electronic devices, it is easy to make memories together with your family, especially in such a beautiful place.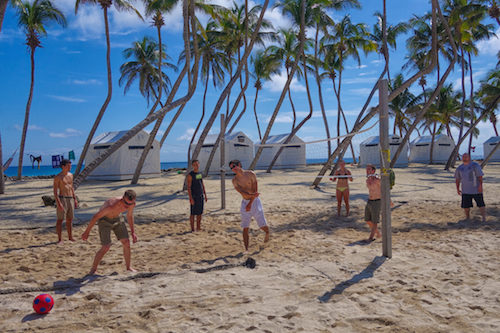 Time for a game of volleyball - at the Lighthouse Reef Basecamp

4. The all-inclusive style concept at Lighthouse Reef Basecamp, allows you and your family to lay back and relax.

Family vacations are all about having fun without any worries. Our trips are all-inclusive once you get to Belize. All of our adventures include accommodations, meals, activities and ground transportation. We also offer complete trip planning services and personal advice before, during and after your trip with us. We take care of all the logistics so you can relax and not worry about planning the details.

In addition to all the great activities, we encourage hammock time to revitalize and absorb your surroundings!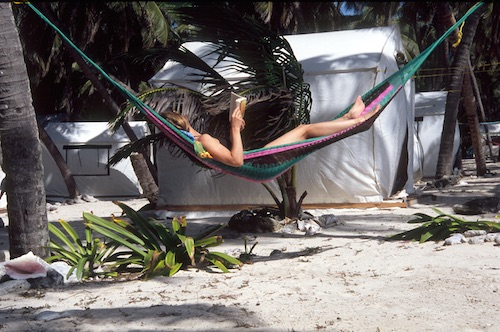 Hammock time at the Lighthouse Reef Basecamp

5. Lastly, create special family memories.

When you go home, you and your family will take with you the memories of the rich and varied life and history of this amazing country of Belize. Memories are to be cherished and remembered for as long as you live.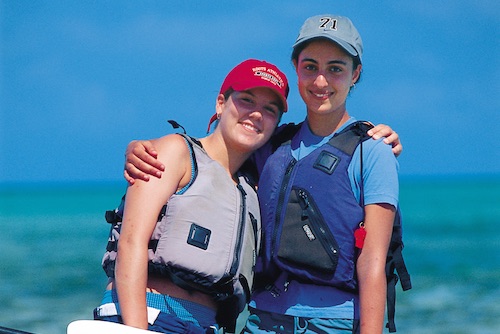 Capturing those important moments!

If you go:

Knowing that travel budgets are especially important to families, we offer a price break to families with children. We are pleased to extend a 30% discount for children under 16 when the family is sharing accommodations. Contact us to inquire about trip suitability and special discounts on our Belize family adventure holidays and vacations. We've also got a 30th Year Anniversary promotion going on right now where you'll have a chance to win discounts, gear and even a free lunch.