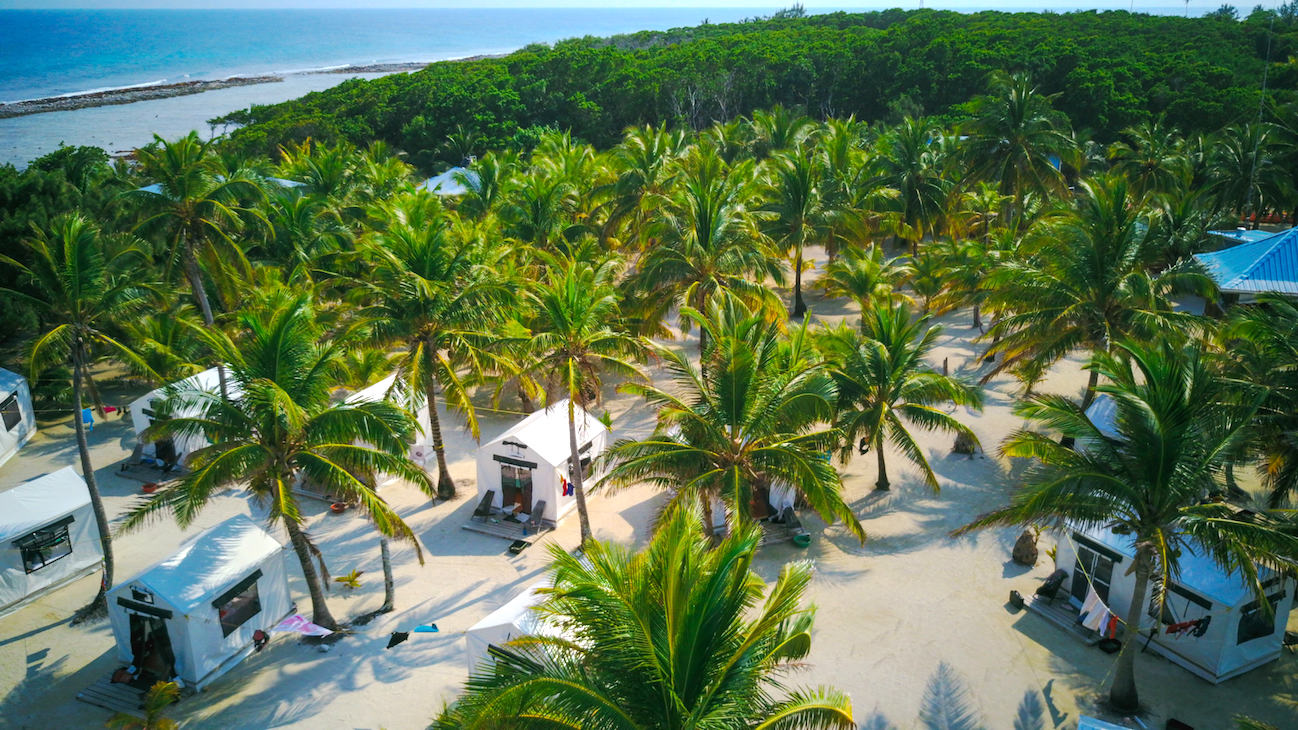 Glovers Versus Lighthouse?  How to choose between our two Belize Adventure Basecamps is a frequently asked question of our guests.  In this blog, we discuss the differences between our Glover's Reef and Lighthouse Reef Basecamps - and the highlights of both!  

Regardless of which you choose, a Basecamp trip is a great option if you are looking for a flexible itinerary.  You will have a choice of daily activities out on the reef.  Should you prefer, you can also opt to relax with a good book, wander the island  trails, or do some hammock surfing!

Basecamp Locations
The Lighthouse Reef Basecamp on Half Moon Caye is located 56 miles offshore from mainland Belize.  It is situated on spectacular Half-Moon Caye National Monument, a protected island managed by the Belize Audubon Society.  It is the first nature reserve to have been established in Belize under the National Park Systems Act.

This Basecamp is very private and we are extremely lucky to be the only operator to overnight on this 44 acre Caye.  The Basecamp has a beautiful setting under a canopy of coconut trees and overlooks the endless Caribbean Sea.  It is located close to a unique littoral forest and a nesting colony to 4000 red-footed boobies!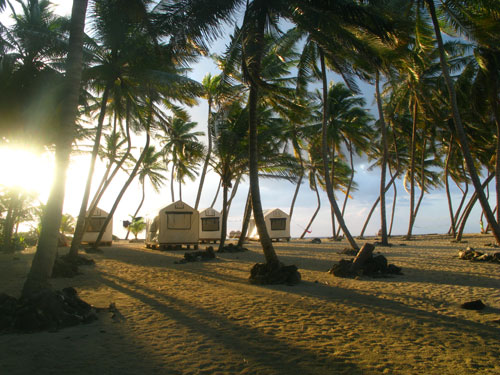 Lighthouse Reef Basecamp on Half Moon Caye

The Glover's Reef Basecamp is located 36 miles off the coast of Belize. Southwest Caye is a 13 acre private island and is owned by the local Usher family who bought the island in 1942.  The Basecamp is situated on the water's edge and has beautiful dramatic views over the main reef wall and the Caribbean Sea.  We also share the island with a dive resort.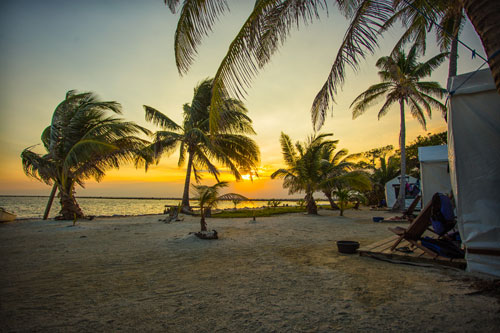 Glover's Reef Basecamp on Southwest Caye
 
The Reefs at the Basecamps
Glover's Reef has a well formed, built up reef crest which creates a barrier, providing ideal sheltered conditions for paddling. It is quite protected from the wind in most directions.
 
Lighthouse Reef has a less formed reef crest with more variable conditions.  The upside is that Half Moon Caye has great snorkeling right off the beach!
 
Basecamp Activities
Both Basecamps offer very similar activities, such as kayaking, kayak sailing, snorkeling, SUP, yoga and hand line fishing (or 'catching' as they call it in Belize!). However there are certain activities that are unique to each of our Basecamp trips.

Our Glover's Reef and River of Caves Trip includes some great inland activities - a Mayan cave hike/float through the River of Caves, a specially arranged nocturnal viewing at the Belize Zoo and a stay at the Tropical Education Centre.  

The Glover's Reef Basecamp is a great destination to fly fish. The saltwater flats and adjoining deep waters are one of the best places to fly-fish for tarpon or bonefish.   Popular activities at the Glover's Basecamp include a day kayak trip to Middle Caye and beautiful "Miami Beach".  Scuba Diving can be organised for an additional cost at the dive resort on Southwest Caye.
 
Our Lighthouse Reef Basecamp is a wonderfully relaxing location and is a great place to spend some quality hammock time.  Unique to the Lighthouse Reef Basecamp is a snorkeling excursion to the legendary Blue Hole, a fascinating sinkhole made famous by explorer Jacques Cousteau.  Experienced divers can consider a scuba dive in the Blue Hole, whcih we can arrange with a local dive company for an additional fee.  

Another favorite with Lighthouse guests is the snorkeling excursion to "The Aquarium"...a great spot known for its profusion of fish and towering coral formations.  On the way back from the Aquarium, guests  stop at the Half Moon Wall for a spectacular drift snorkel over the undersea cliff of the atoll.  

Our Lighthouse Reef Adventure trips include an overnight stay at the Birds Eye View Lodge in the Crooked Tree Wildlife Sanctuary.  This is a wonderful opportunity to experience early morning bird and wildlife viewing.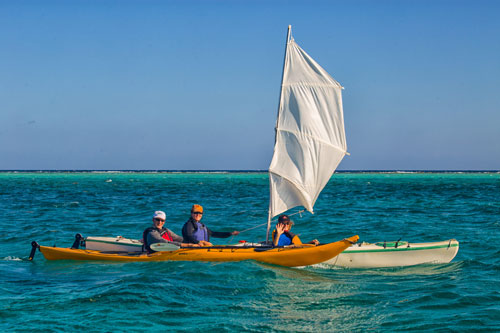 Kayak Sailing at Glovers Reef

Basecamp Similarities
Although there are physical differences between the camps, accommodations and facilities; they are comparable in each location. Both Basecamps have a central pavilion, which acts as the social hub of camp.  Here we eat our meals, learn for our island guides with morning talks on the local ecology, and discuss the day's plan. There is also a fully stocked resource library, and an endless supply of drinking water and juices that can be accessed through the day.   We offer sunrise yoga sessions at both Basecamps on select trip departures.

Both Basecamps are powered by a small generator and there are freshwater showers, modern compost toilets and solar powered refrigeration giving us all the comforts of a well-appointed field camp. Guests sleep in comfortable wall-tent cabanas with wooden floors, a wooden night stand with a kerosene lamp, and outfitted with either single or double beds. Delicious meals featuring Belizean and international cuisine are prepared and served buffet style in the open air dining areas.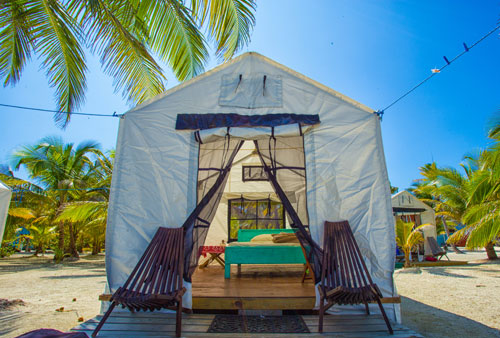 Tent Cabanas at Glover's Reef Basecamp