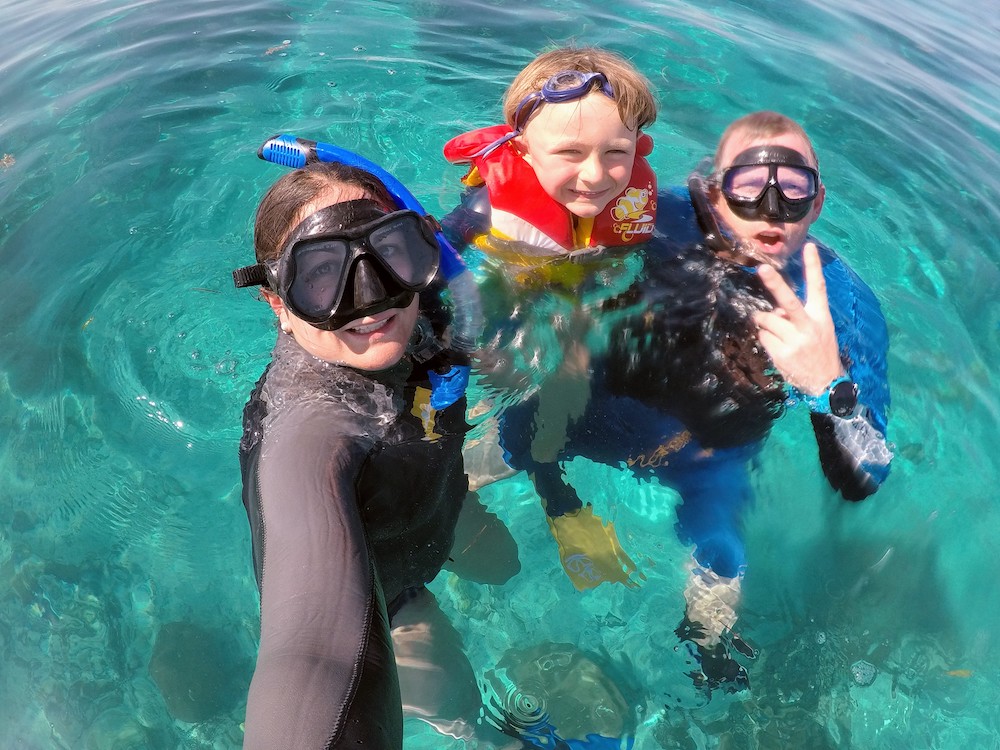 School is out for the summer, but it's never too early to think about a family vacation over the Christmas holidays or other important holiday times. Plan now, relax later.
Here are 5 tips to kick start your Belize winter vacation planning for families:
1. Where to Go in Belize for Families
The Belize Barrier Reef, a UNESCO World Heritage site is an incredible place for families to discover the pristine coral reef and at the same time learn how to sea kayak, sail a kayak, SUP, snorkel, or fish Belizean style. 
Inland families can experience rainforests, savannahs, wetlands, paddle on mountain rivers, view wildlife and explore Belize's unique cave systems. 
Families with young children can relax at the incredible beaches at the villages of Placencia and Hopkins.
Adventurous families and those travelling with teens or older children will love the wild south of Belize. On our Epic Belize trip you can paddle into the rainforest valleys of the Moho River, camp in the jungle and visit Mayan villages far removed from the outside world.
2. Find The Perfect Family Belize Resort
Finding the right accommodation is the place to start when planning a memorable family trip. The inland jungle lodges offer a range of on-site activities, such as zip-lining, hiking, horseback riding, waterfall rappelling and river canoeing.  Experience the Bocawina Rainforest Resort, an ecolodge with loads of kid-friendly fun located in the heart of The Mayflower Bocawina National Park or the Lodge at Chaa Creek. 
Many of the hotels in Placencia or Hopkins offer suites with kitchens, which is perfect for families with younger children -try Roberts Grove in Placencia or The Lodge at Jaguar Reef in Hopkins. 
Our Basecamps at Glover's Reef and Lighthouse Reef are great for families offering flexibility in terms of which activities each family member choose to participate in on each day. 
3. Reconnect with Family-Friendly Activities
Here are some Belize family-friendly activity winners that will keep everyone happy and connected!
-  Snorkel, Sea Kayak, Kayak Sail or SUP on Belize' Remote Atolls
Some of the best paddling and snorkeling in the Caribbean Sea can be found around Glover's Reef and Lighthouse Reef, two remote coral atolls and UN World Heritage Sites within the Belize Barrier Reef.  Let the kids experience the crystal clear waters, thousands of coral reefs and the abundant and varied marine life of Belize.
- Zipline and Waterfall Rappell in the Rainforest
Kids will love the thrill of the longest zipline in Belize, located in at Bocawina Rainforest Resort.  The complete course is 2.5 miles long with the longest single run being 2,300 feet.  Another must do family Belize activity is to hike to the top of the 1,000-foot Antelope Falls and then experience an exhilarating 250 ft guided rappel down the waterfall.
- A visit to the wonderful Belize Zoo should be a must do for families visiting Belize. 
The zoo is home to the rehabilitated, orphaned and rescued wildlife of Belize. Here you can see one of Belize's most beloved Jaguars - Junior Buddy.
4. What to Expect in Belize over the Holidays
Celebrating the Holidays in Belize is a unique experience that the entire family will love! Escape the cold winter and enjoy days filled with adventure and time to connect with family or friends. Check out these blog posts for more ideas and information:
Top 5 Things to Experience in Belize Over Christmas
Your Guide to Planning a Belize Christmas Vacation
Celebrating New Year's Eve on the Lighthouse Reef Atoll
Since English is the primary spoken language of Belize, children can connect with the cultures of the country in a way that is often not possible with other international destinations. Learn about how Belizeans' celebrate over the Holidays:
Cultures of Belize: The Garifuna People
Jankunu and Charikanari - Celebrating the Holidays in Dangriga, Belize
Celebrating the Holidays in Belize - The Story Behind the Jankunu Costumes
5. Book Your Family Vacation and Save!
All our trips for 2019/20 are now online!  Check out our exciting lineup of small group adventures showcasing the best of Belize.  
Check out our children's pricing for family vacations. 
Need more help planning your Belize Family Vacation?
Nothing beats the human touch, so if you need more local knowledge get in contact with one of our Belize trip planners at 1.800.667.1630 or email info@islandexpeditions.com.