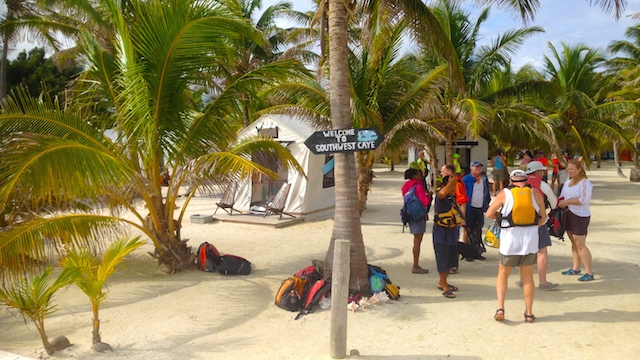 Located on the southern Belize Barrier Reef is the remote coral atoll of Glover's Reef. This protected UNESCO World Heritage Site has one of the richest marine environments in the entire Caribbean Sea and provides the ultimate ocean playground for all ages.

Glover's Reef Atoll has miles upon miles of shallow protected waters with hundreds of patch reefs, ideal for snorkeling, sea kayaking, paddle-boarding and diving.

Here are some of the best activities you can experience on your Belize vacation at Glover's Reef Atoll:

Snorkeling on Glover's Reef

Glover's Reef is a snorkeler's paradise with over 700 patch reefs to explore within the atoll. Discover more than 500 species of tropical fish, 200 varieties of corals and other exotic marine life. For experienced snorkelers, there are undersea walls, spur and groove coral formations and deep water channels to observe. Glover's Reef offers some of the best snorkeling in Belize.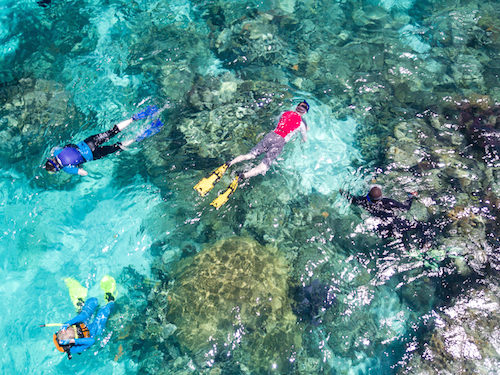 Snorkeling on Glover's Reef Atoll

Sea Kayaking on Glover's Reef

What's one of the best way to explore Glover's Reef? By sea kayak! This silent form of ocean travel enables paddlers to explore this remote atoll, untouched coral reefs, and view abundant ocean life in the crystal clear turquoise waters.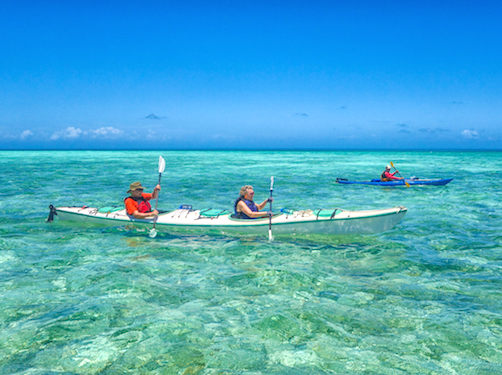 Sea Kayaking on Glover's Reef

Kayak Sailing on Glover's Reef

In Belize, sea kayaking is much more than just paddling; when the trade winds blow the kayaks are light, responsive, and lots of fun under sail. A vacation on Glover's Reef Atoll would be incomplete without the chance to raise sail and run with the prevailing northeasterly trade winds.

Kayak sailing on Glover's Reef

Paddleboarding on Glover's Reef

Glover's Reef is the perfect place for stand-up paddle boarding (SUP), whether you are new to the sport or looking to develop your skills. There is a nice lagoon where the waters are calm so it's perfect for beginners or anyone practicing new skills. SUP also gives you a whole new perspective of the ocean underworld as you stand high above the waterline paddling the protected areas of the reef. Paddleboarding is a great Belize activity for kids, teens and adults alike.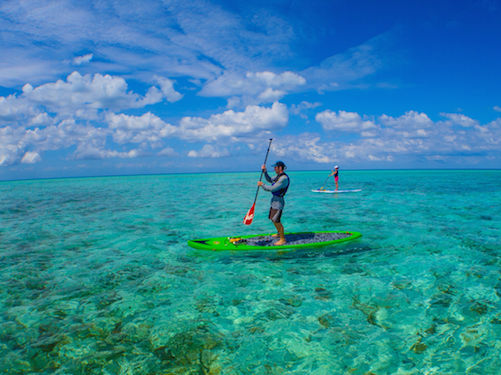 SUP on Glover's Reef

Scuba Diving on Glover's Reef

Glover's Reef Atoll offers spectacular diving. A mile off the eastern shore of the atoll, where the reef wall rapidly drops to a spectacular 2,600 feet to the ocean floor below, is the perfect spot for certified divers to explore the giant corals, sponges and countless other species that make the reef their home.

Yoga on Glover's Reef

At the Glover's Reef Basecamp on Southwest Caye, you can enjoy complimentary Belize yoga sessions with a beautiful backdrop of the sun rising over the Caribbean sea. Yoga is the perfect way to start your day of adventure on the reef. It's a great form of exercise to loosen up before paddling and brings relaxation, balance and mindfulness. Contact our trip planners to find out more about our yoga sessions.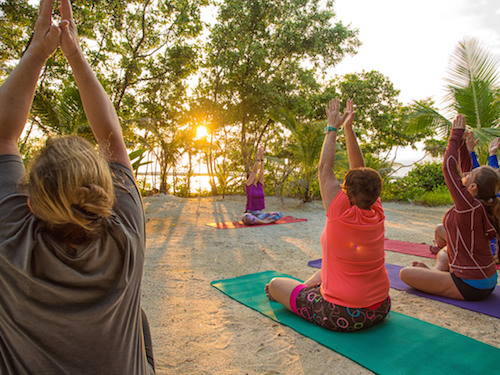 Yoga on Glover's Reef

Fishing on Glover's Reef

If fly-fishing for tarpon and bonefish in Belize is on your bucket list, the saltwater flats and adjoining deep waters of Glover's Reef are one of the best places in the world to try this. Or try your hand at the Belizean hand line fishing technique, outside of the Glover's Reef Marine Reserve boundaries, where you can catch and keep your catch. This is a great opportunity to catch a Barracuda!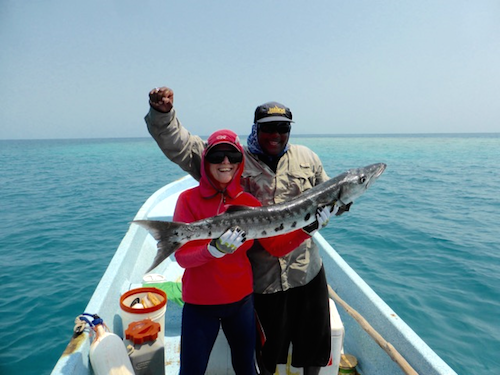 Fishing on Glover's Reef

If you go:

Accommodation on Glover's Reef, Belize

Our Glover's Reef Basecamp is located on Southwest Caye and is the perfect place for singles, families and couples to explore this protected marine park and designated world heritage site. Each day a flexible itinerary is offered, so you choose how you want to spend your Belize vacation time. Try kayaking, snorkeling, SUP, fishing, swimming, exploring the caye or just relaxing in a hammock amongst the palm trees with a good book.

We know Glover's Reef Atoll inside out and have been creating incredible vacations and amazing memories since our first trip there in 1990. Many of our Belizean guides have spent their life on the water and they will fill your days with adventure and immerse you in the natural wonders of Belize.


We have a number of trips that include a stay at the Glover's Reef Basecamp. Choose from a 7-night itinerary on the Glover's Reef and River of Cave trip, a 5-night Glover's Reef Adventure or if time is limited, we have a 2-night Glover's Getaway vacation.

For more information on our Belize vacations to Glover's Reef Atoll call 1.800.667.1630 or email at info@islandexpeditions.com