Five days at spectacular Lighthouse Reef Atoll, Crooked Tree Wildlife Sanctuary & the Mayan Ruins of Lamanai
Duration:
When:
Weekly December through April - dates can be easily customized for your travel time frame, please call us at 1-800-667-1630
Group size:
6-22 people per trip. 2-6 guides per trip.
Accommodations:
1 Night Biltmore Plaza Hotel, 4 Nights Lighthouse Reef Basecamp, 3 Nights Birdseye View Lodge
Activities:
Rainforest River Travel
Swimming
Stand-up Paddle Boarding
Snorkeling
Sea Kayaking (Paddling)
Sea Kayak Sailing
Archeology
Mayan Ruins
Birding
Price: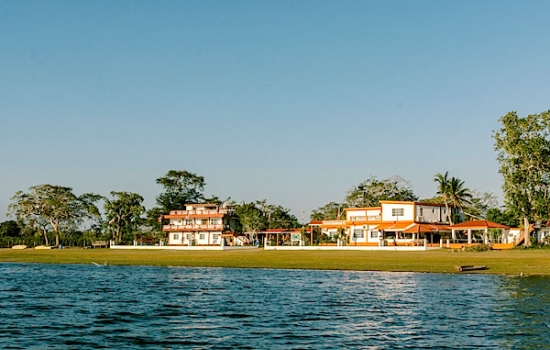 About the Trip
The Maya Reef Explorer combines a three day inland adventure to Crooked Tree Wildlife Sanctuary with five days at Lighthouse Reef Atoll, a remote tropical marine park and designated world heritage site fifty-five miles off the shore of the Belize Mainland. 
Ideal for those wanting to experience both reef and inland, as well as the local Creole and ancient Mayan cultures. Well suited for families and couples of mixed abilities, our Basecamp trips offer a choice of guided activities on the reef and the flexibility for traveling companions to do things together or separately. All abilities welcome! Includes accommodation on the mainland before and after your trip to Lighthouse. 
Discover the diversity of indigenous birds and wildlife at Crooked Tree Wildlife Sanctuary on a boat tour of Crooked Tree Lagoons. 
Check out Crooked Tree, one of Belize's oldest Creole settlements
Journey to the ancient Mayan ruins of Lamanai and Altun Ha.
Explore and stay on remote and renowned Lighthouse Reef Atoll, with four nights in a tent-walled cabana at our all-inclusive Adventure Basecamp on Half Moon Caye.
Paddle and snorkel 'the Aquarium,' as well as Jacques Cousteau's legendary Blue Hole.
Day 1
Accomodation:
Bird's Eye View Lodge
Meals:
Dinner
You'll arrive at the Belize International Airport where an Island Expeditions' representative will meet you and welcome you to the country. You'll be taken to Bird's Eye View Lodge in the Crooked Tree Wildlife Sanctuary. After checking into your accommodations you'll have a chance to meet your fellow travelers, enjoy a fine meal and if time permits, explore Crooked Tree Village. Crooked tree Village is one of Belize's oldest Creole Settlements. Airport transfers, dinner, and lodging are included.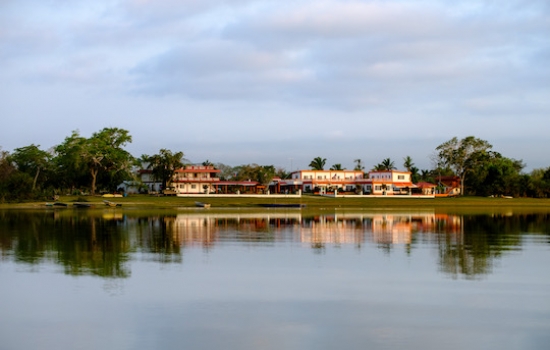 Day 2
Accomodation:
Bird's Eye View Lodge
Meals:
Breakfast, Lunch & Dinner
You will have a full day of exploration as you travel overland and by river to the Mayan ruins of Lamanai. With the very best guides you explore the many temples, plazas, palaces, and museums within the park's boundaries. In the afternoon, you'll depart Lamanai by riverboat and your guides will help you discover amazing opportunities for birding and viewing wildlife. Iguanas, parrots, toucan, aracaris, and Morelet's crocodiles are frequently seen while traveling down the New River. You will return turn to your lodge along the banks of the Crooked Tree Lagoons.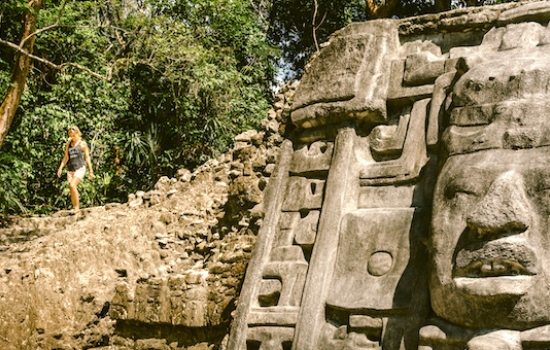 Day 3
Accomodation:
Bird's Eye View Lodge
Meals:
Breakfast, Lunch & Dinner
Coffee is served at sunrise. With your binoculars in hand, you'll enjoy the sounds and sights of the awakening wilderness. You'll also have the opportunity to see hundreds of birds feeding along the shores of the Crooked Tree Lagoons. This protected area was created in 1984 primarily to preserve resident and migratory birds. It consists of a network of inland lagoons, wetlands, and waterways, which shelter one of the world's largest flying birds, the Jabiru Stork. On this day, you'll enjoy boat tours through the protected lagoons and a tour to the Mayan ruins of Altun Ha. Altun Ha is considered one of the major Mayan ceremonial centres of Belize, and functioned as an important trading center between the people of the interior and the coast during the Classic Period (250-900 AD). Within the site, there are more than 275 structures and 250 to 300 unexcavated mounds.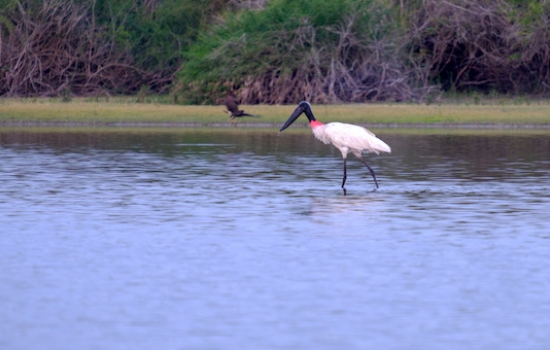 Day 4
Accomodation:
Lighthouse Reef Basecamp on Half Moon Caye
Meals:
Breakfast, Lunch, Dinner
This morning you'll travel to Belize City, and board a chartered water taxi to Lighthouse Reef Atoll. Our route takes you along numerous white sand, partially submerged mangrove cayes until you cross Belize's Barrier Reef. From there, you'll enter the narrow passages within the Turneffe Islands before crossing the blue waters towards Lighthouse Atoll. Upon reaching our Half Moon Caye Basecamp, your guide team will orient you to your new setting and accommodations. You will receive thorough instruction on the fundamentals of sea kayaking, snorkeling, and safety on the Caribbean Sea. In the afternoon, weather permitting; you'll have an opportunity to sea kayak and snorkel within this marine reserve.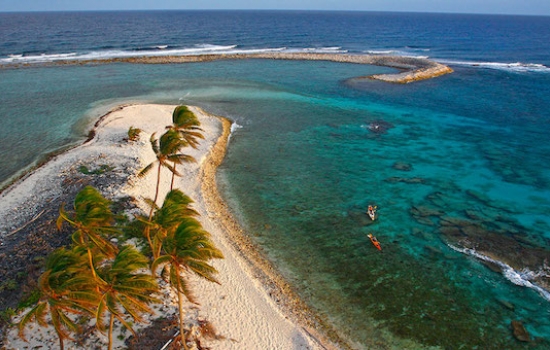 Days 5-7
Accomodation:
Lighthouse Reef Basecamp on Half Moon Caye
Meals:
Breakfast, Lunch, Dinner
Early risers may want to go for a swim, do some yoga - or just grab a cup of coffee and watch the tropical sunrise. After a healthy Belizean breakfast everyone gathers to plan the day's activities. The waters of Lighthouse Reef Atoll are exceptionally clear with a fabulously rich reef system, which offers some of the best kayaking, snorkeling, and diving in the Caribbean. Throughout your stay, you'll have the opportunity to try a variety of activities as you explore this remote and magical part of Belize. Snorkeling at the 'Aquarium' is a favorite guest activity. The Aquarium has a profusion of tropical fish and towering coral formations, and is an unforgettable underwater experience. You'll also be taken on a snorkeling excursion to the renowned Blue Hole, a site made famous by the legendary explorer Jacques Cousteau. The Blue Hole is an underwater cave and sinkhole in the middle of the Lighthouse lagoon. In the mornings and evenings, a favorite guest activity is to walk to the red-footed booby colony to watch nesting boobies come in from the sea to tend their nests and feed their chicks.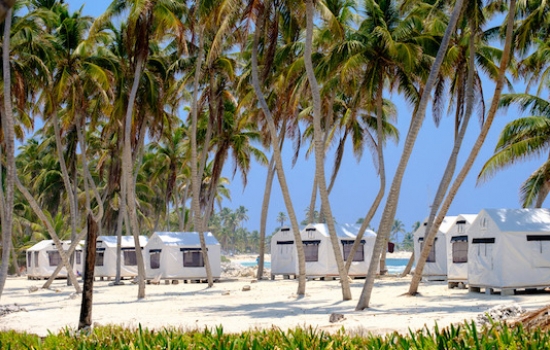 Day 8
Accomodation:
Belize Biltmore Hotel
Meals:
Breakfast, Lunch
For your last day on Lighthouse Reef, choose from a variety of activities. Don a mask, snorkel, and fins and swim to a favorite patch reef. Circumnavigate Half Moon Caye by kayak or explore by Stand Up Paddleboard. Walk the trails, or beachcomb along the island beaches. Our water taxi typically arrives later in the afternoon to take everyone back to the mainland. The Belize Biltmore Hotel is your final destination for today, a comfortable hotel located on the outskirts of Belize City.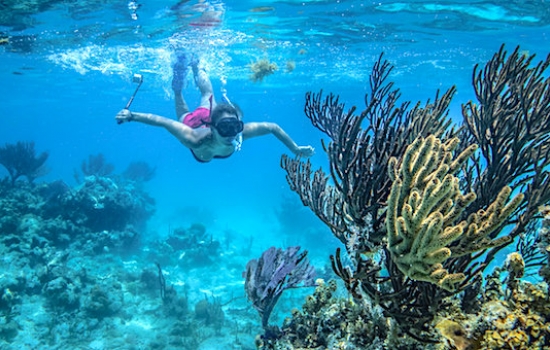 Day 9
Accomodation:
n/a
Meals:
n/a
This last day is yours to enjoy at your leisure before you fly home or continue on your travels. Relax by the pool or investigate the optional tours offered by the hotel activity desk.   

Note: Dinner on day 8, and breakfast  and transfer to the airport on day 9 are not included.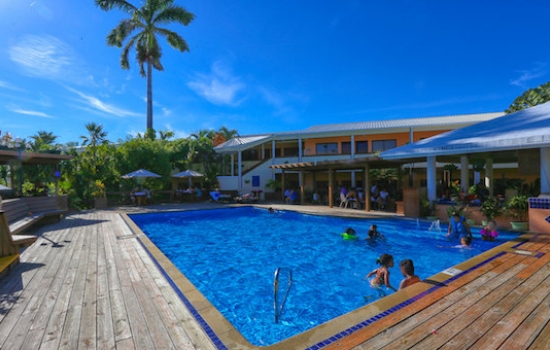 Setting
THE MAYAN SITES 

Lamanai – The ruins of Lamanai lie scattered along the banks of the New River covering an area of 950 acres of tropical rainforest in central Belize. The Mayan name Lamanai translates into "submerged crocodile". Due in part to its location straddling a major trade route, Lamanai was one of the longest continuously occupied Mayan cities in Central America - from about 500 BC to 1675 AD. The first major excavation was undertaken by the Royal Ontario Museum starting in 1974. During a series of field seasons they mapped 718 structures stretching out along the shore of the lagoon. Lamanai's importance is reflected in the large imposing Late Pre-Classic temple-pyramids built over top of earlier temples. On one site researchers found, buried deep inside a temple dating back to 600 AD, a well preserved Pre-Classic temple estimated to be seven centuries older - that's 100 BC!
Altun Ha – Translates into "stone water" due to the ancient Mayan reservoir, or aguada, that Belizeans call "rock stone pond". Altun Ha was an important Classic Period site situated to take advantage of the trading that occurred between the waters of the Caribbean and the deep interior of the Mayan Civilization. The entire city covered three square miles and the population is estimated to have been between eight and ten thousand people at its peak. Within the central portion of the site there are more than 275 structures. Altun Ha has become famous for a large jade head representing the sun god Kinich Ahau that was discovered in the main temple. This relic is the largest Mayan jade artifact ever discovered, weighing ten pounds. It is now the national symbol of Belize and seen on the corner of every Belizean banknote.
About the Route
In partnership with the Belize Audubon Society, Island Expeditions has established an Adventure Camp within the Half Moon Caye Marine Reserve, opening up for the first time this spectacular wilderness to kayakers, snorkelers, and adventurers. 

Lighthouse Reef - Our journey to Lighthouse Atoll takes us 55 miles offshore to Belize's most remote and spectacular atoll. On our way to Lighthouse we weave our way through channels and picturesque islands within Belize's Barrier Reef. Then, after crossing the reef wall, we enter a keyhole passage and wind through narrow mangrove lined channels to reach the eastern Coral Wall of Turneffe Atoll. Finally, we continue another 20 miles to the world renowned Lighthouse Reef Atoll and Half Moon Caye. One of only four coral atolls in the Caribbean, Lighthouse is home to the famous Blue Hole. In 1972, Capt. Jacques Cousteau and the intrepid crew of the Calypso explored and filmed this incredible atoll, exposing its amazing underwater diversity to the world for the first time.Crooked Tree Wildlife Sanctuary - located northwest of Belize City, the Crooked Tree Wildlife Sanctuary consists of a large network of inland lagoons, wetlands, and waterways. The sanctuary provides both the abundant food sources and the safe resting areas necessary to support a large and diverse population of birds. Those visiting in the later months of the dry season (Feb – May) are treated to a concentration of wildlife, which congregate in the park's shrinking lagoons, as freshwater resources across the country dry up.