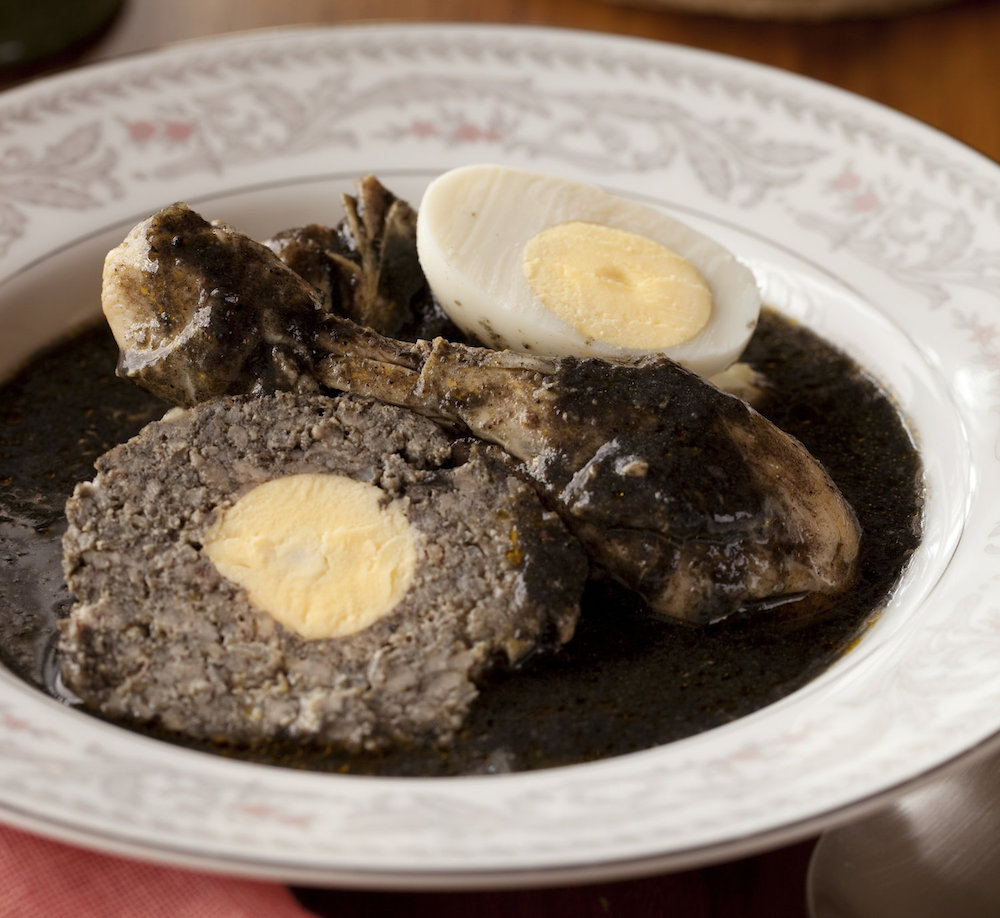 Belize has a vibrant culture thanks to a mix of influences and people from backgrounds including Creole, Maya, Garifuna, Mestizo, Mennonites, European, Chinese, East Indian and a blend of many other cultures. 
Belizean cuisine showcases a mixture of these cultures.  At Christmas, Belizeans celebrate with the traditional turkey dinners but it's always served with the quintessential Belize dish of rice and beans, as well as cranberry sauce and stuffing.
Other well-loved Belizean recipes during the Holidays include black Christmas cake, rum-popo, bollos and tamales. 
One unique Belizean dish that is often served at Christmas time is Black Relleno. Primarily a Mestizo dish, this black soup consists of vegetables and chicken stuffed with pork and boiled eggs. The soups distinctive black colour is given to it by the use of Black Recado, a paste made of local roasted ancho chili peppers, which are roasted until black.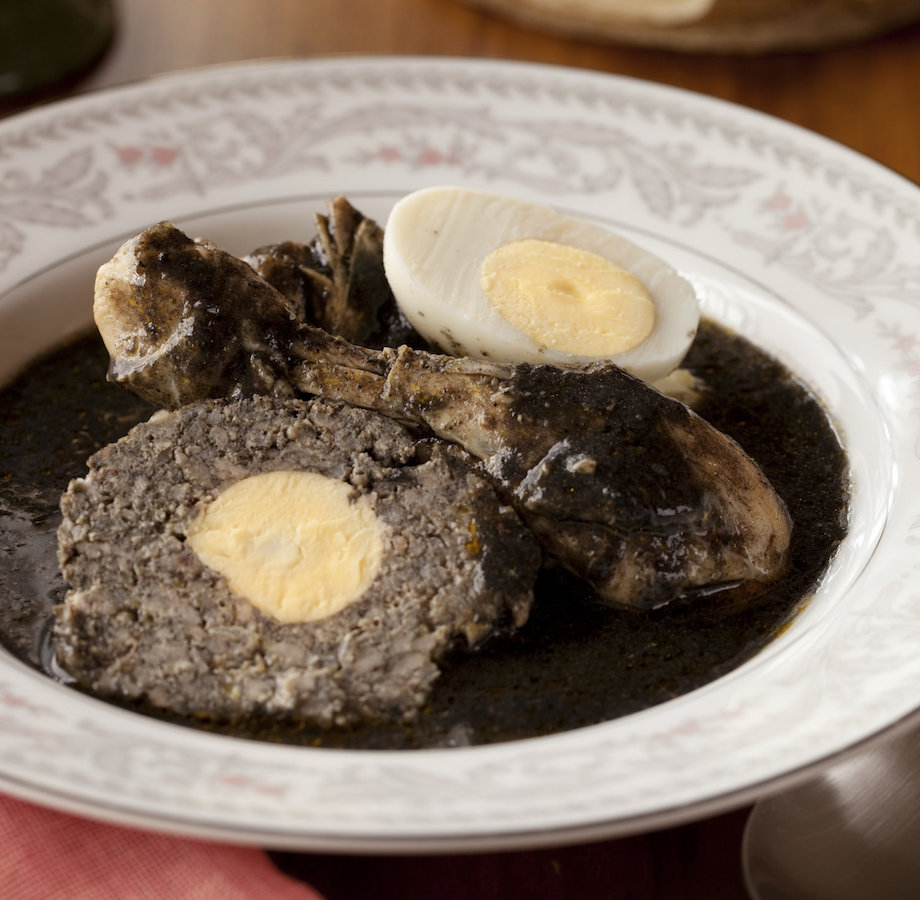 Black Relleno - Photo Credit: Flavours of Belize

Black Relleno 
Ingredients:
1 whole chicken
1 teaspoon freshly ground black pepper
1 teaspoon salt
1 teaspoon fat
1 tablespoon vegetable oil
1 white onion - diced
1 sweet pepper – diced
2 tomatoes – chopped
1½ teaspoons garlic, minced
2 teaspoon oregano leaves, crushed
2-3 apasote leaves, crumbled
2 pounds ground pork
2 eggs, raw
8 eggs, hard-boiled, peeled
1 black recado square 
Preparation:
Clean and season chicken with salt and black pepper . 
Heat frying pan and add 1 teaspoon fat.
Season ground pork with salt, black pepper, onions, garlic, oregano leaves and apasote leaves. Place meat mixture in frying pan.
Fry until well done. Turn frequently.
Remove from heat and add raw eggs. Mix well.
Stuff seasoned chicken with ground pork. Put in a whole hard-boiled, peeled egg after each portion of ground pork is inserted. Continue until all ground pork and eggs are used. Sew up Chicken.
Boil Chicken in sufficient water to cover up Chicken.
Add black recado to 1 cup water. Mix to soften. This gives the colour.
Add sweet pepper and tomatoes for added flavour.
Turn Chicken frequently to cook properly.
Happy Holidays and a prosperous New Year from everyone here at Island Expeditions.

Watch a Video on Making Belizean Black Relleno
Do you need help planning a vacation to Belize?
Our Belize Trip Planners can help you plan and book an itinerary to Belize.  
Contact us today at 1.800.667.1630 or email info@islandexpeditions.com

Related Links:
Top 5 Things to Experience in Belize Over Christmas
Your Guide to Planning a Belize Christmas Vacation
11 Best Christmas Gifts For The Paddler In Your Life - The Adventure Kayak Magazine
Black Christmas Cake Recipe from Belize