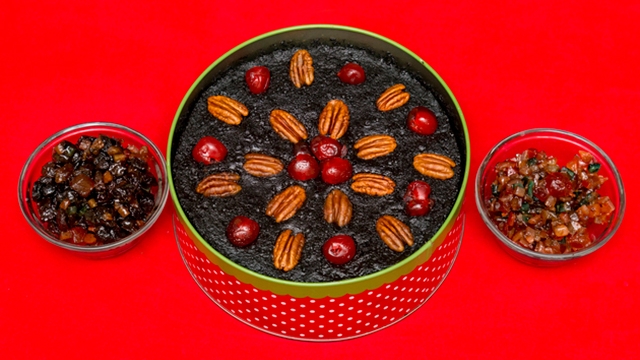 Black Christmas Cake is a traditional holiday favourite that is made by many Belizean families during the festive season. The key ingredients are dried fruits, nuts and of course rum! We hope you enjoy this recipe and bring a taste of Belize into your home over the Christmas Holidays.

We have also included a video on how to make Black Christmas Cake from Chefs Sean Kuylen & Carolee Chanona from the Flavors of Belize cooking show.

Wishing you a joyous holiday season and a new year filled with happy travels.

From all of us at Island Expeditions.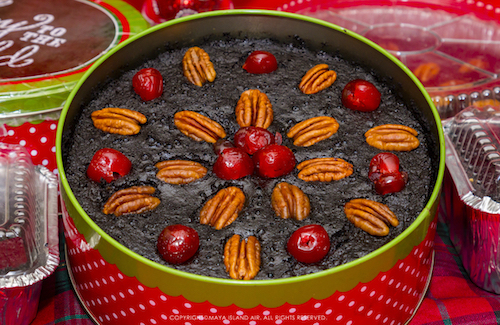 Belizean Black Food Cake - Photo Courtesy of Maya Island Air

Belizean Black Cake

Ingredients:

2 lbs. flour
1 ½ lbs. brown sugar
1 lb. butter
1 pint, stout
1-pint blackening (brown sugar that has been melted down in a tiny bit of water until it literally turns black)
½ lb. each of raisins, prunes, dates, pecans, cherries and other fruits
1-pint strong rum (diluted to give 1 quart and used to steep fruits)
1 tsp. baking powder
1 nutmeg grated
2 tsp. cinnamon or 3 tsp. allspice
8 - 10 eggs
1 cup syrup or brown sugar for stewing fruits
1 cup flour for fruits
Method:
Stew fruits the night before, using ¼ - ½ lb. of brown sugar for stewing fruits. Let fruits simmer for 5 - 10 minutes. The next day, grease cake tins with shortening and line them with a brown paper bag. Set aside. Cream the butter or margarine with remaining sugar. Add eggs, one at a time. Mix well. Add flour alternately with black colouring. Mix well with each addition. Add stout and mix well. Cover fruits with 1 cup of flour. Add to mixture and fold in fruits. Bake for 2 - 3 hours in a 300-degree oven or until cake is dried.

Black Cake - Cooking with Flavors of Belize & Sean Kuylen