We are thrilled to introduce a new Stand Up Paddleboard (SUP) Belize vacation!  Elevate your stand up paddling skills to an exciting new level with accomplished coach, SUP instructor and expedition paddler, Norm Hann on our Glover's SUP Adventure and Skills Camp. On this special trip departure, the focus will be on SUP skills. Learn, explore and snorkel amongst the turquoise lagoons and rich coral reefs within the Glover's Reef Atoll.
Instruction & Training with Norm Hann
Norm Hann is one of North America's leading stand up paddleboard instructors. As an early pioneer of the sport in Canada, Norm started paddleboarding to explore the British Columbia coast and soon started leading multi-day SUP trips to the Great Bear Rainforest as part of his expedition and training company, Norm Hann Expeditions. Norm is a global athlete ambassador with Boardworks Surf and Kokatat and is a Paddle Canada SUP Instructor Trainer.
On the Glover's SUP Adventure and Skills Camp, Norm will be teaching a flatwater skills workshop and progressing on to downwind, swell and surf skills. We recommend that guests have some previous SUP experience, prior to joining this special departure.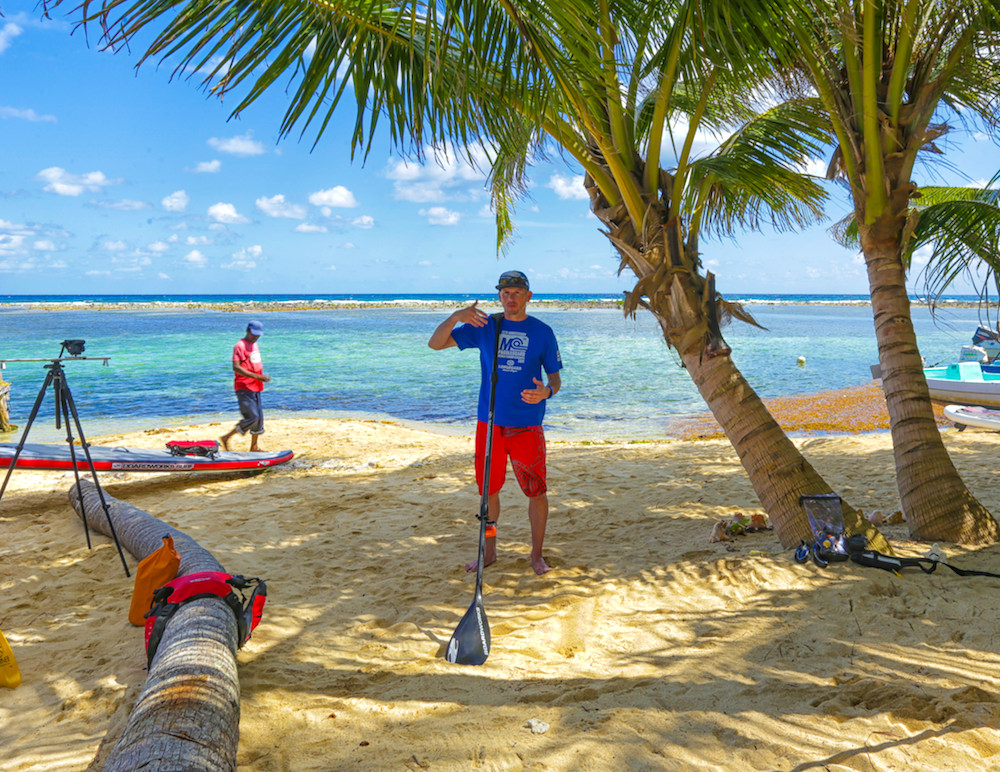 After Dinner Sessions with Jen Segger
We are also delighted to have endurance coach Jen Segger join us on this trip.  Jen has been coaching athletes of all levels around the globe for over a decade. She has helped a number of athletes compete, participate and achieve top results in ultra running, mountaineering, ironmans, triathlons, mountain bike races, road cycling, stand up paddle boarding and adventure races. Jen will be focusing on hydration and nutrition for paddling and distance paddling, expedition or race training in her after dinner sessions.
Dates and Prices:
This 5-day, 4-night trip will be departing on January 30, 2019. The price is CAD $1559 (US $1359) per person.
Accommodation, Meals and Boat Transfers
Guests will stay at our private Glover's Reef Basecamp located on Southwest Caye, 36 miles off the coast of Belize. Accommodation is provided in safari style tents that are simple, clean and comfortable. Each one is appointed with a real wood-frame bed, a 6-inch foam mattress, a night-stand with a kerosene lamp, as well as some organizational shelves.  All meals as outlined in the itinerary are included.  Meals are served buffet style in our open-air dining area. You can expect a delicious assortment of seafood, grilled meats local dishes, fresh vegetables, tropical fruits and fresh baking. Boat transfers to and from Dangriga are also included.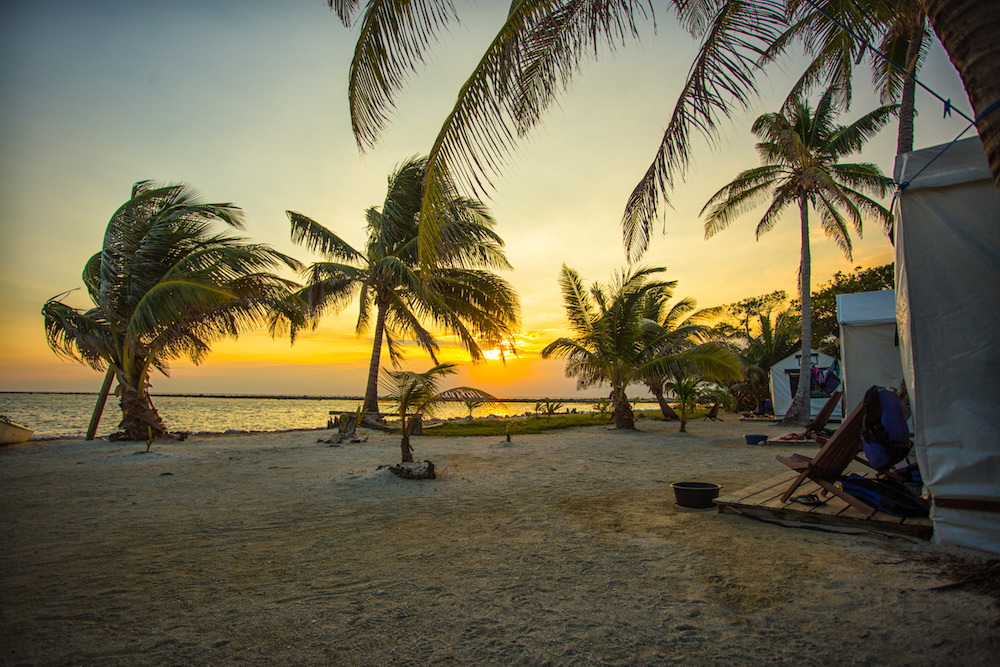 Activities available at the Glover's Reef Basecamp
Other activities available on this trip itinerary include snorkeling, swimming, fishing, scuba diving (extra cost) and of course time to relax and hammock surf! 
Coral Islands SUP Trip with Norm Hann Expeditions
Island Expeditions and Norm Hann Expeditions teamed together to create the first and only guided lodge-to-lodge SUP journey in Belize back in 2013! On the Coral Islands SUP Trip guests will spend 7 days paddling and snorkeling lesser traveled areas of the Southwater Caye Marine Reserve, with nights free to relax and enjoy local cuisine at family-run island cabanas.  The itinerary also includes an inland adventure to the Belize Zoo's Tropical Education Center, with the option to join a fascinating, specially arranged nocturnal zoo tour.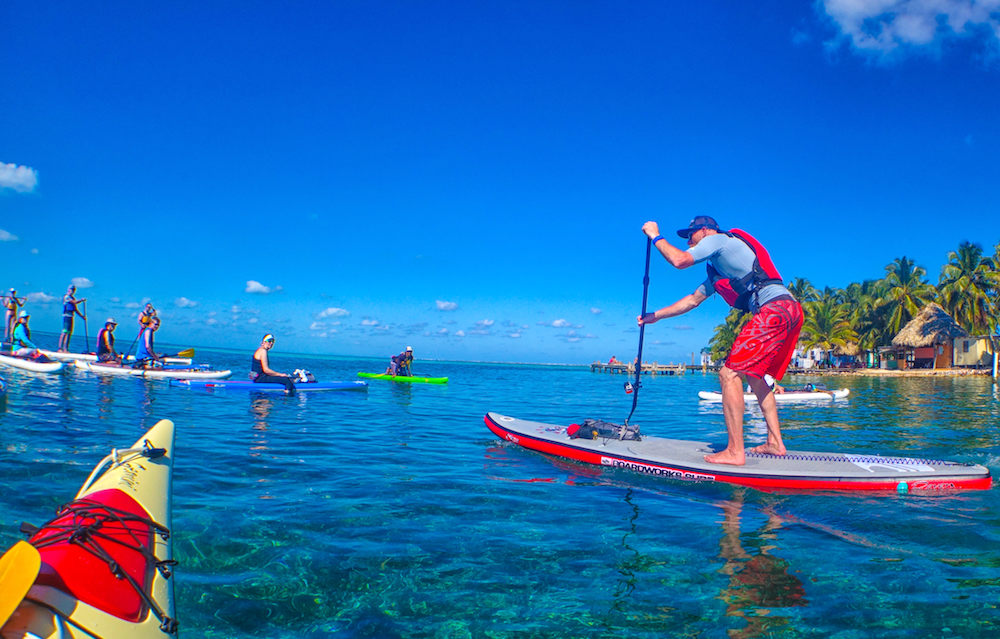 SUP on our other Belize Trips
In addition to our Coral Islands SUP lodge to lodge journey and the Glover's Reef SUP Adventure, we have SUP equipment and guided instruction available on other trips. This includes the Lighthouse Reef an Glover's Reef trips, Paradise Islands trips, as well as the island lodge on Tobacco Caye.
Are you Interested in Joining Norm Hann on a Belize SUP Trip?
Call now at 1.800.667.1630 or email info@islandexpeditions.com for more information and to reserve your spot!

Find out more about paddle boarding in Belize in this video: