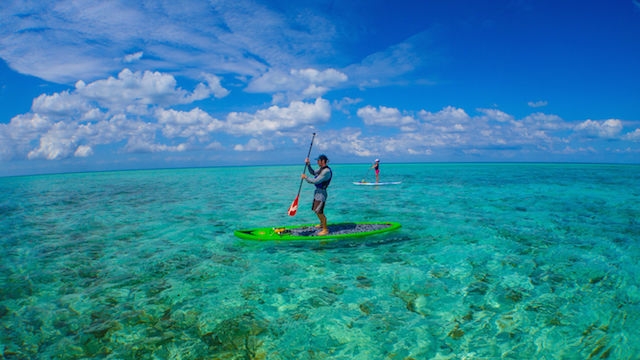 New for the 2016/17 Expedition Season is our Glover's Reef Adventure. This incredible trip offers guests 5 nights at our unique island Basecamp on Southwest Caye. Travelers will find plenty of time to paddle, snorkel and explore the spectacular reefs and white sand cayes of Glover's Reef Atoll. Find out more about the daily activities in our detailed trip itinerary.

Glover's Reef was originally named after the 17th century pirate, John Glover who would raid Spanish merchant ships laden with riches, and is one of only three atolls located off the coast of Belize. Situated 40 miles offshore from the mainland of Belize, this remote location is the least visited of the three atolls. It's shallow lagoon with over 700 patch reefs offers unsurpassed sea kayaking, Stand Up Paddleboarding, snorkeling and scuba diving.

Glover's Reef has been a long standing favorite of our guests. We began exploring Glover's Reef Atoll and sharing this area with travelers in 1989, three years before this unique atoll was declared a marine park in 1993. Three years after that, in 1996, the Glover's Reef Marine Reserve was given UNESCO World Heritage Status, as part of the Belize Barrier Reef Reserve System.

This new reef only trip gives travelers an exciting new way to experience Glover's Reef...our popular Glover's Reef and River of Caves, Glover's Getaway, Double Atoll Adventure and Epic Belize all include a stay at this amazing marine area!

Glover's Reef Basecamp
Our Glover's Reef Basecamp is located on Southwest Caye, which is one of the six cayes located on the reef crest along the southeastern edge of the atoll.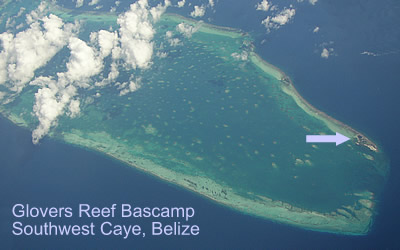 Accommodation is provided in safari-style tent cabanas, which are aligned along the eastern point of the Caye to take advantage of the cooling breeze. All meals at the Basecamp are included and feature fresh seafood, tropical fruit and local fare. Staying at the adventure Basecamp offers flexibility and choices in daily-guided activities, so traveling companions can do things together or separately. There is always the option to stay back and relax in the hammock with a cold drink.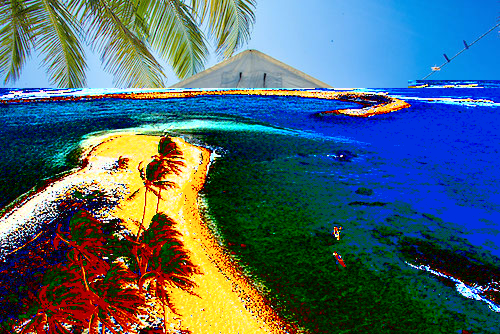 The safari-style tents at the Glover's Reef Basecamp on Southwest Caye
Exploring Glover's Reef
Glover's Reef has a well formed, built up reef crest, which creates a barrier, providing ideal sheltered conditions for paddling. The best way to explore the crystal clear waters, thousands of coral reefs and extremely abundant and varied marine life of Glover's Reef is by sea kayak, snorkel or SUP.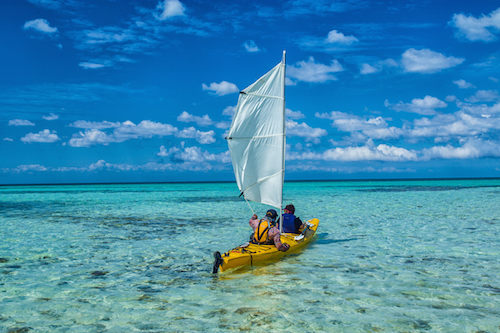 Sea kayak sailing on the Glover's Reef Atoll

With ideal Caribbean conditions, the water temperatures in Belize range from 78f - 80f during the months of December and January, warming up to 80f - 82f in February through August making it perfect for snorkeling. Right from the Glover's Reef Basecamp you can access some of the most pristine snorkeling areas in the world.

Snorkeling at Glover's Reef
Glover's Reef also offers the perfect place for stand-up paddle boarding (SUP). As you stand high above the water line, you will have an amazing perspective of the crystal-clear waters, coral reefs, and tropical fish as you paddle along.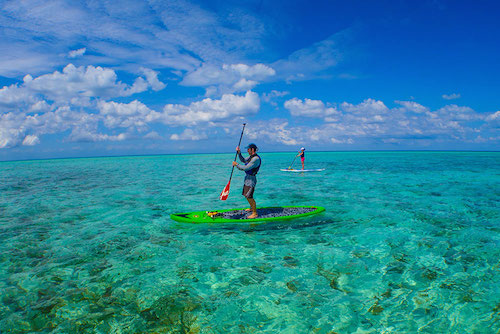 SUP at Glover's Reef

Want to do some fly fishing? Glover's Reef is also a great destination to do just that. The saltwater flats and adjoining deep waters are one of the best places to fly-fish for tarpon and bonefish. Other favorite activities include a day kayak trip to Middle Caye, home to the Wildlife Conservation Society, Glover's Reef Marine Research Station. Scuba Diving can be organized for an additional cost at the dive resort on Southwest Caye.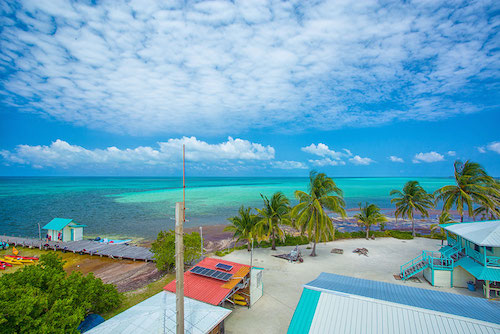 Middle Caye - the WCS Glover's Reef Marine Research Station
If you go:
Call 1.800.667.1630 or email info@islandexpeditions.com for more information on the new Glover's Reef Adventure. This 5 day trip combines well with independent travel, as well as our Rainforest Canopy Extension or Maya World Extension.

Looking for other vacation ideas for Glover's Reef?
The 7-night Glover's Reef & River of Caves Trip includes a rainforest, cave float, nocturnal zoo tour & 5 nights on Glover's Reef. For a shorter trip we offer a 2-night/3 day Glover's Getaway. Our new Epic Belize trip combines visiting Glover's Reef Atoll with the Mayflower Bocawina National Park and Moho River. We also offer the 9-night Double Atoll Adventure which heads out to our Basecamps on both Lighthouse Reef Atoll and Glover's Reef Atoll.