Belize is synonymous with the coconut palm and this beautiful and useful tree is captured in many images of this Caribbean destination. Coconut plays an important role in everyday life in Belize and coconut production contributes significantly to the national economy.

Today the conservative domestic market demand for coconut products in Belize is valued at coconut oil: $5 million, coconut water: $4 million, coconut milk powder: $3 million and other: $1 million. The coconut industry provides direct work and income to an estimated 500 people in Belize, through land preparation and maintenance, planting, harvesting, delivery, processing, distribution and sales.

Here we look at the history of the coconut in Belize, its versatility, health benefits and all the delicious ways it can be consumed.

History of the Coconut in Belize

The coconut tree is not indigenous to Belize. Originally from the coasts of Africa and the Indian Ocean, the coconut palm was introduced to the Caribbean by early settlers. Migrants have always been eager to bring coconuts along on their travels, and for good reasons. Coconuts are not only a source of both food and water but different parts of the coconut palm can be used for other purposes.

Sir Isaac Mortar was one of the first black Belizeans to become a millionaire by planting coconuts. Today, Belize's coconut industry continues grows as the popularity of this fruit has soared recently, particularly in the beverage market.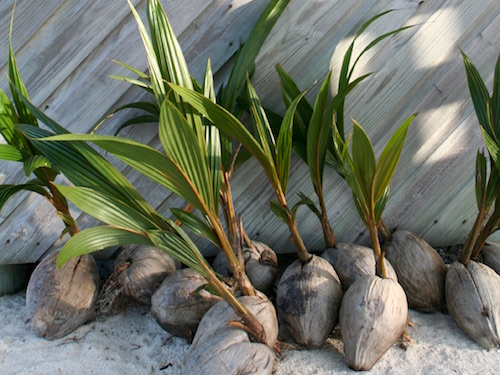 Young coconut plants

The Versatility of the Coconut

Coconuts are a food source rich in vitamins, nutrients and amino acids and they are also a source of fuel and provide material for shelter. Coconut oil is used in cooking and also in a wide range of skin, hair and beauty products. Coconut husks, shells, leaves, leaf stems, and flower stems are used for fires in traditional kitchens. The coconut palm can also be used for other purposes such as animal feed, ropes, carpets, brushes and roof thatch.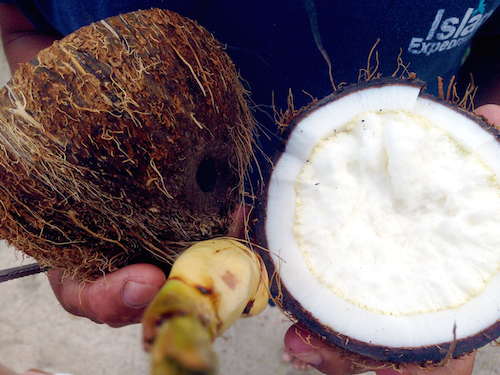 The inside of a freshly cut coconut

Health Benefits of Coconut

The health benefits of the coconut are extensive. Coconut is known to help treat a number of ailments including kidney stones, gastritis and is excellent at maintaining blood pressure. Coconut water is high in calcium, potassium, magnesium and has lots of electrolytes. It's a great way to rehydrate the body effectively and maintain body fluids. It is claimed that during World War Two, both the British in Sri Lanka and the Japanese in Sumatra regularly used coconut water when the standard intravenous fluids ran out.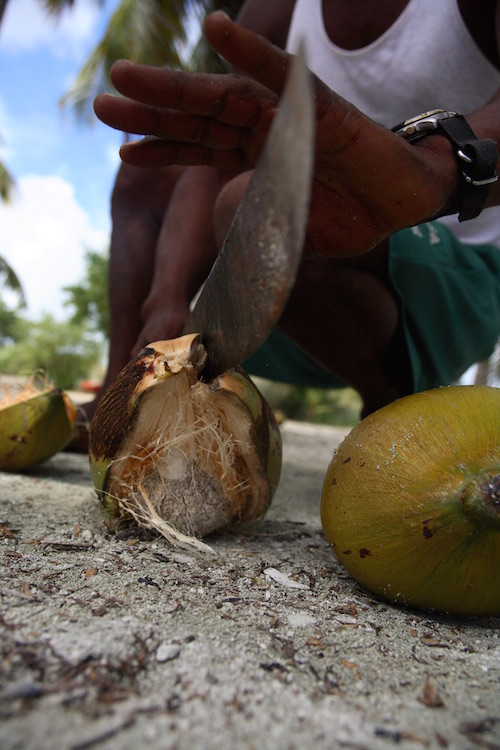 Using a machete to open a coconut

Coconuts and the Traditional Cuisine of Belize

Coconut is used extensively in Belizean cuisine. One of the most famous staples in Belize is rice and beans cooked in coconut milk. Coconut is used in a number of other traditional dishes including hudut, Creole bread, Johnny cake, tablata and coconut fudge. Coconut milk and water is used to craft a number of special coconut drinks including the famous Pina Colada cocktail. Make sure you check out this delicious recipe for Belizean Coconut Rice Pudding .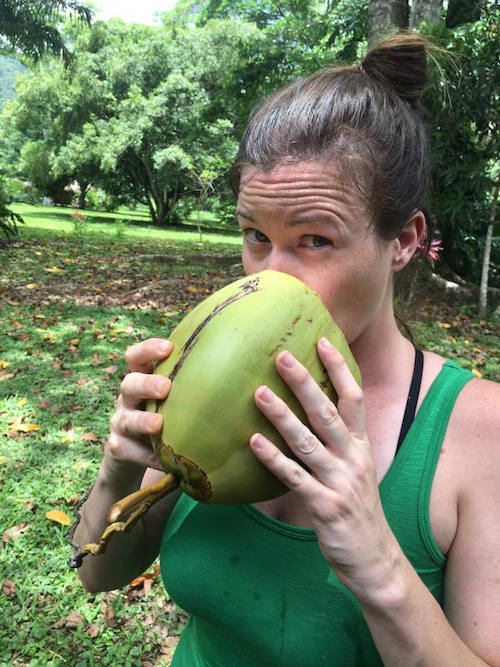 Drinking from a fresh coconut at Bocawina Rainforest Resort, Belize

Belize Coconut Festival

Yes, they have festivals now! In May 2017, the first annual Belize Coconut Festival was held in Caye Caulker. The festival celebrated everything coconut and highlighted the importance of the coconut to the culture of Belize. The festivities included coconut games, competitions, a parade with prizes for the best float, food, coconut treats and dancing. The first festival was a real success and it's sure to grow over the years.

Find out more about the Belize Coconut Festival in this video:

Relax under the shade of palm and enjoy fresh coconut on your Belize vacation:

If you are dreaming of a tropical Caribbean vacation, check out our range of Belize adventure vacations. Experience a trip at one of our Basecamps on Lighthouse Reef and Glover's Reef or journey between the cayes on a sea kayak or Belize SUP expedition .

Our guides will happily climb a coconut palm tree to get the fruit and show you the fine art of cracking open a coconut with a machete. (Remember to never stand or lie underneath a coconut tree as you never know when one will come down.) Then, enjoy a quintessential Belizean beverage of fresh coconut water and rum!

Connect with one of our Belize travel specialists at 1.800.667.1630 or email at info@islandexpeditions.com