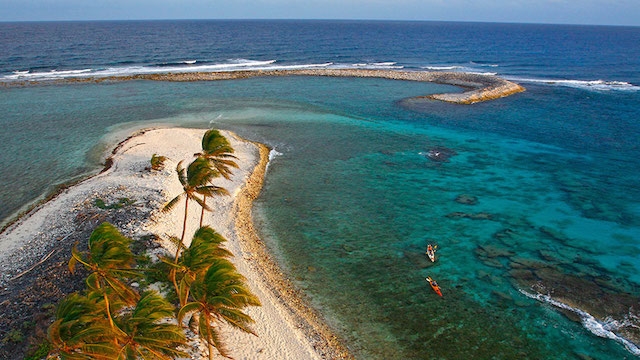 Belize is home to three of the four atolls in the Western Hemisphere. The fourth atoll is located near Banco Chinchorro in Mexico. The three atolls located off the coast of Belize are Glover's Reef Atoll, Lighthouse Reef Atoll and Turneffe Atoll.

What is an Atoll?
An atoll is a ring-shaped island formed of coral that surrounds a lagoon. As reef building corals thrive only in warm waters, atolls are only found in the tropics and subtropics.

How is an Atoll Formed?
The formation of an atoll begins when an underwater volcano erupts, creating a volcanic mountain or seamount under the surface. As the seamount builds up and continues to erupt, it rises above the water and becomes an island. Over time, corals grow around the island and the ocean gradually erodes it away, leaving behind a circular reef and a large lagoon. This whole process takes thousands of years to create the actual atoll.

The Atolls of Belize

Lighthouse Reef Atoll
The Lighthouse Reef Atoll is the most remote of all the atolls in Belize. It is located approximately 80 kms southeast of Belize City. The atoll is home to over 20 world-renowned dive and snorkel sites, including the Blue Hole, Half Moon Wall and the Aquarium. The coral reefs contained within the atoll's lagoon, harbour a remarkable 200 species of fish in a magical setting of changing reef types; including shallow reefs, ledges, shelves and drop offs.

The Great Blue Hole and Half Moon Caye have been designated as Natural Monuments and are UNESCO World Heritage Sites, as part of the Belize Barrier Reef Reserve System since 1996.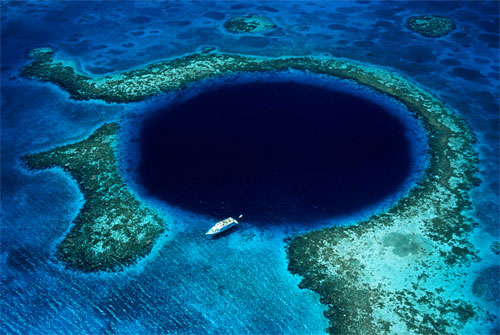 The Great Blue Hole, Lighthouse Reef Atoll

Our Basecamp is located on Half Moon Caye , a protected island managed by the Belize Audubon Society. This Basecamp is very private and we are extremely lucky to be the only operator to overnight on this 44 acre caye. The Basecamp is located close to a unique littoral forest and a nesting colony to 4000 red-footed boobies. The south eastern part of the island serves annually as a sea turtle nesting ground from May to November for the loggerhead, hawksbill, and green turtles.

Glover's Reef Atoll
Glover's Reef Atoll is located approximately 45 kms off the coast of Belize. It was named after 17th century pirate John Glover, who used the area as a base from which to raid Spanish merchant ships laden with riches plundered from the New World.

Within Glover's Reef is a shallow lagoon with over 700 patch reefs making it an unsurpassed location for snorkeling, stand-up paddleboarding and sea kayaking.

The Glover's Reef Marine Reserve was established in 1993 and it was then designated by UNESCO as one of seven protected areas that together form the Belize Barrier Reef Reserve System in 1996.

Our adventure Basecamp is located on Southwest Caye, which is one of the six sand cayes located on the reef crest along the edge of the atoll.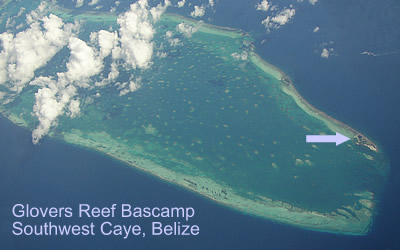 Aerial view of Southwest Caye on the Glover's Reef Atoll

Turneffe Atoll
Turneffe Atoll is located of Ambergris Caye and Caye Caulker. It is the largest coral atoll in Belize and was officially declared a marine reserve on November 22, 2012.

Turneffe Atoll is home to an abundant range of marine life including more than 500 species of fish, 65 species of stony corals, sea turtles, manatees, dolphins, seabirds, and other wildlife.

How to visit the atolls:
We have four trips that visit the Lighthouse Reef Atoll: Lighthouse Reef Adventure , Double Atoll Adventure , Maya Reef Explorer and the Lighthouse Getaway.

We offer six trip options to visit Glover's Reef Atoll: Glover's Reef & River of Caves , Epic Belize , Double Atoll Adventure , Glover's Reef Adventure , Glover's Getaway and the Glover's Getaway & Kayak Rental Combo.

If you looking for a unique trip that visits two of the atolls in Belize, then consider the Double Atoll Adventure . On this trip we stay at our island Basecamps on both Lighthouse Reef and Glover's Reef. Experience these two remote atolls offering some of the best snorkeling, paddling and marine exploration in the Caribbean.