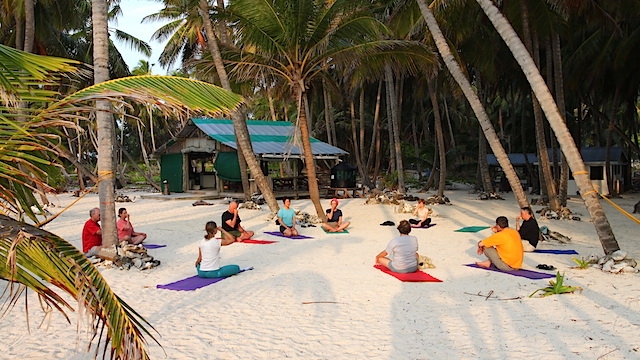 Belize is fast becoming one of the top destinations in Central America for yoga enthusiasts. This beautiful country offers the perfect environment for those seeking relaxation, wellness and a connection with nature.

Below are the 5 best places to practice yoga in Belize.

Ak'bol Yoga Retreat and Ecoresort - Ambergris Caye

Ak'bol Yoga Retreat and Ecoresort is located on the north side of Ambergris Caye. This Belize eco-resort is perfect for those looking for a balance of nature, activities and relaxation. Guests can enjoy scheduled retreats throughout the year or daily yoga classes even if there are no formal retreats running. It's the perfect location to take advantage of all the surrounding area has to offer, including scuba diving, snorkeling, sailing, kayaking and visiting ancient Mayan ruins. The resort also has its own organic garden that provides fruit and vegetables to the restaurant and juice bar.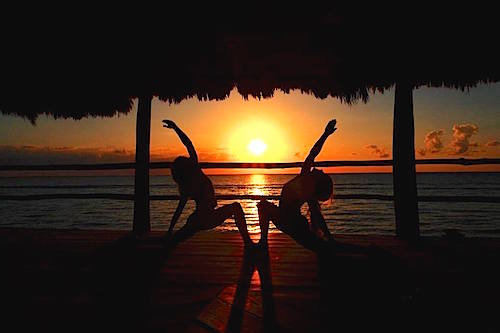 Photo Courtesy of Ak'bol Yoga Retreat and Ecoresort

Lighthouse Reef Basecamp - Half Moon Caye

Half Moon Caye is located on Lighthouse Reef atoll, a tropical marine park and UNESCO World Heritage site which is fifty-five miles off the shore of the Belize mainland. Guests staying at the Lighthouse Reef Basecamp, sleep in comfortable, waterfront safari-style cabanas and enjoy fresh, family-style meals. Each day guests can choose from daily guided reef activities including kayaking, snorkeling, SUP and kayak sailing. In the morning guests can join a qualified yoga instructor for a sunrise yoga experience in Belize.

Find out more about the Belize yoga instructors who will be at the Lighthouse Reef Basecamp for the 2017/2018 season.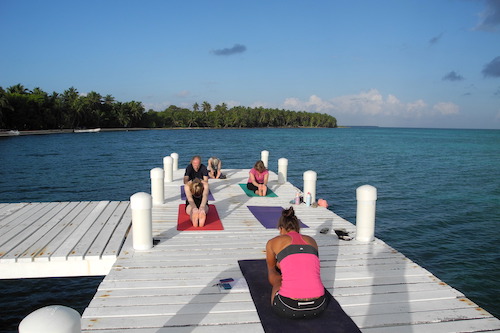 Yoga on the dock at Half Moon Caye, Belize

Om Shanti, Belize - School of Yoga & Wellness - Belize City

Om Shanti Belize is a centre that is dedicated to providing the highest quality yoga instruction with the greatest accessibility to all through a variety of classes, healing workshops, environmental consciousness, retreats and community outreach. The yoga instructors are internationally certified and registered with The Yoga Alliance. There are over 20 classes a week to choose from, in different yoga styles as well as courses in the practice of mindfulness. This Belize yoga school also offers 200 & 300 hr certification courses.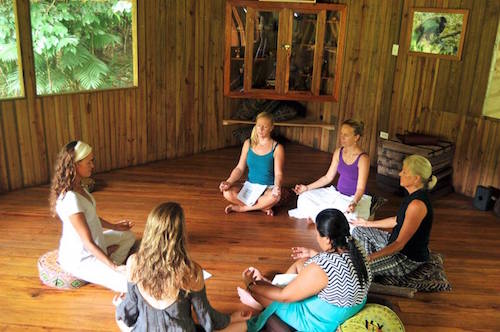 Photo Courtesy of Om Shanti, Belize - School of Yoga & Wellness

Glover's Reef Basecamp - Southwest Caye

Located on Southwest Caye the Glover's Reef Basecamp is the perfect base to explore the surrounding reefs of this protected marine park and designated UNESCO World Heritage site. Guests can join an experienced yoga instructor for multi-level classes and be guided through beautiful morning sunrises to unwind, relax and become rejuvenated. This is the perfect way to start the day before experiencing daily guided activities like sea kayaking, snorkeling and stand up paddleboarding.

Learn more about the Belize yoga instructors who will be at the Glover's Reef Basecamp for the 2017/2018 season.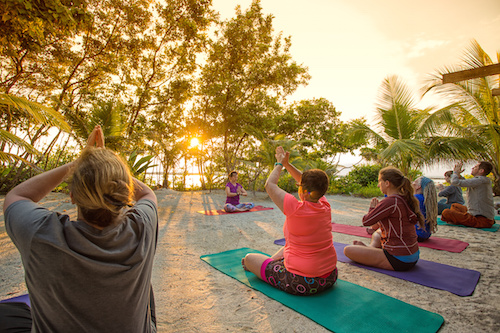 Sunrise yoga session at the Glover's Reef Basecamp

Serenity Retreats Belize, A Vegan Resort - Corozal

Serenity Retreats Belize is located in Corozal, in northern Belize and just a mile from the Caribbean Sea. Situated on 2 acres of beautifully landscaped grounds, it is known as bird's aisle due to all the tropical birds that visit throughout the day. This is a perfect getaway for people that are looking for a unique experience in a different kind of paradise on a dirt-road less travelled.

Each guest is provided with their own private cabana, so the mind, body and soul can take time away from the chaos of day to day living. The Belize yoga retreats are kept small, with a maximum of 8 guests. At the retreat, guests can enjoy limitless vegan food all day included with the package.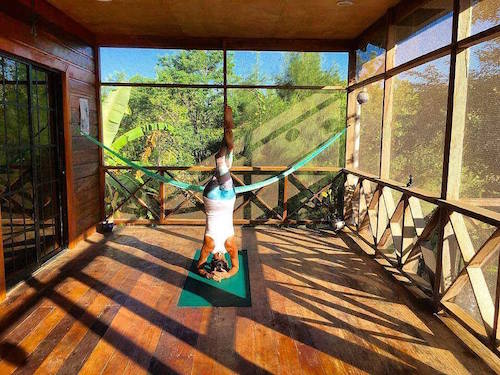 Photo courtesy of Serenity Retreats Belize

Upcoming Belize Yoga Retreats for 2017/18

Belize Yoga & Adventure Retreat with Jessica Pyper

Location: Bocawina Rainforest Resort and Tobacco Caye Paradise
Dates: Nov. 5-11, 2017

Take a deep breath and spend a week learning to implement yoga practice in the luscious rain forest of Belize. Practice yoga and meditation daily or twice daily, swim in both the natural pools and waterfalls of the jungle and the Caribbean Sea, hike the jungle, go zip-lining, rappel down waterfalls, peruse the Mayan ruins, explore caves on foot or by tube; or simply skip the activity scene all together and enjoy a week of reading your favourite book.

For more information on this Belize yoga retreat, visit Jessica Pyper.