It is the start of 2016 and many of us set goals to stay healthy, fit and well for the New Year. Our trips allow you to experience a back to nature approach to fitness, health and wellness amongst the surrounding natural beauty of Belize. Here are five easy ways to incorporate your health and wellness goals into your Belize adventure trip.

1. Salute The Rising Sun At Dawn With A Yoga Class
We offer certified yoga instructors at our Glover's Reef and Lighthouse Reef Basecamps on select departures during our season. The yoga sessions are complimentary and optional, but once you try sunrise yoga on the beach, we think you will be hooked. A morning yoga sun salutation sequence is a great way to wake up, stretch out, and prepare for a day of exploring, snorkeling, SUP and sea kayaking.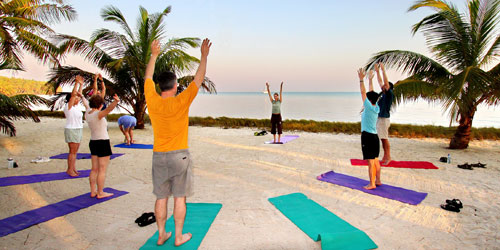 2. Take In An Early Morning Bird Walk
Connect with nature, take an early morning walk and see why Belize is such a popular destination for birding. Belize supports over 540 species of birds. Sit back, relax and enjoy listening and watching birds such as the Red Footed Booby, Jabiru Stork and Osprey.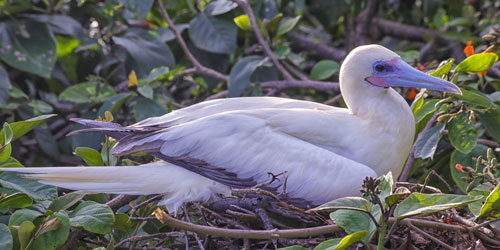 3. Be Offline, Read A Book Or Play A Game Of Cards
If one of your goals for 2016 is to have a 'digital detox vacation' we make that easy. Our Basecamps at Glover's Reef and Lighthouse Reef do not have internet or cell service (we do have a satellite phone for emergencies). Unplug and reconnect with family or make new friends with fellow guests. Enjoy time socializing and sharing stories of the day's adventure.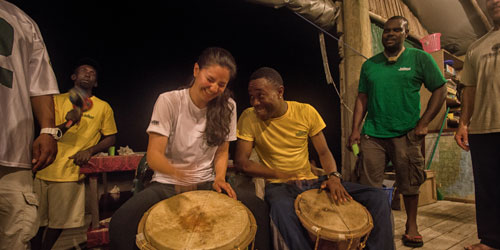 4. Nourish Your Body With Wholesome Meals
Whether your Belize adventure is on the sea or in the jungle you can expect delicious meals of local seafood, grilled meats, fresh vegetables, tropical fruits and fresh baking. On sea kayaking adventures many of our main courses include freshly caught fish.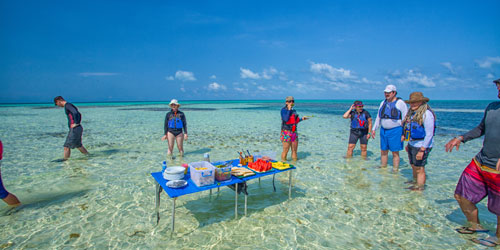 5. Enjoy Some Hammock Time
At our Glover's Reef and Lighthouse Reef Basecamps you can fill your day with a variety of activities including sea kayaking, stand-up paddle boarding, snorkeling and fly fishing. In addition to all the great activities, we encourage hammock time to revitalize and absorb your surroundings.