An eco-lodge adventure in the Rainforests of Southern Belize, with relaxation & beach-time in the Garifuna village of Hopkins
Price
US: $1530 plus $220 taxes and fees.
Can: $ plus $ taxes and fees.
Per person based on double occupancy.
When and Where
Duration: 7 Days / 7 Nights
When: Any date, any time of year
Starts: Dangriga
Ends: Hopkins
Group Size
Independent people per trip.
1-4 for Bocawina Activities guides per trip.
Accommodations
Bocawina Rainforest Resort; Choice of Parrot's Cove or Beaches & Dreams
Activities
Swimming
Rappelling
Hiking
Birding
Zip Line
The Bocawina – Hopkins Jungle and Beach Explorer combines a four night active adventure at Bocawina Rainforest Resort with three nights in the beachside community of Hopkins. 

This itinerary is ideal for guests who would like to combine an off-the-grid rainforest experience with some beach time at the nearby Garifuna fishing village. 
Stay in an eco-lodge in the heart of the tropical Belizean rainforest – wake up to the sounds of birds overhead, and experience the first light of the day through the jungle mist. 
Select four guided adventure experiences from Bocawina Resort's extensive list of Activities and Excursions (link to activity page). Decide how active or relaxed you want to be!
Take a guided trail walk in the Mayflower Bocawina Rainforest or journey through the rainforest canopy on the regions' longest zip-line. 
Spend three nights at a Beach Hotel in the coastal village of Hopkins. Swim, snorkel, relax poolside, and experience the community's rich Garifuna culture.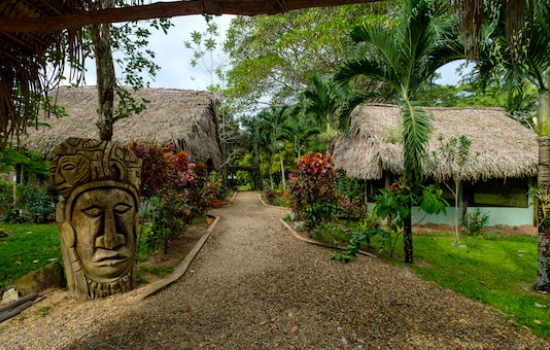 Accomodation:
Bocawina Rainforest Resort
You will be picked up at Dangriga Airstrip or our Dangriga Operations Base and travel a beautiful 30 minute drive "off the grid" into the heart of Mayflower Bocawina National Park. (Our office can assist you with transportation to Dangriga from Belize International Airport or other parts of Belize). 

Bocawina Rainforest Resort is a true eco-resort in the middle of Mayflower Bocawina National Park. The lodge is powered by an array of solar panels and a seasonal small-scale hydroelectric generating station. Wi-Fi is available in the restaurant so you can share daily experiences with family and friends from this remote rainforest setting. 

Upon arrival, after a special orientation, you will have time to settle into the lodge and learn about the experiences that lie ahead in the surrounding mountains and rainforest. This itinerary gives you the flexibility to pick your own tours from an extensive range of activities and excursions available on-site, off-site and within the national park. You can select four tours, customizing them to suit your activity level and interests. 

Considering starting off with the Rainforest Canopy Zip-line, an exhilarating ride with eight runs and a rappel. Or join a guided nocturnal hike that evening, and witness first-hand the fascinating transformation of the jungle at night.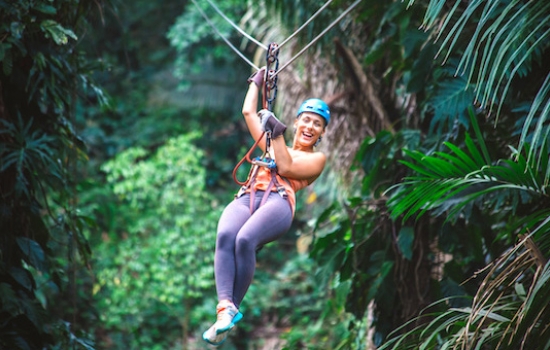 Accomodation:
Bocawina Rainforest Resort
Meals:
Breakfast, Lunch & Dinner
Rise with the sun and be on the grounds for the first rays of light emerging through the jungle mist. Waking up to the sounds of the tropical jungle is a pure delight, with the chatter of parrots and parakeets flying overhead, the fresh morning air scented with tropical blossoms, and the expectation of an exciting adventure-filled day ahead. There is no need to venture off the property to experience the essence of the jungle. Finding a quiet spot to sip a coffee with binoculars in-hand is a sure way to soak in the surroundings. 

After breakfast, your will embark on your selected tour for the day. Try a guided Bocawina rainforest trail walk, hiking along bush trails as you discover local birds, wildlife, leading to waterfalls and unexcavated Mayan ruins. Your guides will point out medicinal plants and bring to life the layers of biological diversity that make the worlds' tropical rainforests such a rewarding experience. 

Should you prefer, venture further afield on one of the many off-site adventures. Descend into the Mayan archeological site of Actun Tunichil Muknal (ATM) Cave, the most popular caving expedition in Belize. Alternately, cruise along the wildlife-rich Monkey River with a stop at Placencia for lunch and a bit of shopping.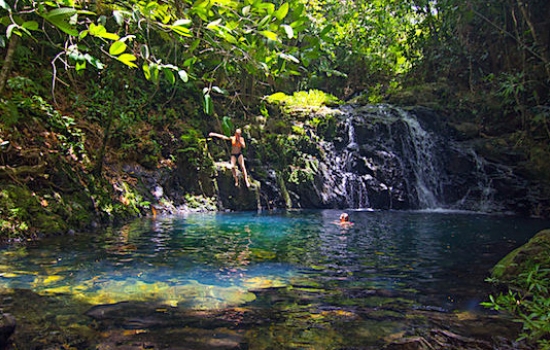 Accomodation:
Parrot Cove Lodge or Beaches & Dreams
Meals:
Breakfast at Bocawina; Meals on Own in Hopkins
Your last morning at Bocawina is completely flexible. You can stay close to the lodge or follow a trail to a favorite pool or waterfall. We can transfer you to Hopkins right after breakfast, or drop you off later in the day. The choice is yours! 

Upon arrival at Hopkins, settle into your room, then head out to the pool area for a refreshing beverage and dip. We have left your time at Hopkins totally flexible so you can be as relaxed or as active as you like. Lounge poolside, hop on a bicycle or sign up for an optional excursion at the hotel activity desk. 

Meals can be enjoyed at the hotel, or you may want to check out some of the nearby restaurants and bars. Hopkins has an interesting mix of cultures and cooking styles. It is attracting some very talented chefs that are adding to the great local cooks in the village.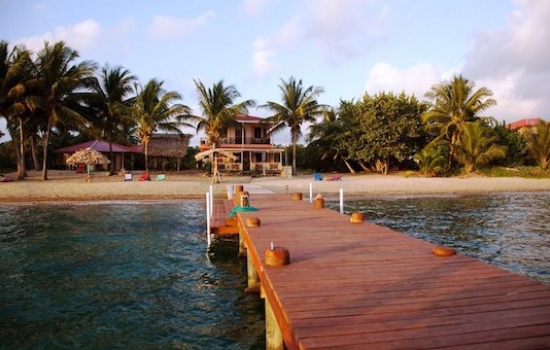 Accomodation:
Parrot Cove Lodge or Beaches & Dreams
Spend the next two days relaxing by the pool, strolling along the beach, and discovering Hopkins Village and the surrounding area. 

Watch the local fisherman paddle out at sunrise in dug-out canoes to catch their fish for the day. Take a kayak out to see the sun set over Victoria's Peak, and view the rest of the mystic Maya Mountains as another day in paradise closes its eyes. Enjoy an evening of local Garifuna Drumming and sample some Belizean cuisine. Mingle with the friendly villagers, and experience Hopkins' rich Garifuna culture.
Price
US: $1530 plus $220 taxes and fees.
Can: $ plus $ taxes and fees.
Per person based on double occupancy.
When and Where
Duration: 7 Days / 7 Nights
When: Any date, any time of year
Starts: Dangriga
Ends: Hopkins
Group Size
Independent people per trip.
1-4 for Bocawina Activities guides per trip.
Accomodations
Bocawina Rainforest Resort; Choice of Parrot's Cove or Beaches & Dreams
Activities
Swimming
Rappelling
Hiking
Birding
Zip Line
Beaches & Dreams Boutique Hotel & Beachfront Cabanas
Beaches and Dreams is located at the southern edge of a five mile stretch of beach. It is the "last resort" on the beach. You can enjoy a feeling of seclusion, yet are still within walking distance of other resorts and the village of Hopkins. 
Accommodations 
Beaches and Dreams accommodations are perfect for couples and families alike! The resort offers cozy, tastefully furnished beachfront rooms with amazing views of the Caribbean Sea. All rooms have WIFI access. 
Beachfront Cabanas -These spacious rooms feature tiled floors and hardwood accents throughout and are furnished with colorful Belizean paintings and some of Belize's beautiful, local artwork. They offer uninterrupted views of the sea and are shaded by coconut trees. Enjoy a peaceful night's sleep listening to the sea or take in a sunrise from the hammock chair on your front porch. Situated a few yards from the Caribbean Sea, these rooms have beautiful ocean views. The cabanas have a King Bed, futon or bunk beds. All accommodations have a private bath with hot and cold running water, ceiling and floor fans, but do not have televisions or phones. Restaurants 
Foodies are welcomed at the Barracuda Bar & Grill, one of the most highly acclaimed restaurants in Belize. The Barracuda offers world class Mediterranean Cuisine and serves it casual Belizean style. It has a wonderful open air dining deck only 30 feet from the sea. The chef uses the freshest Caribbean ingredients which are cooked up Mediterranean-style. Lobster, shrimp, fish, steaks, smoked items and organic vegetables are prepared daily. The Barracuda is open for breakfast, lunch and dinner. 
Amenities 
Beachside Swimming Pool. 
Complimentary use of kayaks and bicycles 
Tours & Activities - Optional tours and activities can be booked at the lodge for an additional charge. 
Parrots Cove Lodge
Parrot's Cove Lodge is a comfortable beachfront hotel on the Caribbean coastline within easy walking distance of town. It is the perfect location whether you are seeking offshore and inland adventures, or simply looking for rest and relaxation. 
Accommodations 
Tropically decorated poolside rooms, with either one queen-sized bed or two double beds and a sitting area. All guestrooms have air conditioning, private bathroom with shower, coffee maker, small fridge, LCD television and clock radio/alarm. Restaurants 
Chef Rob's Gourmet Café overlooks the sea, features an eclectic cooking style, and changes its dinner menu daily based on availability of market fresh product. Love on the Rocks is a small cozy beach restaurant offering 'stone grill cooking', bringing back a tradition started thousands of years ago by the ancient Maya. 
Amenities 
Pool & Beach - Our Hopkins Resort is situated right on the beach. The beachfront is ideal for lounging, and the proximity to the Barrier Reef and atolls make diving and snorkeling accessible and convenient. Hidden in the landscaped courtyard, the pool reflects the resort's intimate atmosphere of a private retreat. The waterfall tumbles over a mosaic mural of playful dolphins, the perfect spot for relaxing with a drink and a good book. 
Resort Gear - Guests have free use of our bicycles, kayaks, and snorkel gear (complimentary snorkel, mask and fins when used on property). The Village of Hopkins is 1-1/4 miles away by road (exit right from our front drive and enjoy an easy ride for approximately 10 -15 minutes! 
Tours & Activities – Optional tours and activities can be booked at the lodge for an additional charge. 
Click Here to go to our Trip Builder
A new window will open up, and ask you a few questions to get the process started.
The Jungle and Beach Explorer includes the choice of one RED activity, two YELLOW activities and one BLUE activity at Bocawina Rainforest Resort and Adventures. Pick what interests you, and decide just how active or challenged you want to be! Please inquire with our staff about additional specialized activities that can be booked at the eco-resort for an additional fee. 
Red Activities & Excursions
Time
On Site Tours
Zipline Adventure - Glide like a bird through the pristine Rainforest Canopy on the longest zipline in Belize, with 12 platforms, 8 runs and a rappel. The course is 2.5 miles total, with the longest single zipline at 2300 feet in length.
1.5 hrs
Nocturnal Rainforest Experience – Enjoy a guided hike as you witness firsthand the fascinating changes that come over the jungle as night falls. See the animals, birds and insects of the rainforest in a whole new light.
2 hrs
Night Flying – Hear the jungle come alive and listen to the noises of the night as you zip through the jungle with our professional guides. This exciting activity is even more spectacular during a full moon.  Add the Nocturnal Rainforest Experience for $12.50
1.5 hrs
Bocawina Falls - Take a guided hike with one of our professional guides, listen as the guide unlocks the secrets of this mystical and magical jungle habitat. Walk the undulating trail from the lodge to the foot of Bocawina Falls and experience its natural beauty.  Take a refreshing swim and relax in the crystal blue waterfall pools below. Add rappelling, no charge.
4 hrs
Antelope Falls - Take a guided hike to the top of the 1,000 foot falls through lush rainforest, learning about the jungle ecosystem, and the animals that call it home. End the challenging hike to the top with a refreshing swim in the emerald pools as you take in the breathtaking views of the Rainforest & Caribbean Sea in the vista below.
4 hrs
Jungle Birds - Join us for a hike around the grounds of Bocawina Rainforest Resort with our professional bird spotter, as you listen to unique bird calls and identify many of 200+ species that animate the jungle.
4 hrs
Yellow Activities & Excursions 
Time
On Site Tours
Bocawina Package – Enjoy the hike up Bocawina Falls, rappel down the face of the waterfall and swim in the crystal blue pools below. Hike back to the lodge for lunch and finish the day off with an exciting Zipline Adventure.
5 hrs
Waterfall Rappelling Antelope Falls – Climb to the top of Antelope Falls with your trusty harness, then let gravity take over as you descend 250 feet down the Falls clipped into a rope system operated by one of our experienced guides.
5 hrs
Off Site Tours
Cockscomb Wildlife Sanctuary - Venture to Cockscomb Basin Wildlife Sanctuary to explore the trails in the world's first Jaguar Preserve. Known for its spectacular waterfalls, mountain views, nature trails, and rich diversity of Neotropical birds, this is the perfect place for a bird-watching & wildlife experience.
8 hrs
Xunantunich Maya Ruins – Xunantunich, which means "Maiden of the Rock," is one of the great archaeological sites in Belize and provides an amazing introduction to the life of the ancient Maya people. You'll climb Mayan temples and view artifacts that are hundreds to thousands of years old.
8 hrs
Cahal Pech Maya Ruins – Explore the oldest known Mayan site in Western Belize. Its hilltop temples were once a palace for an elite Mayan ruling family. The site was settled as far back as 1000 BC and abandoned around 800 AD.
8 hrs
River Cave Tubing – The Maya people believe caves are the entrance to the underground spirit world. Decide for yourself as you explore these underground caves by foot and inner tube with an interpretive guide. Experience firsthand the phenomenal geological formations that exist in this underground limestone network.
8 hrs
Jungle Horseback Experience - Enjoy the beauty of the jungle by horseback as you take a leisurely ride as your experienced guide points out the flora and fauna around you. Stop at the river for lunch and a refreshing swim.
4 hrs
Blue Activities & Excursions
Time
On Site Tours
Antelope Package – Enjoy the hike up Antelope Falls, rappel down the face of the waterfall and swim in the restful pools below. Hike back to the lodge for lunch and finish the day off with an exciting Zipline Adventure.
8 hrs
Ultimate Waterfalls – Follow the Mayan footsteps on this ultimate waterfall adventure. Learn about the plants and animals of the rainforest as you visit Bocawina Falls, Big Drop Falls, Peck Falls and Tears of the Jaguar Falls. Swim in the waterfall pools, relax and enjoy the breathtaking scenery, and take the 2 canyon ziplines unique to this tour, back to the lodge.
8 hrs
Off Site Tours
Sittee River Boat Tour – Experience the tallest mangroves in the Caribbean, crocodiles on the river banks, manatees in the river, iguanas sunbathing on tree branches and an extraordinary amount and variety of birds all around you on this guided motorboat trip.
6.5 hrs
Actun Tunichil Muknal Cave – The most popular caving expedition in Belize, the "Cave of the Crystal Sepulchre" is a notable archaeological site of the Mayan people. Venture up to a kilometre underground to find skeletons, ceramics and stoneware left behind by the Mayans. The cave is best known for the "Crystal Maiden," the skeleton of a teenage girl, possibly a sacrificial victim, whose bones have calcified to a sparking, crystalline appearance.
11 hrs
Xunantunich, Cahal Pech & Inland Blue Hole – Explore the Xunantunich Maya ruins site, then take a boat across the Mopan River and proceed on to visit the Cahal Pech Maya ruins. Finish the day with a visit to the Inland Blue Hole for a cool afternoon swim in the pools formed by the collapse of an underground cave system.
10 hrs
Xunantunich & Cave Canoeing – Thoroughly explore the Xunantunich Maya ruins before grabbing a paddle for a canoe trip through Xibalba ("The Mayan Underworld"). While paddling through this spectacular cave, your guide will point out skulls, bones, pottery shards, artifacts and more.
10 hrs
River Cave Tubing & Maya Ruins – Choose between Xunantunich and Cahal Pech for an educational and fun guided tour exploring one of these Maya ruin sites. Learn about the ancient Maya, their architecture, culture, religion and sacred rituals. After the ruins enjoy a traditional Belizean lunch, then head underground to explore the caves via inner tube.
10 hrs
Monkey River & Placencia Town – Explore one of Belize's major rivers by motorboat. As you are on the lookout for Ocelots, Jaguars, Howler Monkeys, Tiger Herons, Morelet Crocodiles, Manatees, Snakes and more. Then on to the quaint coastal village of Placencia for lunch and shopping.
8 hrs
Cave Tubing & Zipline Adventure – Combine the fun of exploring underground caves via inner tube with the exhilaration of a Zipline Adventure.
10 hrs
Belize Zoo – The Belize Zoo was started in 1983 to provide a home for a collection of wild animals used in a documentary on the tropical rainforest. Today it has grown to provide shelter for over 150 indigenous animals, representing more than 45 different species. All the animals are orphaned, injured, rescued or needed rehabilitation, none were taken from the wild.
8 hrs