By traveling with Island Expeditions, you are contributing to the wellbeing of a country that welcomes and delights you.  Our relationship with Belize runs deep.  We warmly embrace its Creole, Mestizo, Maya and Garifuna cultures (among others) as much as we are in awe of the country's physical beauty.   
We've grown roots during our 30 years here.  The communities we engage with have inspired us to focus our energies to find a way to help the people of Belize.  Our core values of Education and Conservation drive our efforts in Belize. 
Our endeavors are not grand charities, but rather numerous small acts that can help make a difference in the communities that we visit.  Finding ways to spread tourism dollars into areas that do not normally see travelers is also part of our mission.  For many years, our guests have been bringing much needed school supplies and donations of various kinds to help local children and the Belizean school system.  We decided to formalize these gestures by coming up with a program that will allow people to donate, or contribute in a simple and meaningful way.   
Two of the hardest working conservation organizations in Belize are the Belize Zoo and the Belize Audubon Society (BAS).  Island Expeditions works in partnership with both of these organizations, so your tourism dollars directly contribute to their operations and conservation efforts in Belize.   There are ways to contribute further to their efforts by becoming a member of BAS, or by sponsoring an animal at the Belize Zoo.   
We learned a long time ago that when we hire a guide from a small village, we're hiring a whole family along with supporting a community.  Our commitment to making you an integral part of these relationships in Belize is built into every aspect of our trips.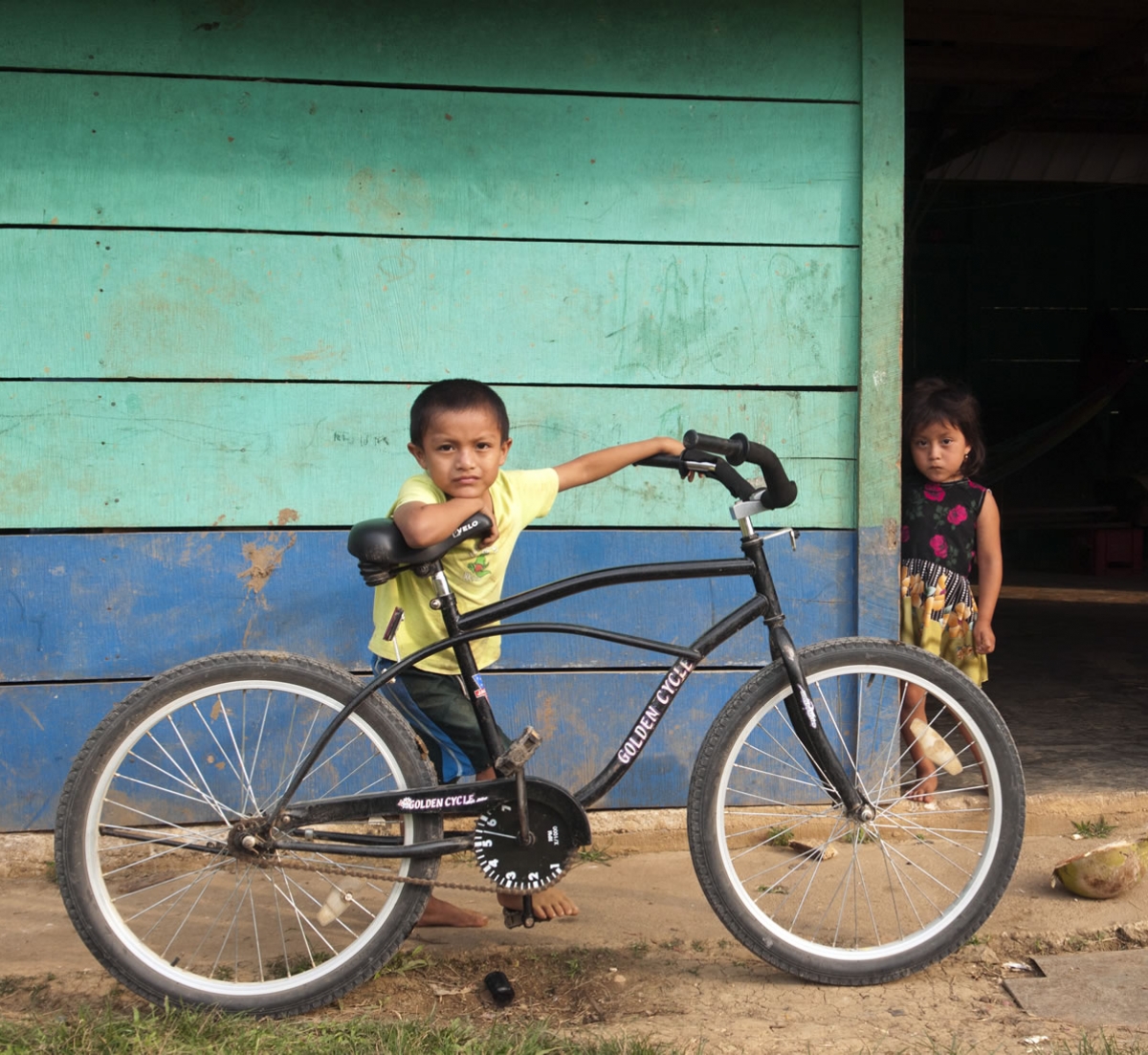 SUPPORTING LOCAL EDUCATION - Our Projects
Island Expedition's Programs are aimed to provide grassroots educational assistance in the areas that we travel in.  We support local primary schools in the communities that we work in - the Garifuna town of Dangriga, the agricultural village of Silk Grass, and the remote Mayan village of Santa Teresa.
Holy Ghost Elementary School, Dangriga, Belize
We are excited to announce our new Community Service Partnership with Holy Ghost Elementary School in Dangriga.  Approximately 450 children attend Holy Ghost, ranging in age from three to fourteen years.  There is also a special education unit in the school. 
Holy Ghost Elementary School and Dangriga were natural choices for Island Expeditions.  We have had our Belize Operations Base and Office in Dangriga for more than twenty-five years.  The Island Expeditions' Dangriga office is within close walking distance of Holy Ghost, and many of our local staff and guides send their children here.  We are thrilled to be able to support this school that has played such an important role in the daily lives of our staff and their families. 
We are now able to include Volunteer Work at Holy Ghost School as part of our Student Group itineraries.  Service Work has become an important (and growing) part of educational student travel.  Participating students gain an appreciation of the Belizean culture through their volunteer efforts, interacting and working together with the local schoolchildren and teachers on these projects.  Making a difference in the developing community that students travel to often has a lasting impact – sometimes shaping future careers, and often leading to future humanitarian efforts in their home community and overseas.   
Donation Packages of Local School Supplies are available for $20USD.  Guests can purchase them before or after their trip from our Island Expeditions' Dangriga office. 
Purchase A 'Big Book' For the Children's Read Aloud Program – Considering adding one of these favorites to the school's "story time" program - The Little Red Hen, The Gingerbread Man, The Ant and the Dove, The Boy who Cried Wolf, The Rainbow Fish & Chicka Chicka Bom Bom. Details here 
Silk Grass Primary School, Silk Grass Village, Belize
Silk Grass Village, with a population of approximately 400 people, is the neighbouring village to Mayflower Bocawina National Park.   
Silk Grass is located six miles south of the junction of the Hummingbird Highway and the Southern Highway, about twelve miles away from Dangriga.  This tiny, friendly hamlet was predominantly a Creole community and is now a blend of several Belizean ethnicities.  It is a peaceful, quiet village in a rural agricultural setting.  Many of the villagers have tourism jobs in Hopkins, Bocawina or in Dangriga.  There is one small primary school. 
Donation Packages of Local School Supplies are available for $20USD.  Guests can purchase them before or after their trip from our Island Expeditions' Dangriga office.    
Mayan Village Belize
Children at Mayan Village Belize
Santa Teresa Village
Tropical Education Center Belize
Belize Zoo
Half Moon Caye
Santa Teresa Village, Toledo District, Belize
The aim of Island Expeditions is to support basic education in Santa Teresa and the other jungle villages that we visit by providing funds and school supplies. 
Santa Teresa Village has a population of approximately 330.  We visit this remote Mayan village on our Ultimate Adventure and Wild South trips.  Guests on these trips are hosted for lunch by a local village family, and also have the opportunity to spend time in the local primary school.  
We employ local Mayan people from the surrounding villages to lead the trips through this area.   Guests on these trips often like to bring gifts to distribute to local families.  Items can be new or second hand as long as they are in good condition.  The gifts are given directly to the village leader for fair and equitable distribution throughout the community.  Backpacks for school, shoes (smaller sizes), cleats, soccer balls, pens and pencils, pencil holders, exercise books, and reading books are practical and always needed items.   
Donation Packages of Local School Supplies are available for $20USD.  Guests can purchase them before or after their trip from our Island Expeditions' Dangriga office. 
SUPPORTING CONSERVATION - Our Projects
Island Expeditions is committed to responsible tourism and conservation, actively supporting the Belize Zoo, Belize Audubon Society and other local conservation initiatives.  They help sustain the environments in which they operate their trips.
Many of the trips are operated in association with, and help to fund the work of the Belize Zoo and the Belize Audubon Society.  Through their philosophy of working in partnership with local and international organizations, Island Expeditions has gained access to renowned leaders, wildlife managers, scientists and educators.  
The Belize Zoo 
Several of Island Expeditions trips include a stay at the Tropical Education Center, with a specially arranged nocturnal tour of the Belize Zoo.  Funds generated from these visits support the conservation efforts of the zoo, including their first ever of its kind Problem Jaguar Rehabilitation Program.
Adopt An Animal From The Belize Zoo
Why not consider adopting an animal from the Belize Zoo?   The Adopt an Animal program at the Belize Zoo sees the funds contribute to the maintenance of a particular species.   
Keeping all of the animals well fed and properly cared for takes money and resources. Donations from the program go directly to food, medicine and of course some pampering of your chosen adoptive animal. 
There are 16 animals to choose from in the program ranging from a Boa Constrictor to a Central American Tapir or Jaguar.  Annual fees to adopt an animal start from USD $35.   
Sign up to adopt an animal at the Belize Zoo 
The Adopt an Animal program includes the following: 
An official ADOPT certificate 
Adoption papers. A fascinating fact sheet about your animal's activities, habitat and diet. 
Zoo Newsletter for one year 
An "I Adopted An Animal" sticker

Belize Audubon Society
Through our ongoing relationship with the Belize Audubon Society, Island Expeditions was able to establish their Adventure Basecamp at Half Moon Caye on Lighthouse Reef.  Revenue generated from their various Lighthouse Reef trips support the conservation initiatives of the BAS in this protected area.
Donate To The Belize Audubon Society
The Belize Audubon Society is a leader in conservation, not only protecting wildlife and habitat, but also by involving local communities in management to ensure sustainable use of natural resources, and advocating for maintaining the integrity of the environment in a growing nation. 
Show your support for an organization that is committed to creating a balance between people and the environment. 
Sign up as a member of the Belize Audubon Society.   
Donate to the Belize Audubon Society. 
How to Give
At Island Expeditions, we know the places you visit during your travels can be life-changing. Connecting with the locals, the wildlife or just the energy of a certain spot can have a lasting effect.  Here are a few ways to contribute to the people and places that you visited while in Belize. 
Purchase A Donation Package For A Local School
These packages of assorted school supplies include such items as crayons, pens, pencils, notebooks and paper.   
Donation packages are $20USD. Guests can buy them at the Island Expeditions' Dangriga office.  Be sure to let us know if you would like your package to go to
Holy Ghost Elementary School (Dangrgia),
Silk Grass School (Bocawina National Park) or
Santa Teresa Primary School (a remote Mayan village on the Moho River).  
Purchase a 'BIG BOOK' for the Children at Holy Ghost Elementary
The principal at Holy Ghost Elementary in Dangriga said that 'Big Book' storybooks for reading aloud to the younger children would be GREATLY appreciated.   
These were her top picks – The Little Red Hen, The Gingerbread Man, The Ant and the Dove, The Boy who Cried Wolf, The Rainbow Fish & Chicka Chicka Bom Bom.  If you'll be traveling with us, we encourage you to pre-purchase a Big Book or two and drop it off at our Dangrgia office.  Be sure to email Trish at trish@islandexpeditions.com and let her know what book you will be bringing to avoid duplication.