Be prepared for the possibility of any travel interruptions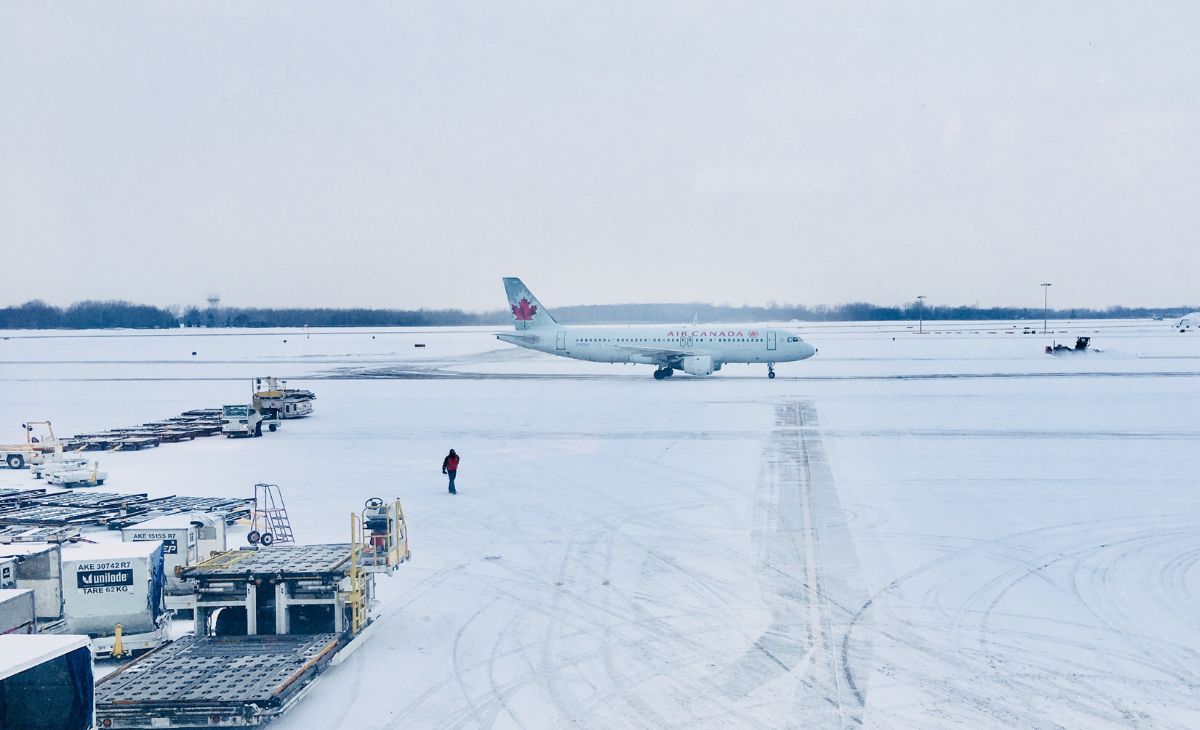 What to do if bad weather interrupts your trip or your flight is canceled
Winter is here and many of us have plans to get out of this record-breaking cold weather hitting North America.  This is the winter you want to definitely get out and be in beach weather, but what do you do if the weather interrupts your trip or your flight to Belize gets canceled?
Is the Polar vortex something to worry about?
The polar vortex is a large expanse of cold air that generally circles the Arctic but can occasionally shift southward and bring very cold temperatures to parts of the United States, Canada, and other parts of the Northern Hemisphere. During a polar vortex event, the vortex can become disrupted and cause temperatures to drop rapidly in affected areas.
 
What to do if your flight gets canceled
If you're planning to travel during the holiday season and are worried about potential flight delays or cancellations due to bad weather, there are several steps you can take to minimize the impact on your travel plans.
For US Travelers
First and foremost, it's important to know your rights as a passenger. According to federal law, if your flight is canceled, airlines are required to provide a full refund if you request it. Additionally, if your flight is significantly delayed, you may be eligible for a refund, though this varies by airline. To find out what your carrier's policies are, you can consult the Department of Transportation's online dashboard, which features 10 major U.S. airlines and the services they offer in the event of flight delays or cancellations.
If your flight is delayed or canceled, you may also be able to rebook your flight with another carrier without incurring additional fees. Many airlines, including United and American Airlines, offer to rebook passengers on other flights if they are flying to or from areas that are expected to be hit by severe weather. However, it's important to check the details with your specific carrier, as each airline has different parameters for when passengers can reschedule their flights.
If you're unable to reschedule your flight or don't want to fly due to the weather, you can try using your leverage to get on a better flight. Airlines would prefer to keep your money rather than refund it, so they may be willing to work with you to switch to a better flight if they are dropping change fees. Alternatively, you can try calling an airline's international hotline, which may have shorter wait times and be able to help you rebook your flight. If you booked your flight through an online travel agency, such as Expedia, you will need to work through the agency for refunds or flight changes.
For Canadian Travelers
If your flight has been canceled, you can expect to receive an email from the airline with information about a refund. Additionally, you have the option to cancel your travel plans proactively. Both major Canadian airlines are currently offering goodwill refund policies that allow you to request a refund or travel voucher for any travel booked between now and December 26th. You can find more information about these policies on the website of your chosen carrier.
In the event that you are in transit and experiencing delays, Canada's air passenger bill of rights requires the airline to provide you with a hotel stay for the night. As a gesture of goodwill, WestJet has stated that they will provide reimbursement for up to three days of accommodation, up to $150 per night, for any guest stranded in a connecting city within Canada. This offer is specifically for those who are stranded due to delays while in transit.
Flight Tracker and notifications
To stay informed and be prepared in the event of flight delays or cancellations, it's a good idea to install a flight tracker app on your phone or use your airline's app to monitor your flight and set up alerts. Use your web browser and visit  FlightAware or  FlightStats to check the real-time flight status of your flight. You can also sign up for text or email notifications from your airline or check their website or social media channels for updates.
 
Travel Insurance
We also strongly suggest that you purchase travel interruption and travel cancellation insurance as they can provide financial protection in the event that you are unable to take your trip or have to cut your trip short due to unforeseen circumstances. 
Having travel interruption and cancellation insurance can help you recover some of the money you may have lost on non-refundable travel expenses, such as flights, hotels, tours, and activities.  If your trip is interrupted or it must be canceled completely, make sure you contact your Travel Insurance company, and download all necessary documents to submit a claim.  
Who else to contact?
It is extremely important that in the event your flight is delayed, or your connections are missed while en route to Belize, to contact our Belize Operations staff directly for assistance. They will do everything within their means to make alternative arrangements.   Should this involve extra costs, you will be required to reimburse our Belize office.  Receipts will be issued for your insurance claim.  For contact information check our Island Expeditions Emergency contact informaiton list
It is important to be prepared and stay informed if you're planning to travel during the holiday season. By knowing your rights as a passenger and being proactive in the event of flight delays or cancellations, you can minimize the impact on your travel plans and arrive at your destination safely. Having travel insurance can offer peace of mind and help alleviate stress in the event that weather gets in the way of your much-needed winter holiday.