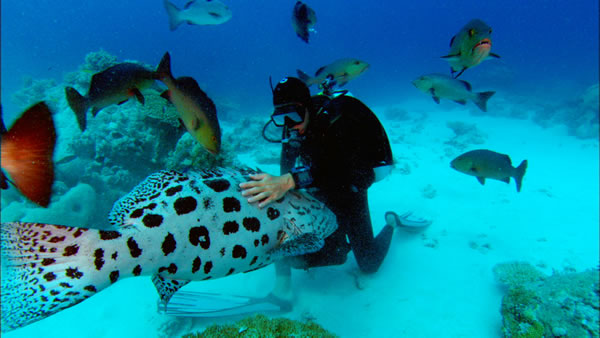 Rob Stewart feeding a potato cod Photo Credit David Hannan
Toronto's Downward Dog Yoga Centre is hosting a Fundraiser Event for United Conservationists to bring awareness to global environmental issues. Documentary filmmaker and author, Rob Stewart (Sharkwater) will be talking about his work as a filmmaker, author and inspired advocate of ocean conservation worldwide.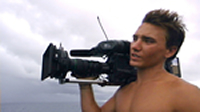 This Revolution in Motion Fundraiser Event takes place Saturday, January 21st, 8:00 - 11:00 pm at the Downward Dog Yoga Centre's downtown studio and will support the work of Rob and United Conservationists. The studio is located at 735 Queen St. W - 2nd Floor, Toronto, ON M6J 1G1, 1-416-703-8805.
We invite - and encourage you - to join Downward Dog for an inspiring evening of yoga, film and live music. Support the cause through your purchase of raffle tickets where you can win 2 trips to Lighthouse Reef, a coral atoll 60 miles offshore off the coast Belize. Raffle Tickets are $20 each or 3 for $50 and you can purchase tickets by phone at 1-416-703-8805 or online.
HOW TO PURCHASE TICKETS ONLINE
You need to register with Downward Dog Yoga Studios to purchase tickets online. Once registered, click on Workshops, then scroll down to Raffle Trip for Trip for 2 to Belize - Join the Revolution!/Sign up now/Enroll/ and select 1 Raffle Ticket - Trip to Belize - $20 or, 3 Raffle Tickets - Trip to Belize - $50.
The WINNER will be notified by phone and/or email if not in attendance at the live event.
If you live in the Toronto area and are able to attend the live event you will become eligible for a Bonus of 5 Free Yoga Lessons at Toronto's Downward Dog Yoga Studio. Call Pat at 1-800-667-1630 for details.
PRE-EVENT YOGA SESSION 6:00 - 7:30 pm | $65 (Includes event)
Diane Bruni will be leading a Yoga in Motion Class - with unique movements and non-linear sequencing while moving about the studio.
REVOLUTION IN MOTION FUNDRAISER EVENT 8:00 -11:00 pm | $25
Feature presentation and discussion led by Rob Stewart.
Live entertainment with Justin Nozuka and local band 'SLOTH'
Beverages and healthy appetizers will be provided
Silent Auction - Items from local Toronto restaurants, clothing items, health and wellness services, items from local Queen West merchants and much more...
Live Raffle Draw - the draw to Win a Trip for 2 to BELIZE will be held after the Silent Auction
PRICE FOR YOGA + EVENT - $65 Yoga Class + Event Ticket
PRICE FOR EVENT ONLY - $25 Event ONLY Ticket
100% of proceeds from this event will be donated to United Conservationists unitedconservationists.org
NOTE: This contest is closed!