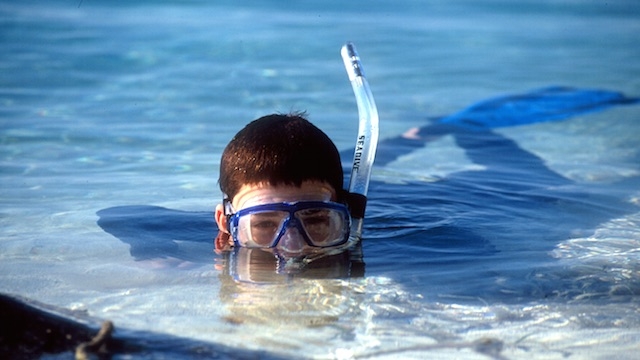 Are you planning a vacation to Belize with kids? We wanted to share this article which has some great tips and ideas for activities in Belize when traveling with children.

The article features Glover's Reef Atoll and Lighthouse Reef Atoll as recommendations for places to go snorkeling in Belize with kids. Our two Basecamp trips are located on Southwest Caye on Glover's Reef and Half Moon Caye on Lighthouse Reef . Both these locations are perfect for families looking for an active and adventurous Belize vacation. These Basecamps trips offer an all-inclusive concept where all meals, guided activities, accommodation and boat transfers are included. Kids will love exploring the underwater world with a snorkel mask and fins and our Belizean guides will have the entire family confident in paddling, kayak sailing, snorkeling and paddle boarding by the end of the trip.

After your family adventure on the Belize Barrier Reef, head inland and discover the ancient Mayan ruins. Children will love exploring the ruins and learning about the ancient Mayan civilization. Our 3-day Maya World Getaway trip is a great add-on to a reef trip. This package includes a visit to the Crooked Tree Wildlife Sanctuary, a trip to the Mayan ruin of Altun Ha, known for the impressive temple of the Sun God and a tour of the ancient city of Lamanai.

Belize is a wildlife lovers dream and has an amazing variety of wildlife living in a wide range of habitats. Many of our trips include a stay in the rainforest at the Bocawina Rainforest Resort . This Belize eco-lodge located offers the perfect location for wildlife viewing and birding. Get the kids to look out for black howler monkeys, spider monkeys, Baird's tapir, jaguar and motmot, parrot, toucan, great green macaws.


5 Boredom-Busting Activities for Your Next Trip to Belize with Kids by Johnnie Mazzocco for Vacasa

There's nothing worse for kids on vacation than that feeling of having "nothing to do." While it's virtually impossible to be bored in Belize, having a game plan before you arrive to keep the kiddos active, busy, and happy is a lifesaver for them and for the adults in charge.

Below you'll find our top five picks for unforgettable outings if you're traveling to Belize with kids.

1. Snorkeling in Belize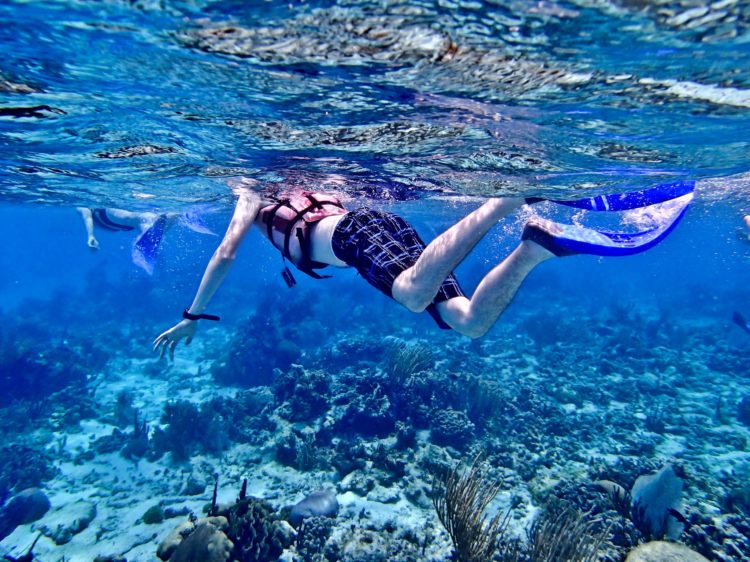 Snorkeling in Belize - Photo courtesy of Suzanne Schroeter

Who doesn't love swimming through crystal-clear tropical waters to view aquatic life like exotic fish, sea turtles, reefs, and coral? Charles Darwin deemed the Belize Barrier Reef "the most remarkable reef in the West Indies," so avail yourself and your young travelers of this opportunity and dive right in!

Begin your snorkeling adventures in San Pedro on the Ambergris Caye, the most popular caye for snorkeling in Belize. Mexico Rocks is ideal for kids because it's a short boat ride out of San Pedro. And due to its location between the island and the reef, it's protected from large ocean waves, allowing kids to safely explore the shallow 12-foot waters.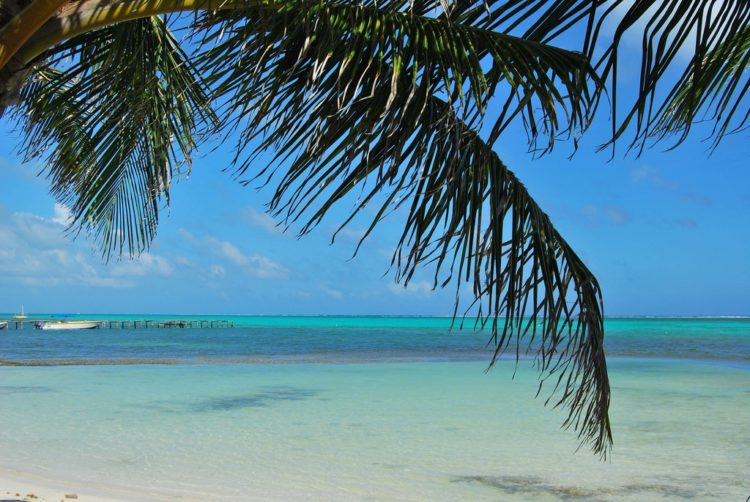 Ambergris Caye Beach | Photo courtesy of Zhu

Hol Chan Cut (an open area within the reef) is great for the youngest of snorkelers with its waters as shallow as five feet in some spots. More experienced snorkelers can swim from side to side within the cut or venture over to the seagrass beds and mangroves teeming with ocean life.

Circular in formation with a lagoon in the center, atolls are excellent for snorkeling. There are three atolls in Belize worth checking out:
Turneffe Islands Atoll (the closest of the three and covered in mangroves)
Lighthouse Reef Atoll (the perfect depth for snorkeling)
Glover Reef Atoll (the farthest south and considered the best of the atolls)

Next, head south of Ambergris to Belize's southern cayes and spend some time at Rendezvous Caye, a pristine little island that offers superb snorkeling. Swim with fish of all sizes and see underwater plant life and coral. Colson Caye is also worth your time, and it's just south of Rendezvous Caye. Float past coral, sea fans, and vibrant red sponges.

Yet another prime snorkeling spot and protected reserve is Laughing Bird Caye; not only does it boast 10,000 acres of pristine marine attractions and an overabundance of sea life, but it's also a prime spot to catch a glimpse of exotic birds.

2. Sailing in Belize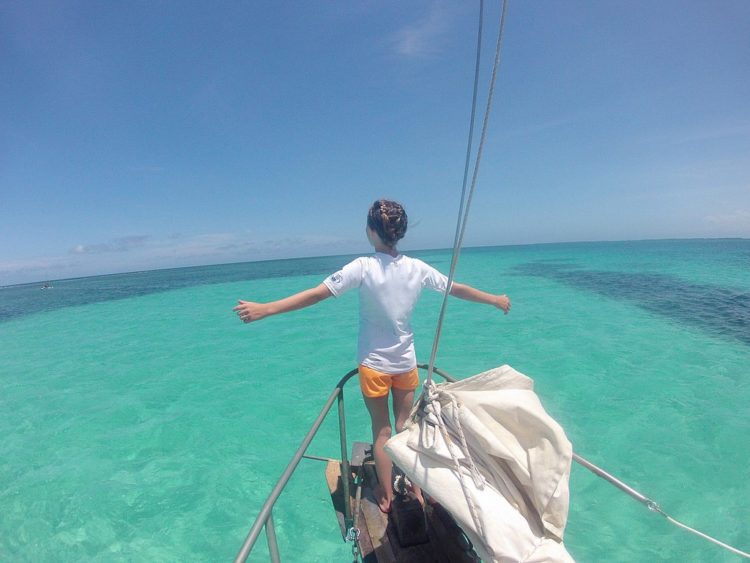 Sailing in Belize with Kids - Photo courtesy of Jim Mitchem

Be sure to include sailing on your list of things to do in Belize. The Belize Sailing School offers bareboat catamarans (meaning you're on your own, with no crew), which you can take to the snorkeling sites of your choice, as well as beaches tucked away from prying eyes. Younger kids will likely be happy with this type of setup; however, if you're traveling with older kids who want something a bit more adventurous, seriously consider making a charter arrangement—it'll take you farther out and for longer periods of time.

Waterways in Belize are complex, so for safety's sake, plan to book a tour if you want to make a significant time commitment to sailing. Caye Caulker is the perfect outpost for out-and-back sailing trips to the Barrier Reef; book with Black Hawk Sailing Tours and cruise through the island's beautiful waters on a 32-foot sailboat, equipped with food and drinks. The kids will love getting up close and personal with multi-colored fish, turtles, stingrays, nurse sharks, and manatees.

3. Floating and Paddling in Belize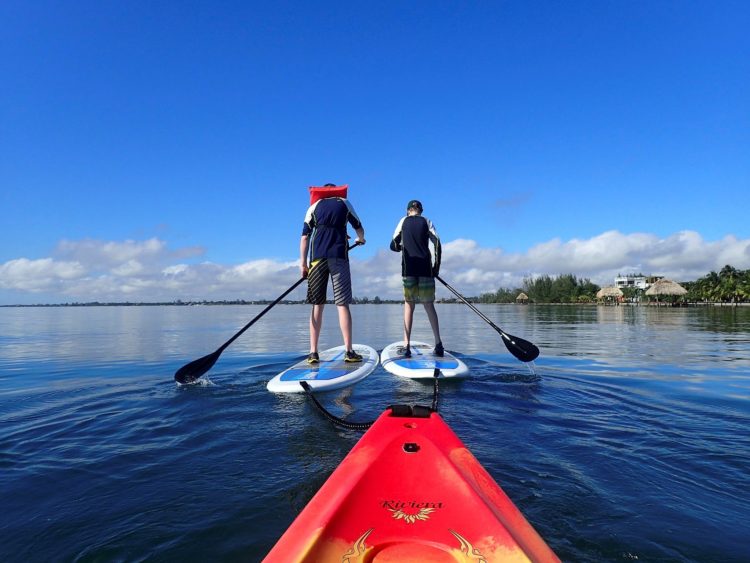 Paddle Boarding in Belize - Photo courtesy of Bev

Do some canoeing at Chaa Creek, nestled on the shores of the Macal River at the base of the Maya Mountains. If you're the independent type, you can get out on your own and take in a serene float down the Macal, giving the kids a chance to take in their amazing environment.

Or if you want to turn the responsibilities over to someone else so you can join the kids in their wonderment, get a guide and sit back and relax. You can hop out and swim along the way, and you're likely to see a Giant Green Iguana, too!

If the youngsters get antsy and your energy is starting to run low, take them to Glover's Reef and Lighthouse Reefs. Experts from Island Expeditions will lead them in kayaks for a teachable experience, where they can learn about the area's diverse ecosystems while you lounge in a hammock and recharge for your next great adventure.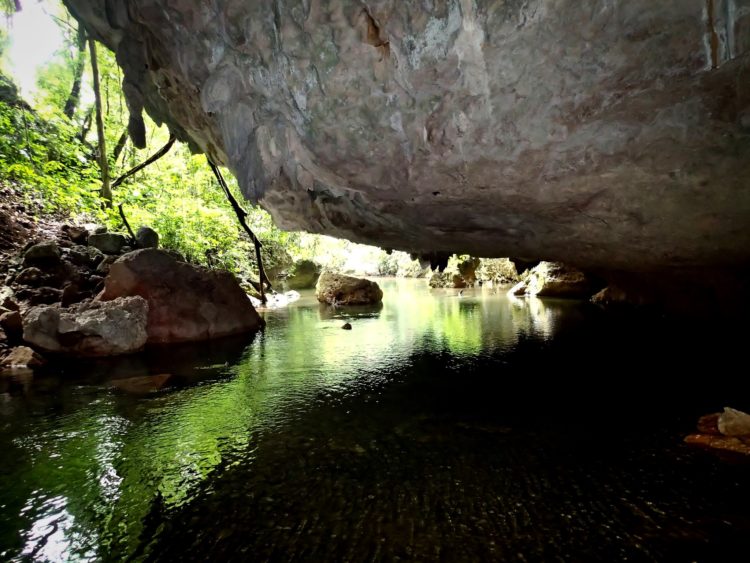 River of Caves | Photo courtesy of Suzanne Schroeter

For a truly magical experience, do a seven-mile, underground tube float on the River of Caves. Don your headlamp, settle into your tube, and meander through stalactites and stalagmites into a crystal cathedral. This float is available through Caves Branch Adventure Company.

Another great sailing tour with kids is the one-day trek to Hol Chan Marine Reserve with E-Z Boy Tours. The oldest marine reserve in Belize, Hol Chan offers guests lunch, snacks, and drinks, as well as snorkeling gear. Cut through the reef on "Inri" and make your way to the front of San Pedro, Ambergris Caye where you'll see a profusion of fish, seagrass, and sand beds, thanks to the reserve's protected status.

4. Animal Encounters in Belize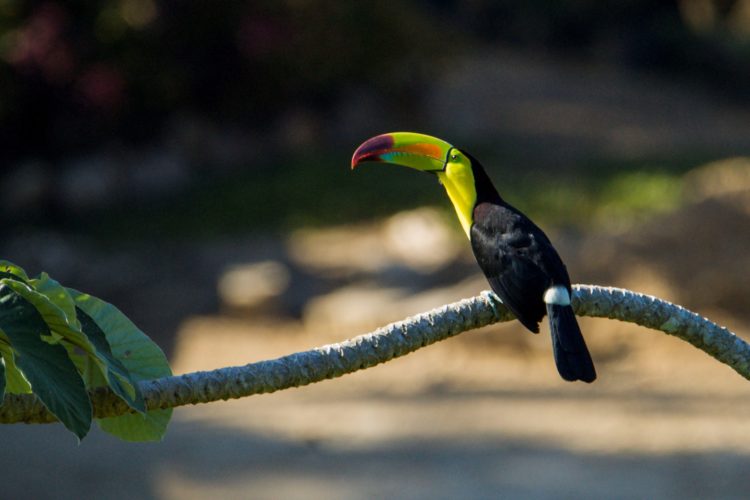 Keel-billed toucan | Photo courtesy of Mike Chellini

Stand in the 3,300-square-foot landscaped open area at Green Hills Butterfly Ranch where flocks of brilliantly colored butterflies freely flit and flutter through the air. Standing amidst the mass of these delicate winged creatures offers an enchanting experience to visitors of all ages. You can also observe the sack-like chrysalides hanging in wait before a new crop of butterflies emerge to take flight.

Birding is also a popular activity at Green Hill. Bring the little ones along and see how many of the over 300 species of birds you can all spy. From the scarlet macaw and the keel-billed toucan to the red-footed booby and the king vulture—and many, many more—kids can't help but be wowed by the color and volume of winged creatures at this awe-inspiring venue.

Quite possibly the stars of the show, though, are the hummingbirds. Green Hill boasts 15 different species of these tiny jewel-toned flying machines. Hang out by the Visitors' Center, where you'll find two feeders that draw these fascinating and brightly colored little wonders of nature in droves.

Monkeys and Other Furry Creatures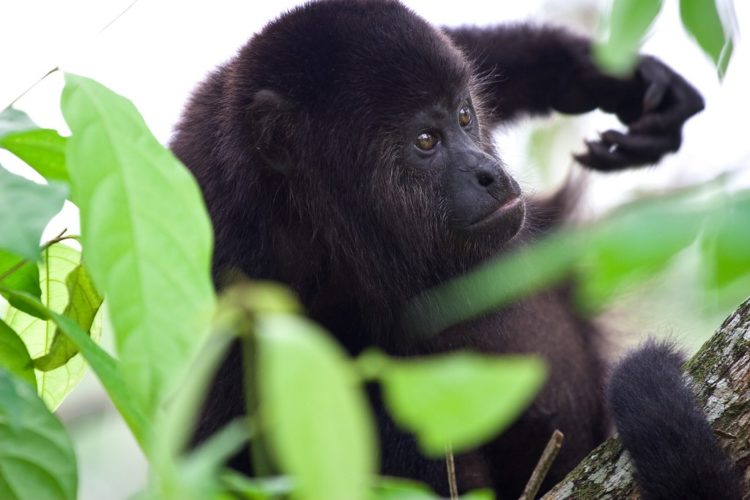 Howler Monkey | Photo courtesy of Nate

Come to the Community Baboon Sanctuary and see Black Howler Monkeys out in the open in the rainforest. Watch them leap from branch to branch, feeding off of leaves while a cacophony of chirping birds fill the air.
Take part in one of the sanctuary's many types of tours, take a day hike, or if you have older kids with you and you're all feeling brave, take a tour at night when the rainforest truly comes alive.

Other Wildlife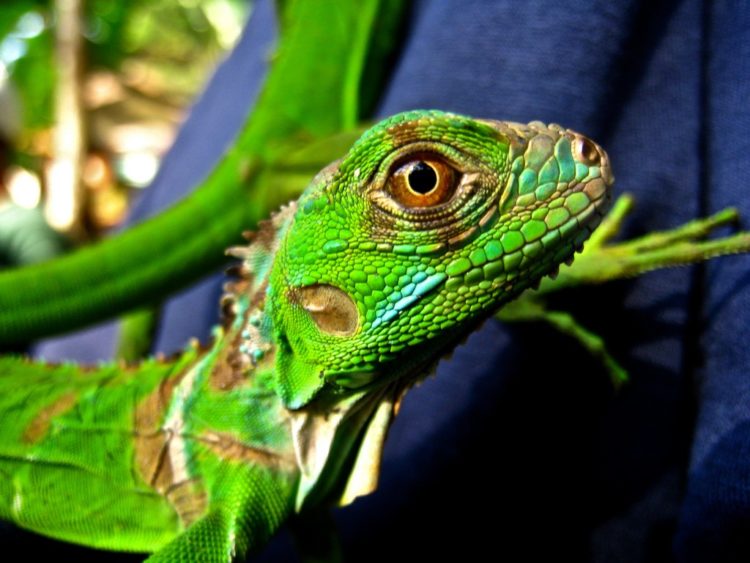 Colorful reptile of Belize hangs out on tree - Photo courtesy of JGGroupPR

The kids will also have the opportunity to see more exotic wild animals at the sanctuary, like puma, jaguars, ocelots, anteaters, iguanas, armadillos, and the unusual pig-like tapir, as well as a variety of reptiles like crocodiles, boa constrictors, and vipers.

5. Attractions and Landmarks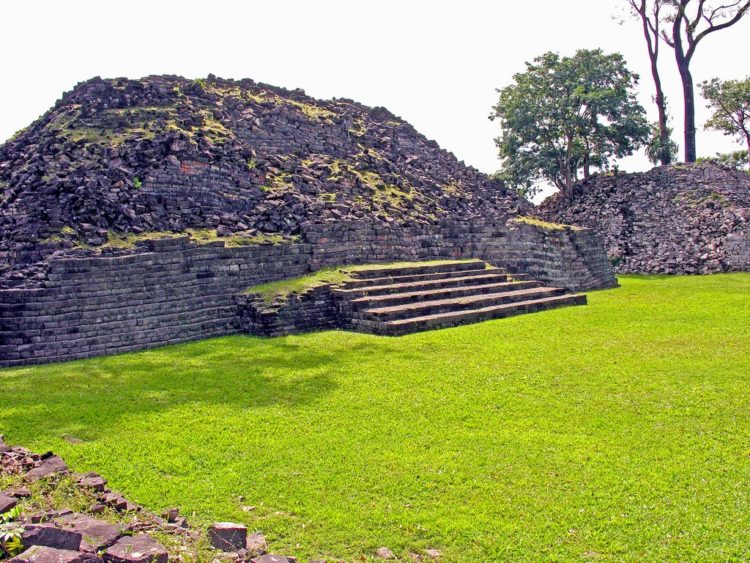 Lamanai ruins in Belize - Photo courtesy of Dennis Jarvis

What's a trip to Belize without visiting ancient Mayan Ruins? Lamanai, one of the largest ruins in Belize, is a must-see for everyone in your group. View the ancient ball court, as well as ceremonial and residential buildings, and as you walk through the ruins and witness the residual of ancient history, let your imaginations consider what still lies buried underground and hidden beneath jungle brush.

Xunantunich is another ancient ruin worth a visit, and what you'll witness here will by far surpass anything the kids will learn from history books at school. Take in the enormous plaster frieze that depicts ancient life events and at one time encircled all of El Castillo, the second largest structure in Belize. Also learn about the mysterious Stone Woman many say still appears at El Castillo's base from time to time.

Another ruin is Altun Ha, which has an expanse of about five square miles and boasts a 54-foot pyramid, the Temple of the Masonry Altars. This temple houses the Sun God's Tomb, where you can see the skeleton of an adult male with many artifacts, like beads, bowls, and bracelets.
Circular and deep blue, with a limestone rim, The Great Blue is said to be the largest sinkhole in existence.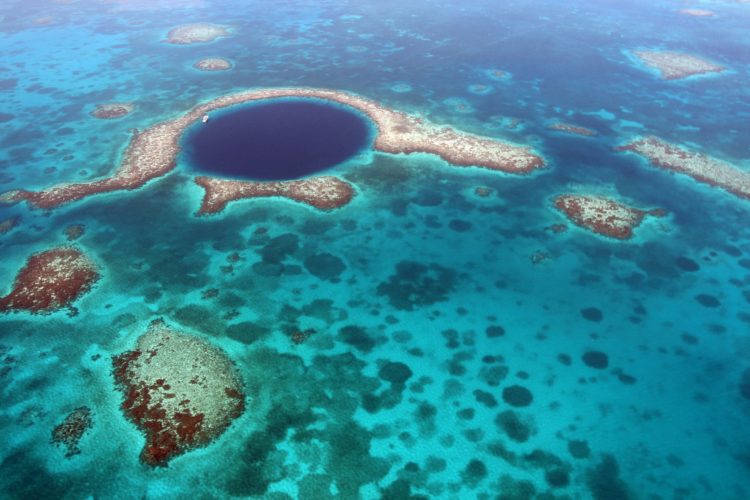 The Great Blue Sinkhole | Photo courtesy of Seann McAuliffe

And last—but certainly not least—is The Great Blue Hole, an enormous sinkhole along the coast and a well-known Belizean icon. Whether you partake in scuba diving—one of the reasons many visit this breathtaking natural wonder—or not, it truly is a must-see if for no other reason than its notoriety, (Jacques Cousteau deemed it one of the best diving locations in the world). Circular and deep blue, with a limestone rim, The Great Blue Hole is said to be the largest sinkhole in existence.

Vacationing with kids can sometimes be challenging, but vacationing in Belize with kids ensures a fun-filled, action-packed experience, no matter their ages. You'll be so busy heading to your next great adventure, the thought of boredom won't even cross their minds.