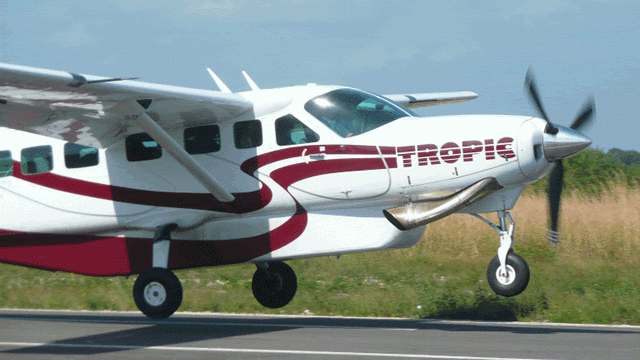 We wanted to share some news about a new flight sevice that will be starting up in March between Belize City and Merida in the Yucatan.


Tropic Air introduces their new flight Merida – Belize
Starting on March 3rd, you will be able to get to Belize in less than 2 hours, since the Belizean company Tropic Air is now offering 3 weekly direct flights from Mérida, Yucatan to Belize, according to the Tourism Promotion Secretary.
Tropic Air is the largest and most experienced airline in Belize. Since its opening flight 34 years ago, Tropic Air has always been a forerunner in the promotion of the tourism industry within Belize and flies to 15 destinations within the Central America country, two in Guatemala, Cancun in Mexico, and San Pedro Sula in Honduras. They also offer charters to more remote and exotic places throughout Belize.
There will be departures on Mondays, Tuesdays and Fridays. The plane will leave Belize at 11:15 am and arrive in Merida at 1 pm. An hour later, at 2 pm, it will leave out of Merida to arrive in Belize City at 3:45pm .
The Yucatan Tourism Promotion Secretary (SEFOTUR) indicated that the airline issued a press release to officially announce these new flights, ticket prices have not been mentioned yet, but there is a special rate valid until the end of February.
Those who fly to Belize, will be able to make a connection to 11 alternative points in that country, or to other destinations such as Honduras and Guatemala.
Belize City
Belmopan
Cancun
Mérida
Caye Caulker
Corozal
Dangriga/Hopkins
Flores, Guatemala
Guatemala City
Orange Walk
Placencia
Punta Gorda
Roatan, Honduras
San Ignacio/Benque Viejo
San Pedro, Ambergris Caye
San Pedro Sula, Honduras
The airline's spokesman said that Merida is the second destination where they provide service in Mexico, they also offer a flight to Cancun and this is their fifth international route.
"We have been working closely with our partners in the Yucatan on this service, and we are excited to be flying there!" said John Greif III, President of Tropic Air. "We expect the market for this service to grow and we plan to add additional service as that happens. Not only will Belizeans finally be able to fly directly to Merida, but this opens up many new opportunities for the archaeological and eco-tourism markets."
Tickets can be booked on the website www.tropicair.com or by email at the following address: reservations@tropicair.com . If you prefer , you can call ( 501) 226-20-12 , or go to the Tropic Air front desk at the Merida International airport.