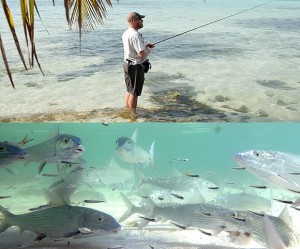 Dangriga, Belize, March 13, 2013.
Island Expeditions announced its top three Belize travel picks for this April: Fly Fish Glover's Reef with a guest fly-fishing instructor; Paddle the Paradise Islands lodge-to-lodge over the full moon; and Snorkel Lighthouse Reef, with kayaking, a guest yoga instructor and the famous Blue Hole.
Fly-fishing at Glover's Reef
Two resident schools of bonefish have promised to be at Glover's Reef this April, and Island Expeditions has guest fly-fishing instructor Kelly Steigman on staff for its April 8-24, 2013 Glover's Reef and River of Caves and Glover's Getaway Basecamp adventures. Guests will also have the flexibility to try a variety of activities including sea kayaking, snorkeling, stand up paddleboarding and yoga. Guided instruction, accommodation and meals provided.
Glover's Reef & River of Caves:April 8 & 15 departures. 7 days, 7 nights. $1899
Glover's Getaway: April 14 & 21 departures. 3 days, 2 nights. $549
Paddle the Paradise Islands during the Full Moon in Belize
A lodge-to-lodge sea kayaking journey through Belize' Southern Barrier Reef is a magical experience and If you can, plan to be there for the April 25 full moon. Enjoy a moonlit evening paddle, and the breathtaking beauty of evenings on the cayes - with bright white coral sand beaches and tranquil, turquoise seas.
Paradise Islands: April 21 (full moon)departure, 5 days, 6 nights. $1749.
Additional April departures: April 7,14 or 28.
Snorkel Belize's Lighthouse Reef, with morning Yoga and the famous Blue Hole
Guest yoga instructor Leslie Young will be offering early morning yoga-by-the sea from March 31 to April 14 on Island Expeditions' Lighthouse Reef trips. These popular vacations offer the freedom to enjoy a range of activities, from sea kayaking and snorkeling to hammock-surfing! This adventure is based on Half-moon Caye National Monument at Lighthouse Reef, Belize's most remote and spectacular island. Trip participants can paddle and snorkel the renowned Blue Hole - made famous by the legendary underwater explorer Jacques Cousteau.
Lighthouse Reef: March 31 & April 8 departures. 8 nights. $1899.
Book now. Visit http://www.islandexpeditions.com or call 1-800-667-1630 for trip information, and to request a 36 page free Belize adventure guide.
About Island Expeditions - Leading the way to adventure for 27 years
Island Expeditions specializes in Belize and Yucatan adventure travel, offering small group trips to special places where few others travelers go...remote coral reefs, tropical rainforests and rich indigenous cultures. Trips provide skilled instruction in outdoor activities, as well as fun, learning and genuine interaction with the local people. No experience is necessary and trips are suitable for all levels. Island Expeditions is committed to responsible tourism, conservation and local education, supporting the Belize Zoo, Belize Audubon Society and local conservation initiatives.