Regardless of the time of year, you are visiting Belize, you should make sure you pack the following in addition to your usual travel essentials.

Here are our top 10 packing list items to help you remember everything you need to bring to fully enjoy exploring beautiful Belize:

1. 1 pair of watersport sandals or water shoes (Teva's or Keens are a good choice).

2. A lightweight pair of hiking shoes (we like North Face hiking shoes).

3. Biodegradable reef-friendly sunscreen.  Learn more about the importance of biodegradable sunscreen.

4. Caladryl/After Bite/Benadryl Cream or lotion to ease itching from bug bites.

5. Insect repellent (20 - 100% Deet).

6. 1 wide-brimmed sun hat (to keep the sun off your face and neck). We suggest one from Shelta Hats.

7. A shortie wetsuit if you planning on snorkeling. This is not essential but water temperatures in December and January can be cooler. This is especially useful for kids who are snorkeling!

8. 1 good quality rain jacket. Even outside of the rainy season, which runs from May – November, there's always the potential for tropical rain showers in Belize.

9. 1 long sleeved shirt preferably with a collar for protection from the sun and bugs.  Silk shirts work well and dry quickly.

10. Last but not least, don't forget your passport and a photocopy of passport.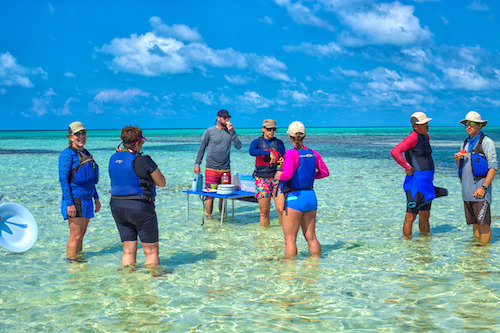 Lunch time on Glover's Reef - sun hat, sunglasses and the important biodegradable sunscreen are must bring items on your Belize trip.

Do you need help planning your Belize vacation?

One of our knowledgeable Belize vacation specialists would be happy to plan or review your Belize itinerary. Contact us at 1-800-667-1630 or email: info@islandexpeditions.com. 

Useful Links:

10 Packing Tips for Your Belize Adventure
 
Clothing and Packing for a Tropical Paddling and Snorkeling Trip
 
Top 10 Items for Tropical Water Paddling in Belize
 
Norm Hann: Preparing for a Paddleboard Adventure in the Tropics