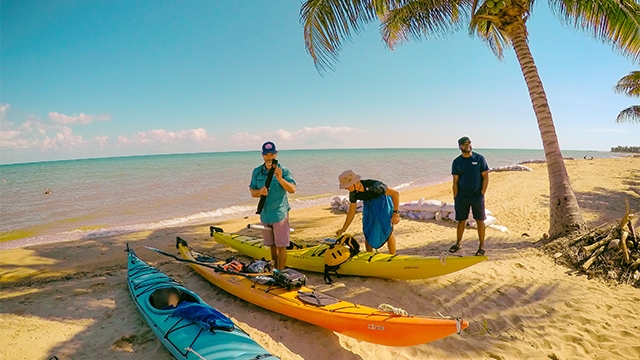 If you're planning a trip to Belize or just want to make sure your paddling gear is good to go, here are some helpful tips to make sure you have the right accessories. Paddling in the tropics of Belize can be an experience of a lifetime but it's important to have the right gear so you can make the most of your tropical adventure.

Explore all our paddling trips to Belize for all levels.

Here our top 10 must bring items for your paddling adventure in Belize:

1. A wide brimmed sunhat to keep the sun off your face and neck is essential. We love Shelta Hats, which are comfortable and designed as a "no flop" sun hat with patent pending Winged Vision Visor.

2. A Buff is another good item to take; it's easy to pack, handy on a warm water trip and you can find multiple uses. It can be a great item to prevent sunburn on the back of the neck, when paddling.

3. Sunglasses are a necessity. You'll love gazing into the clear turquoise waters with some decent polarized sunglasses enhancing your experience and connection to the water. Coral Islands SUP guest instructor and expert Norm Hann's favorites are Maui Jim. And don't forget rule # 1 is to always bring a back up pair of glasses. Remember, croakies are must for your sunglasses when on the water.

4. Footwear is important when you're kayaking out on the reef, but avoid flip flops. You're better off with some good Tevas or something similar that has a thick sole. This will help protect your feet and give you more leverage/pressure for the rudder. Also the Five Fingers shoe is ideal for grip on the SUP board.

5. Avoid cotton especially with ocean paddling as it takes long to dry and once the salt gets into the clothing it will actually draw in moisture from the humid air of the tropics, we call it 'always damp wear' in Belize.

6. Quick dry shorts are good for when the weather heats up; an easy choice for paddling in the tropics.

7. A tight fitting rashguard top, such as this one from Patagonia will provide you with stylish sun protection.

8. Paddling gloves are a nice item to wear and can protect your hands from the sun and prevent blisters from paddling.

9. Use sunblock that protects you and the reef at the same time. Biodegradable sunblock is an environmentally friendly sunscreen that lacks the harmful ingredients that are destroying the world's coral reefs.

10. Long underwear is a great item to pack and can help do the job of a wetsuit. It is also quick drying and very light to pack. Capilene, polypropylene or silk light-weight long underwear is great for snorkeling. As well as keeping you warm (water temperatures in December and January can be cooler) the long underwear offers great sun protection. It also reduces the need for full body application of sunscreen in the water, as residues sunscreens are known to harm corals.

If you go:

If you are ready to book your paddling adventure to Belize make sure you check out our Trip Specials plus all 2017 reservations will automatically be entered to win one of our 30th Year Anniversary Prizes. The prizes include 30% trip discount, free gear and lunch. We have detailed packing and planning lists for each of our trips which you can view before you arrive in Belize.