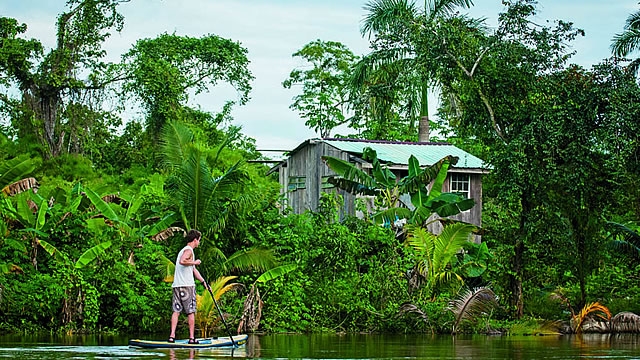 Writer Will Taylor and Photographer Aaron Schmidt recently visited Belize, joining us at our Adventure Basecamp on Lighthouse Reef to check out the Stand Up Paddleboarding! Here is the article that appeared in SUP The Magazine on Aug 21, 2014. This season we are offering SUP on all of our reef trips, and have a special SUP focused adventure – The Coral Islands SUP.

Belize: A Beginner SUP Trip
A Guide to Your First SUP Trip
Words: Will Taylor
Photos: Aaron Schmidt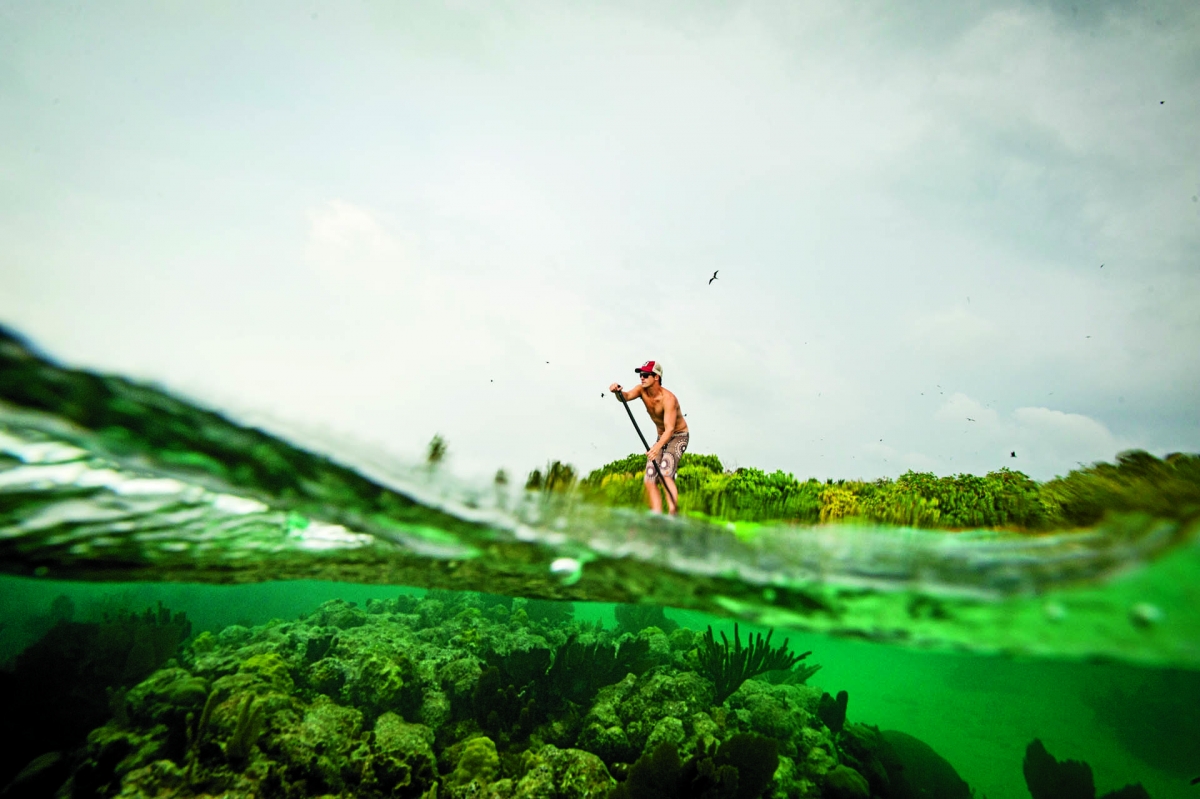 Beneath the thickly layered Belizean jungle full of molting iguanas, giant hawks and invisible biting insects lies a shallow cave. Caves are inexplicably enticing. Maybe in a primal way, because not all that long ago in the evolutionary chain, caves were our homes, providing nature's best shelter. Or maybe it's that they're dark and mysterious and capable of creating awe in our minds. Whatever it is, I paddle into the limestone orifice created by the Macal River in Central Belize. As I near the walls, rocks crumble off the wall and flutter near my face. I shift my balance so as not to fall off my standup board. The rocks are actually bats, lots of small, bouncy-ball sized bats, with extremely good camouflage, flicking above my head. Yet another surprise from a country full of them.

"Belize is the perfect beginner's paddling trip, providing both friendly standup paddling opportunities and unique travel experiences."

Traveling to standup paddle is a must. If you want to get into paddling for the first time or go deeper on your standup journey, take a trip. We recommend Belize. You'll paddle until you're blistered and your toes cramp while fighting the wind off an island 55 miles from the mainland, you'll do things you never imagined (paddling on an underground river past a human skull embedded in limestone) and feel things you've never felt (the flutter of the wind off bat wings) and eat things you'd never eat (conch shell fritters) and experience different cultures (like the excellent ethnic drumming of the Garifuna people). Then you'll go home with fantastic stories and strange memories. That's the beauty of travel: the contrasts of a place you visit make day-to-day life at home seem beautiful again, and not as monotonous.

Belize, a tiny speck of a country nestled between Mexico and Guatemala on the Caribbean Sea, is easy to get to and easy to get around once you're there. They also take American dollars (at a rate twice as much as Belizean currency); English is the national language and people are generally very friendly and want to promote tourism. These things all add up to an easy trip.

And there is water everywhere, prime for paddling. There are rivers of it. These rivers go into caves, meander around in flat marshlands, pour forth from the soaking green rainforest and encase the Belize Barrier Reef—at 185 miles in length, the second largest in the world—in the sublime Caribbean Sea. Best of all, the water is warm and welcoming.

All of these ingredients lead to one conclusion: Belize is the perfect beginner's paddling trip, providing both friendly standup paddling opportunities and unique travel experiences. And for more seasoned paddlers, there's plenty of ways to challenge yourself. Here, we tell you what to bring, where to go and how to do it in style.

Watch little blue herons fly down the river in front of you or the iguanas sunning themselves on branches 40 feet up in the trees.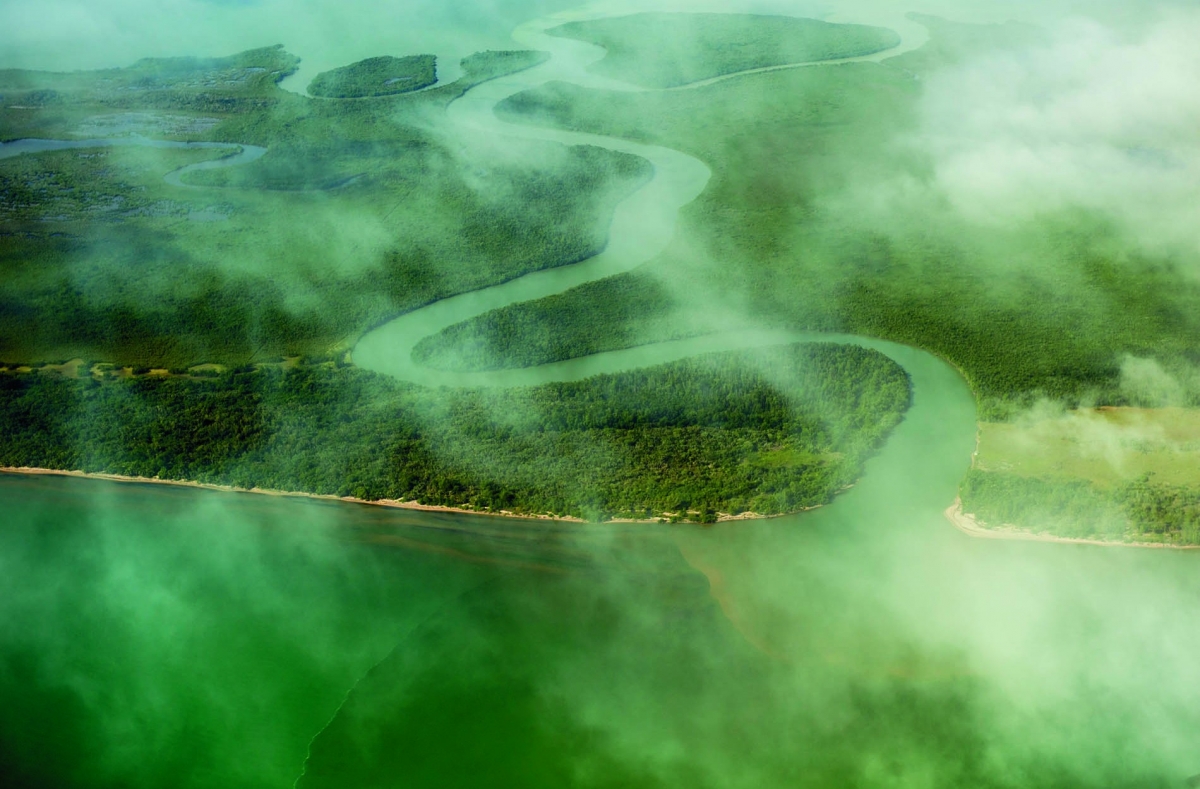 Fly into Belize City and head straight for Black Orchid Resort," located on the lush banks of the Belize River and on the tail-end of the 175-mile world-famous canoe race, the La Ruta Maya Belize River Challenge. You can take a tour through the resort's daily activities or strike out on your own, paddling with the locals checking their traps for the day's catch and cruising under the branches of the jungle reaching out over the water while keeping your eyes out for the wide array of birds that call the area home.

When it's time to head to the beach you want to do it on a five-day Island Expedition's Lighthouse Getaway. From Belize City, you'll take a two-hour, 50-mile boat ride through mangrove swamps, around atolls and across open water to arrive at Half Moon Cay, a sliver of white sand and palms just inside the Belize Barrier Reef. You'll stay in cabana tents (comfy, breezy and simple, with real beds) a conch shell toss from the water's edge, eat freshly prepared local cuisine by the Belizean cooks, circumnavigate the island underneath mating frigate birds and red-footed boobies and snorkel the various stunning reefs the area has to offer. You may also be lucky enough to visit The Great Blue Hole, a World Heritage Site featuring a beautifully circular sinkhole almost 1,000 feet wide and over 400 feet deep, one of Belize's star attractions. The basecamp also has a fleet of rigid standups out there if you need a respite from your inflatable. Let them know you want to SUP non-stop and they'll adapt their activity schedule to your needs.

After living the island life, head inland to the funky little town of San Ignacio in Central Belize to experience some local culture. Set up base camp at The Lodge at Chaa Creek either in their suites, or for the more budget-minded traveler, in their Macal River Camp bungalows, where the sound of the river will lull you to sleep. Take your inflatable out after your morning coffee for a paddle on the Macal, watching Little Blue Herons fly down the river in front of you or the iguanas sunning themselves on branches 40 feet up in the trees, where they keep three watchful eyes on circling hawks and eagles—they have an extra, less-developed eye that detects shadow and motion on top of their head. Afterward, head to Barton Creek Cave for a mile-long paddle excursion into its limestone chambers where a guide will tell you about Mayan cave rituals such as sacrifices and hallucinations, show you limestone bridges that they used in their quests and have you bend low to avoid glittering stalactites. If you still have the energy, go experience the nightlife in San Ignacio, at establishments like the Blue Angels Nightclub where locals get their dance on in front of walls of speakers blasting reggae remixes.

These experiences are just a small sampling of the paddling adventures to be had in Belize. There are countless other options, from downwinders in Placencia in the south to the inland whitewater around Belmopan to the touring around lagoons in the north near Corozal. You can strike out on your own or have your trip set up through a number of Belizean agencies, depending on what you feel comfortable with. You really can't go wrong.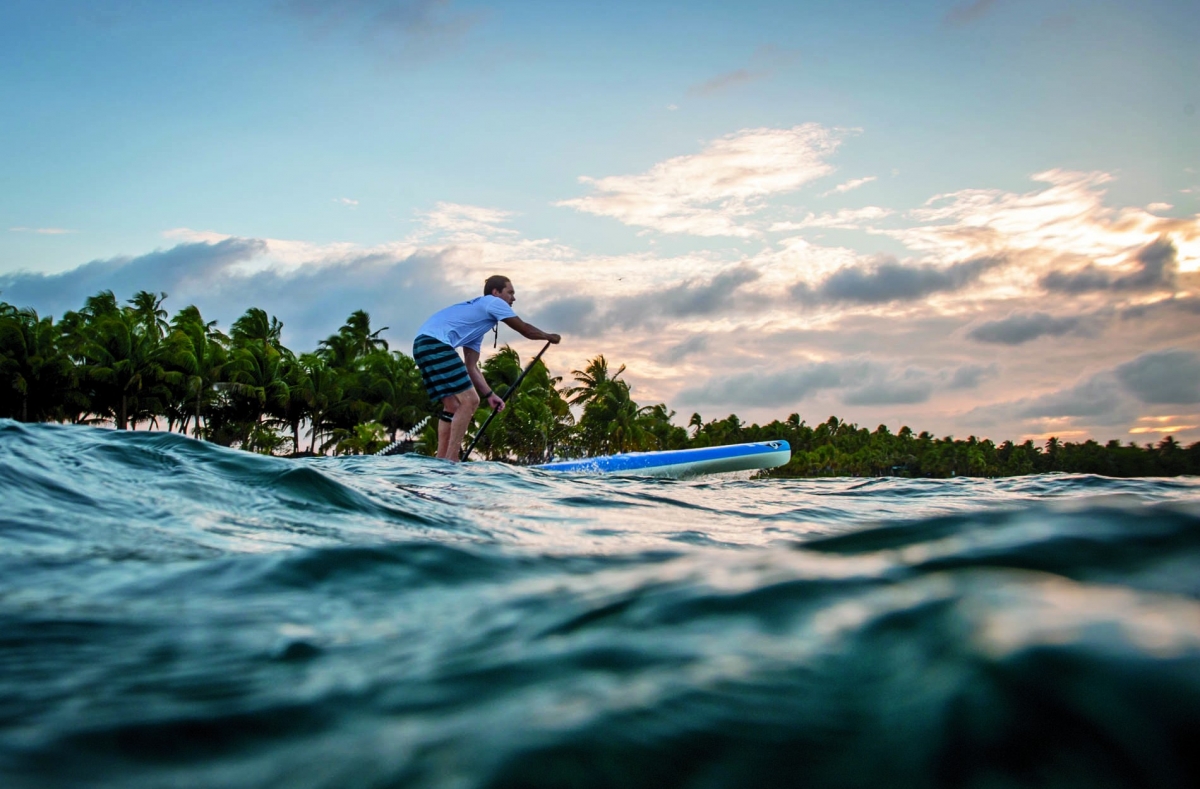 Since the sport is new, you'll only find boards in select locations so bringing your own board is a must.

Finding a board is the only thing that isn't easy about paddling in Belize. Since the sport is new, you'll only find boards in select locations so bringing your own board is a must. Luckily, companies like Starboard, Boardworks, ULI and Naish (we took Naish's 12'6" One model) are making killer inflatable standups great for plane travel and moving around to various locations. Plus, if you get a three-piece traveling paddle (we took one by C4 Waterman) you can stick it in your board bag for easy carrying. This combination of gear is perfect for traveling on small planes, on buses and in crowded vans. Plus, you'll be able to paddle where you want, when you want to. We don't usually go, all because we had our own SUP gear.

Bugs are a factor in Belize. They have serious mosquitoes and most horrendously, bot flies, which burrow under the skin of mammals, including humans, and hatch a number of days later and dig their way out. It's rare but it happens. Bring bug spray.

You'll be spending a lot of time in and around the water and don't want to hang out in a wet bathing suit the whole time. Solution: pack multiple suits. Keep one dry for wearing around on land and one for the water.

The sun and the bugs can get to you and sometimes you don't want to lather yourself in creams or sprays. Lightweight and breathable long-sleeve pants and shirts are a must to give your skin a break from the forces of nature. Other Necessary Items: sunglasses, sturdy shoes/sandals (Chacos, Keens, etc.), non-cotton paddle shirts (rash-guards), waterproof camera, towel, hat, headlamp, wet wipes, paperback, snorkel/mask, flippers, ear plugs, hat.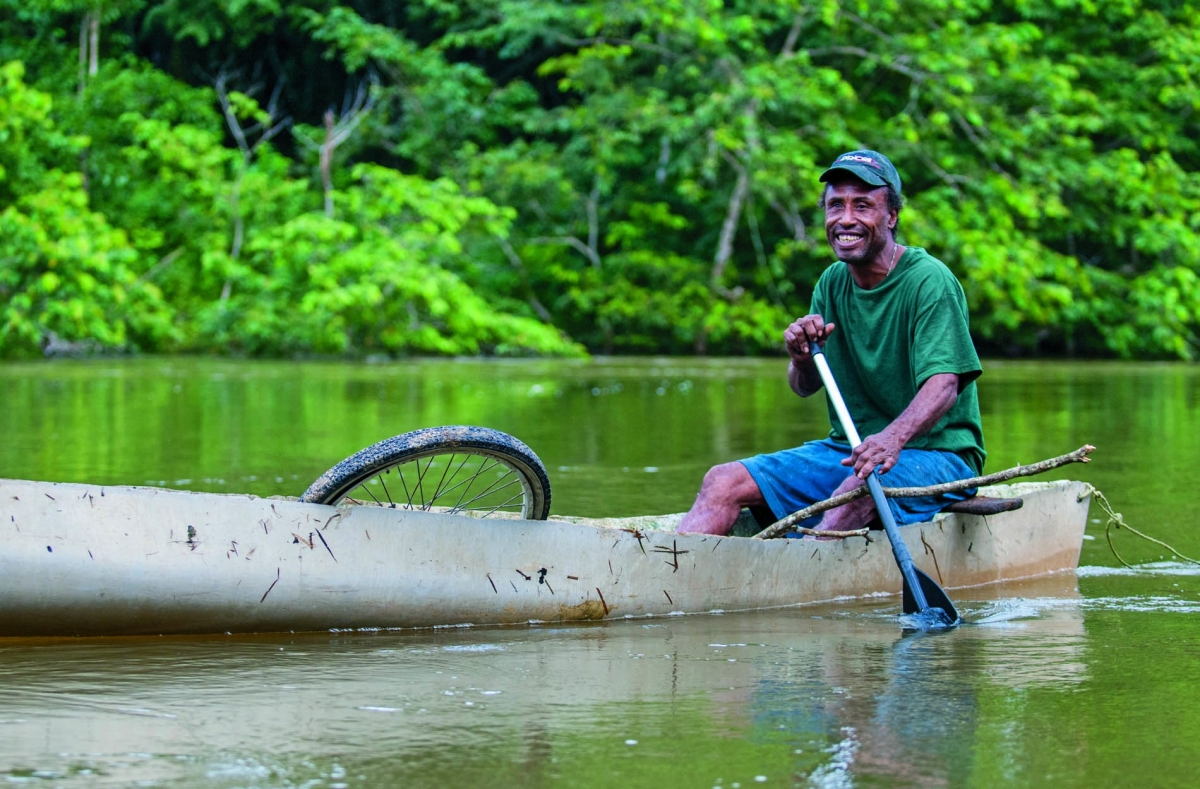 The food in Belize is fresh and unique. From lobster snatched from their rocky crevices on the reefs to the sharp sweetness of locally made chocolate to the superbly well-balanced Belikin beer (their stout was our favorite and packed more of a punch), your taste buds will not be left wanting.

But seriously, the lobster is amazing. It's much cheaper than what you'd find in the U.S. and extremely fresh. You can literally catch them yourself (wear gloves), using your standup board as a diving platform, if you get your technique down. If you'd rather be served you'll find it in almost every restaurant.

You'll also want to learn the difference between beans and rice (the two served side-by-side) and rice and beans (the two cooked together, usually in coconut milk). We recommend the latter for refueling after long days on the water.

In Belize, Marie Sharp's hot sauce is maybe the only thing as ubiquitous as beans and rice. These habanero-based sauces are found in every restaurant in an array of spice levels from mild to "Beware" and in flavors from grapefruit habanero to sweet habanero. In our experience, they're all good, just make sure to work your way up cautiously through the spice levels.

Other Mandatory Foods: conch fritters, fresh coconuts, barracuda, the array of local soups, fry jacks, meat pies, rum and, surprisingly, thanks to immigration, Chinese food.

Most importantly, enjoy your time paddling and traveling. It won't be hard in Belize.

This feature originally ran in our 2014 Beginner's Guide as "Paddling Paradise."