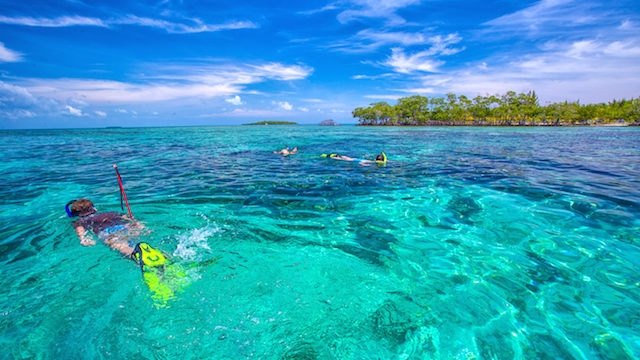 Belize has some of the best snorkeling in the world. The world's second-largest barrier reef straddles the coast of Belize, providing unrivaled snorkeling with an abundance of coral and tropical fish to discover. Belize is also blessed with clear turquoise waters, hundreds of cayes (small islands) and three atolls that offer exceptional Belize snorkeling adventures.

There are numerous spots for snorkeling in Belize, but here is our pick of the best.
7 of the Best Belize Snorkelling Tours:


Mexico Rocks & Tres Cocos - Ambergris Caye

Mexico Rocks & Tres Cocos is a beautiful snorkel spot located between the Belize Barrier Reef and Ambergris Caye. Both locations are accessible by a short boat ride from the town of San Pedro. The snorkel area at Tres Cocos is well known for having some of the largest brain corals and elkhorn coral along the reef. The reef at Tres Cocos is as shallow as four feet and is a great spot for both beginner and experienced snorkelers. These Belize snorkeling locations are also known for their abundance of marine life including conch, banded shrimps, arrow crabs, flounders, stingrays, yellowtail snappers, angelfish, damselfish and hawksbill turtles. Catamaran Belize offers a day snorkeling tour to Mexico Rocks & Tres Cocos from the Belize Express Dock in San Pedro.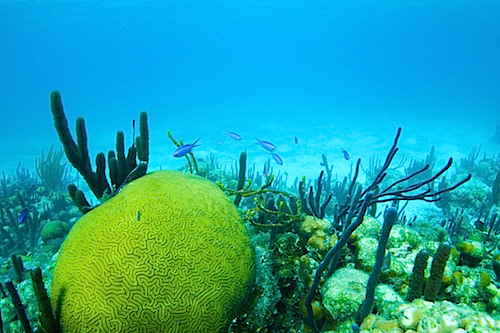 Large brain coral at Tres Cocos


Hol Chan Marine Reserve and Shark Ray Alley - Ambergris Caye

Easily accessible from San Pedro is the Hol Chan Marine Reserve, which straddles the Belize Barrier Reef and includes Shark Ray Alley where snorkelers can enjoy up-close experiences with southern stingrays and nurse sharks. This is a great Belize snorkeling spot for all levels with its shallow waters, white sands and clear visibility.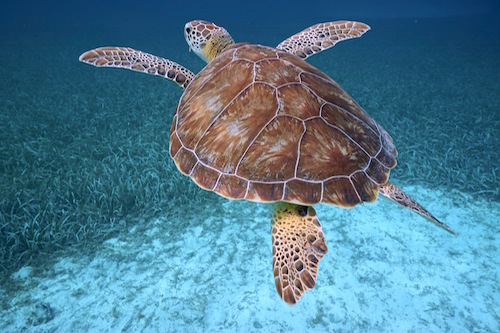 Snorkeling with the turtles at Hol Chan Marine Reserve


Southwest Caye - Glover's Reef Atoll

Glover's Reef Atoll is part of the Belize Barrier Reef and is a designated UNESCO world heritage site. This remote atoll features remarkably clear waters and a sheltered, shallow lagoon with more than 700 patch reefs to explore. Less than a mile beyond the atoll's eastern edge, the reef drops 2600 feet where the Caribbean Sea's open waters begin. The interaction of the open waters with the sheltered lagoon has given rise to a truly spectacular profusion and diversity of marine life, making Glover's Reef Atoll a first-class destination for snorkelers. A stay on the Glovers' Reef adventure basecamp on Southwest Caye is the perfect location for snorkelers to explore this incredible area of Belize.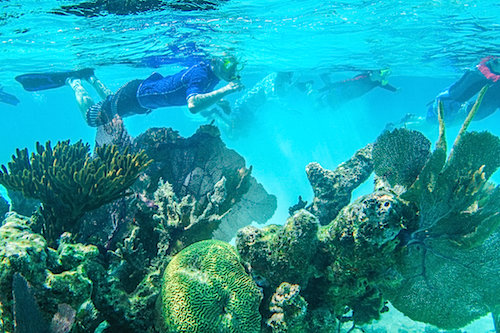 Snorkeling at Glover's Reef Atoll


Tobacco Caye - South Water Caye Marine Reserve

Tobacco Caye is located in the middle of the Belize Barrier Reef at the northern edge of the South Water Caye Marine Reserve. It's just a thirty minutes water taxi ride from the town of Dangriga. This beautiful 5 acres palm-fringed island is known for its world-class snorkeling right off the beach. Tobacco Caye Paradise is the perfect place to stay to explore the area and the lodge offers snorkel gear, kayak and SUP rentals to guests and visitors.

Tobacco Caye offers superb snorkeling right from the beach.

Billy Hawk Caye - South Water Caye Marine Reserve

Billy Hawk Caye is a Garifuna fishing camping located in the Blue Ground Range within the beautiful South Water Caye Marine Reserve. This tiny caye offers outstanding reef snorkeling and paddling among mangroves and palm-fringed islets. This caye sees few visitors, however, it is included as a day trip on the itinerary for the Paradise Islands and Coral Islands SUP trip.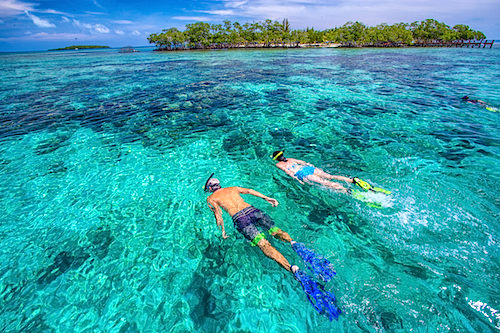 Snorkeling at Billy Hawk Caye


Carrie Bow Caye - South Water Caye Marine Reserve

This caye is home to the Smithsonian Carrie Bow Cay Field Station where research on the biology, ecology, and geology of coral reef ecosystems is carried out. The snorkeling off this caye is incredible and you can expect to see a wide variety of both hard and soft corals as well as beautiful tropical fish. We visit this important marine research station on our Coral Islands SUP and Paradise Islands trip.


Half Moon Caye - Lighthouse Reef Atoll

Lighthouse Reef Atoll is the furthest offshore of all of Belize's atolls. It is home to more than 200 species of fish, six cayes, an abundance of coral reefs and an underwater marine trail. Half Moon Caye on Lighthouse Reef is an excellent location for both beginner and experienced snorkelers, with plenty of shallow waters to explore. Lighthouse Reef Atoll is also home to the world-famous Blue Hole, a perfectly circular sinkhole that measures approximately 1000 feet around and 400 feet deep. This legendary Belize snorkel and dive spot is on the bucket list for many visitors. Another great snorkeling location on Lighthouse Reef is at the 'Aquarium' which has a profusion of tropical fish and towering coral formations uncommon to other locations.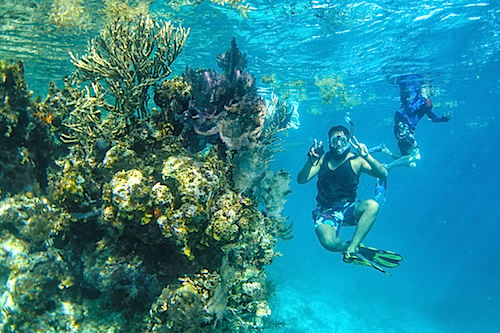 Snorkeling at the Blue Hole, Belize

Whether you are a highly experienced snorkeler or are looking for your very first underwater adventure, Island Expeditions in Belize offers a wide range of interesting snorkeling tours in some of the best sites in the country for you to explore. Let our Belize vacation specialists plan your snorkeling adventure today.

Call 1.800.667.1630 or email info@islandexpeditions.com