Travel Planning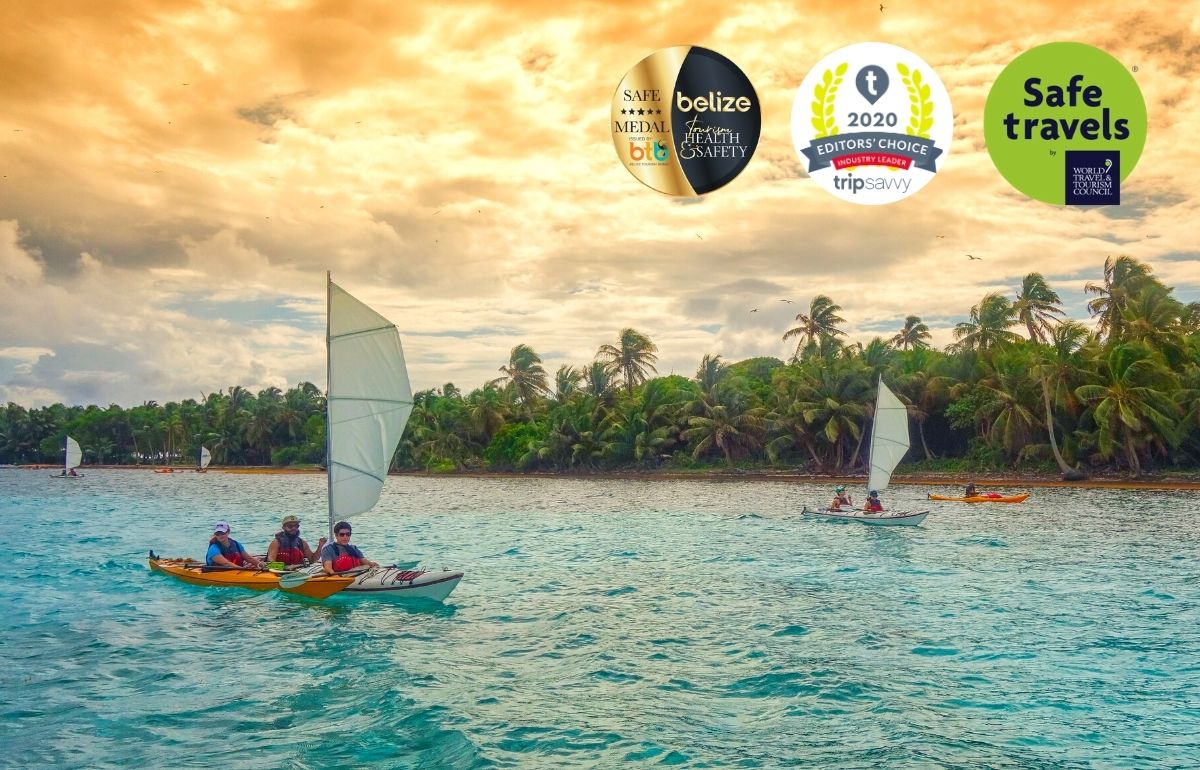 We are all ready to turn the page to new beginnings.  Even though the world continues to deal with the current health crisis, we are all adapting to a new way of living, adopting new practices such as wearing masks, sanitizing our hands constantly, and social distancing. Travel is rapidly adapting as well, following new protocols to ensure health safety and well-being, not only for tourists but also for host communities and people back at home. With that said, all travelers must assess local guidelines and travel options to make responsible and safe decisions when it comes to international travel. 
Why Belize?
Recently, the country received the TripsSavvy 2020 Editor's Choice Award to Industry Leaders for showing the path to safe travel, stating "the Belize Tourism Board's Response to COVID-19 Is One to Emulate" . Belize's low infection rates, a Tourism Gold Standard Certification Program, a Safe Travel Stamp from WTTC, and Covid-19 testing available upon arrival and departure, make this Central American gem one of the safest tourist destinations on the planet. 
Safe Travel Stamp
Belize received the Safe Travels Stamp, granted by the World Travel &Tourism Council (WTTC). The Safe Travels Stamp, the first global safety and hygiene stamp, was awarded to Belize in late December 2020 in recognition of the country's enhanced health and safety protocols.  The Stamp enables travelers to recognize destinations around the world that have adopted health and hygiene protocols that are aligned with the WTTC's Safe Travels Protocols. 
Gold Standard Certification Program
The Belize Tourism Board created the Tourism Gold Standard program in response to COVID19. The program ensures that Tour Operators, Hotels and Restaurants adopt and expand health and safety protocols and policies. These new protocols are focused on sanitation practices, social interactions, workplace policies, and standard operating procedures while ensuring minimal impact on the guest experience. The 9-Point program introduces enhanced standards for tour operators by adopting new behaviors to ensure both travelers and employees are confident in the cleanliness and safety of tour experiences.
The overall network of hotels, tour operators, and attractions that received the government-approved Gold Standard Certification form what is called "Tourism Safe Corridor", allowing the mobility of international visitors among businesses that comply with the extensive Health & Safety certification program.
As a Gold Standard Certified tour operator, Island Expeditions has raised the standard of health and safety protocols being implemented on our services as we welcome back travelers to Belize. We also ensure all our partners are Gold Standard Certified and our services remain within the Safe Corridor. As our guest, you can enjoy your Belize vacation with the confidence that your well-being is our top priority. 
Exit Tests Now Available for All Visitors on International Departure Flights
The US Centers for Disease Control and Prevention (CDC) recently announced that all airline passengers will require a negative COVID-19 test to enter the United States, effective January 26, 2021.  In response to this requirement, the Belize Ministry of Health has expanded testing to facilitate all persons departing from Belize for travel to the US and other countries.  As well, the Ministry of Health approved antigen (rapid) testing will be offered on-site at various hotels across the country.
Got proof of covid vaccination?
Belize is now accepting one-dose -or- two-dose vaccination registration cards. All air travellers with proof of covid-19 vaccination no longer need to quarantine or provide a negative covid test! 
For more information on Belize's health and safety entry requirements and protocols visit: www.belizetourismboard.org/news-and-gallery/belize-covid-19-update/