We wanted to share this fun link about yesterday's 'Predator Party' at the Belize Zoo. Junior Buddy and Lucky Boy are both part of the zoo's Wild Cat Rescue Program which we visit as part of our Glover's Reef and River of Caves trip.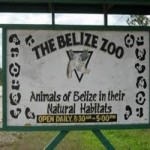 Predator Party Held at Belize Zoo
Feb 27, 2013. The Belize Zoo today celebrated two important milestones in its conservation effort. Junior Buddy the Jaguar is celebrating his sixth birthday and Panama the Harpy Eagle is celebrating its tenth birthday. To mark the occasion, officials of the Zoo invited primary school children to join in the celebration, while at the same time learn more about the contribution of these apex predators to the health of the forest.
Students from the nearby La Democracia Pre-School and the Infant Two class from the Howard Smith Nazarene School in Benque Viejo del Carmen were special invited guests for today's Predator Party at the Zoo. Environmental Educator Jamal Andrewin- Bohn took time out to share information on wildlife conservation with the children and a special treat for the children was an opportunity for an up close encounter with Lucky Boy, the rescued black jaguar which has been nursed back to good health.