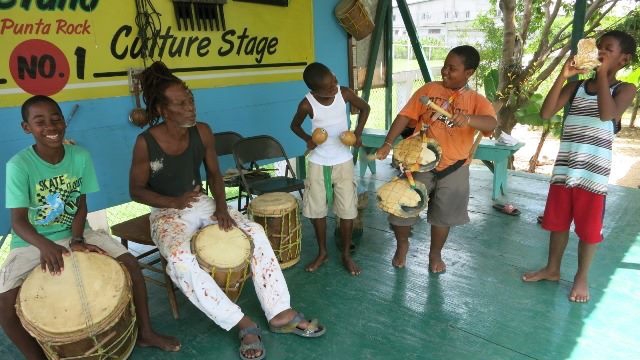 For those who love international music or anyone who wants to learn more about where all that great music comes from in Belize; here are some musical facts so you can culturally prepare for your next trip and make the most of it while you're there. To start, Garifuna music contains Afro-Indian, Hispanic, and English Creole influences. The two main Garifuna music genres are Paranda and Punta:
Paranda is folk style usually consisting of acoustic guitar and drums and percussion, along with call-and-response singing.
Punta is an up-tempo music and dance style. The Primera drum leads the rhythm and the Segunda drum keeps the tempo.

A contemporary Garifuna music genre is Punta Rock music, which uses turtle shells as percussion instruments to provide the backing rhythm.
Now we'll explore some of the most popular and beloved Garifuna musicians who create all that great sounding music:
Andy Palacio
Andy Palacio is one of Belize's most popular musicians. He was also a leading activist for the Garifuna people and the creator of the "Garifuna Music Collective." He died in 2008 at the young age of 48.
Pen Cayetano
Born in 1954 in Dangriga, Pen Cayetano is a self-taught painter and musician. He is regarded by many as the "King" of Punta Rock music. He created it in 1980 as a way to revive and preserve Garifuna music amongst the younger generations.
Paul Nabor
Paul Nabor was a Garifuna singer and musician from Punta Gorda, Belize. He is known for popularizing the Paranda style of Garifuna music, and is considered to have been one of the most talented musicians of the genre. He passed away at the age of 86 in 2014.
If you go:
If you are in Dangriga, be sure to visit the amazing Pen Cayetano Studio Gallery and learn more about this passionate artist. The Gulisi Garifuna Museum in Dangriga is also a great place to visit and learn more about the Garifuna culture and history of Belize.

Now's the time to check out all our trips where you can make the most of your Belize adventure. Combine snorkeling, paddling, hiking, relaxing and now mix in some culture and music at our Basecamps and you've got an amazing trip you'll never forget. Talk to one of our representatives now on chat or contact us and booking your trip to Belize just might be music to your ears.