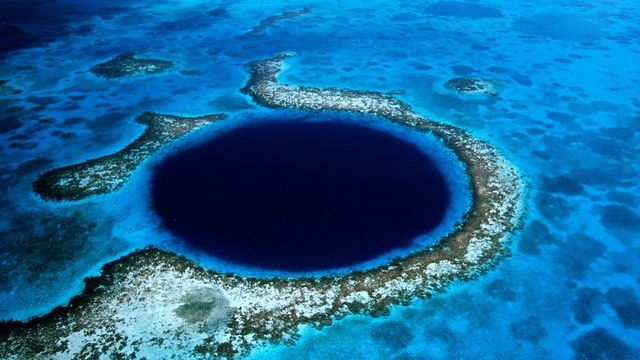 Our
Lighthouse Reef Adventure
was featured in
Outside Magazine
as one of seven island getaways offering the perfect balance of adventure and indulgence.  Check out this article by
Riley Blanton
 which showcases Half Moon Caye, Lighthouse Reef and the Blue Hole as a premier Dive Getaway.
FRESH TRIPS
By: RILEY BLANTON    MONDAY, OCTOBER 04, 2010
PADDLE
Palau
Boundless Journeys' Oceania Odyssey starts with infinity-pool luxury at the Palau Pacific Resort, on Koror, before going rustic: For the next week, no more than ten guests camp on two smaller islands; snorkel over sunken World War II planes; sea-kayak the saltwater Black Tip Lake, accessed by marine tunnel; and dine on fresh-caught parrotfish. January–October; from $4,695 per person; boundlessjourneys.com


SAIL
Isle of Skye, Scotland
On the new seven-day Sailing & Walking Around Skye trip from Wilderness Scotland, local skipper Angus MacDonald Smith will ferry eight guests around Skye on his 67-foot yacht, Elinca, seeking out the old pirate anchorages, hailing passing fishermen to buy prawns, and cruising up inlets to launch guided hikes in the steep Cuillin Hills. Go in May or June for 20-hour days and peak seabird nesting. $1,400 per person; wildernessscotland.com

MULTISPORT
Madagascar
Gap Adventures' Madagascar Experience focuses on inland beauty. From the capital of Antananarivo, your crew will head south by minibus, stopping to hike in lush rainforests, bike around (and swim in) Lake Andraikiba, and explore the eroded sandstone Isalo Mountains. March–December; $1,449 per person; gapadventures.com

FISH
Seychelles
On Frontiers Travel's new six-day Desroches Island Flyfishing Adventure, guests cast for hard-fighting bluefin trevally at offshore atolls by day and crash in private villas by night. Casting arm need a break? Explore the 3.5-mile-long island with kayaks, bikes, or snorkels and fins. $7,600 per person, double occupancy; frontiers­travel.com

MULTISPORT
San Juan Islands
REI Adventures' San Juan Islands trip is a six-day mash-up through Washington's Puget Sound, including a 50-mile road-biking spin around Orcas Island, sea kayaking with killer whales near Sentinel Island, and one night at a remote campsite. (The other four are spent at the Lakedale Resort's tent-cabins, which have real beds.) From $1,899 per person; rei.com/adventures

DIVE
Half Moon Caye, Belize
On the seven-day Lighthouse Reef trip from Island Expeditions, you'll kick back in safari-style tents and napping hammocks strung in coconut groves on 44-acre Half Moon Caye, some 50 miles off the mainland. Of course, you'll probably spend most of your time in or on the water, diving the Blue Hole—a famous, 400-foot-deep well—snorkeling in shallows, and exploring the reef by kayak. From $1,789 per person; islandexpeditions.com

RIDE
Crete
Backroads' new six-day Crete cycling trip starts from Iráklion, on the northern coast, and ends, after 268 miles of pedaling, at Akrotiri Cape, in the west. In between, you'll spin past lush vineyards and olive groves and Venetian harbor towns, where fresh seafood and plush inns await. $3,598 per person, double occupancy; backroads.com
Our
Lighthouse Reef Adventure
was featured in
Outside Magazine
as one of seven island getaways offering the perfect balance of adventure and indulgence.  Check out this article by
Riley Blanton
 which showcases Half Moon Caye, Lighthouse Reef and the Blue Hole as a premier Dive Getaway.
FRESH TRIPS
By: RILEY BLANTON    MONDAY, OCTOBER 04, 2010
PADDLE
Palau
Boundless Journeys' Oceania Odyssey starts with infinity-pool luxury at the Palau Pacific Resort, on Koror, before going rustic: For the next week, no more than ten guests camp on two smaller islands; snorkel over sunken World War II planes; sea-kayak the saltwater Black Tip Lake, accessed by marine tunnel; and dine on fresh-caught parrotfish. January–October; from $4,695 per person; boundlessjourneys.com


SAIL
Isle of Skye, Scotland
On the new seven-day Sailing & Walking Around Skye trip from Wilderness Scotland, local skipper Angus MacDonald Smith will ferry eight guests around Skye on his 67-foot yacht, Elinca, seeking out the old pirate anchorages, hailing passing fishermen to buy prawns, and cruising up inlets to launch guided hikes in the steep Cuillin Hills. Go in May or June for 20-hour days and peak seabird nesting. $1,400 per person; wildernessscotland.com

MULTISPORT
Madagascar
Gap Adventures' Madagascar Experience focuses on inland beauty. From the capital of Antananarivo, your crew will head south by minibus, stopping to hike in lush rainforests, bike around (and swim in) Lake Andraikiba, and explore the eroded sandstone Isalo Mountains. March–December; $1,449 per person; gapadventures.com

FISH
Seychelles
On Frontiers Travel's new six-day Desroches Island Flyfishing Adventure, guests cast for hard-fighting bluefin trevally at offshore atolls by day and crash in private villas by night. Casting arm need a break? Explore the 3.5-mile-long island with kayaks, bikes, or snorkels and fins. $7,600 per person, double occupancy; frontiers­travel.com

MULTISPORT
San Juan Islands
REI Adventures' San Juan Islands trip is a six-day mash-up through Washington's Puget Sound, including a 50-mile road-biking spin around Orcas Island, sea kayaking with killer whales near Sentinel Island, and one night at a remote campsite. (The other four are spent at the Lakedale Resort's tent-cabins, which have real beds.) From $1,899 per person; rei.com/adventures

DIVE
Half Moon Caye, Belize
On the seven-day Lighthouse Reef trip from Island Expeditions, you'll kick back in safari-style tents and napping hammocks strung in coconut groves on 44-acre Half Moon Caye, some 50 miles off the mainland. Of course, you'll probably spend most of your time in or on the water, diving the Blue Hole—a famous, 400-foot-deep well—snorkeling in shallows, and exploring the reef by kayak. From $1,789 per person; islandexpeditions.com

RIDE
Crete
Backroads' new six-day Crete cycling trip starts from Iráklion, on the northern coast, and ends, after 268 miles of pedaling, at Akrotiri Cape, in the west. In between, you'll spin past lush vineyards and olive groves and Venetian harbor towns, where fresh seafood and plush inns await. $3,598 per person, double occupancy; backroads.com