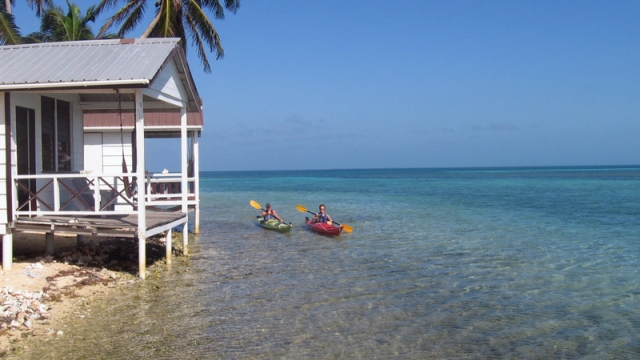 Our Paradise Islands lodge-to-loge paddling trip was the recipient of Outside Magazine's Central America Travel Award. Check out this article for details.


MONDAY, MARCH 23, 2009
CENTRAL AMERICA
2009 Travel Awards
Dollars and sense: Go with Pros

Next time you're planning a trip to Mexico or Canada, look to an old favorite. Last November, low-cost, low-stress Southwest Airlines announced plans to partner with Volaris and WestJet to bring service to Canada later this year and to Mexico in 2010.

BELIZE
KILLER VALUE
Kayak Lodge to Lodge
6 DAYS, $1,590
Some 450 sun-bleached cays dot Belize's 180-mile-long barrier reef. The best way to explore them? Take this new, lodge-to-lodge sea-kayak trip with Belize City–based Island Expeditions. The six-day journey is divided between traveling with the currents over coral structures teeming with marine life and unwinding at three rustic lodges (think seaside cabanas and conch-fritter dinners). Expect to cover up to six miles of turquoise per day in IE's unique, mast-and-sail-equipped sea kayaks. "There's nothing like sailing your kayak at six knots, two feet above the reef flats," says owner Tim Boys. Trips depart weekly from November to April; islandexpeditions.com. CASH TIP: Book late—IE offers $100 discounts on unfilled trips within a month of departure.

PANAMA
Surf the Gulf of Chiriquí
6-DAY CHARTER, $2,500 PER PERSON
Don't want to take out a second mortgage to reach Indonesia's Mentawais? There's a better way to plan your dream surf trip. In 2006, Panama-based Lost Coast Excursions started plying the Gulf of Chiriquí, on that country's Pacific coast, in its 100-foot motor yacht, the Explorer. What the outfitter found was a Pacific paradise with dozens of empty reef and beach breaks. The Explorer accommodates up to 16 guests in shared rooms—bring ten or so buddies and you've got a blue-water epic, complete with surf guides, for less than the cost of a week in Aspen. Start recruiting now for next spring, when southern swells wrap up the coastline. Guests take a shuttle from Panama City to Puerto Mutis, board the Explorer, and hit the water before lunch. Charters available between December and August; lostcoastexcursions.com.