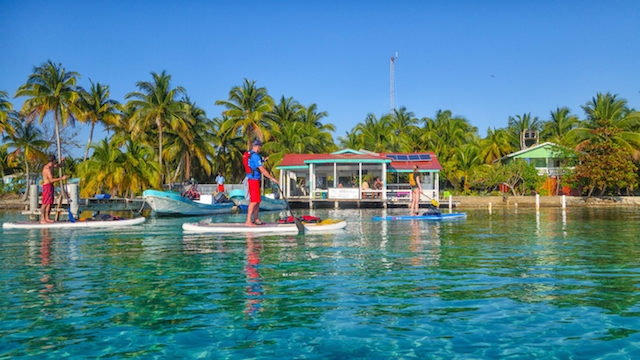 Together with Norm Hann Expeditions we created a world-class stand up paddleboard experience in Belize. We are delighted with this special partnership with pioneer Norm Hann Expeditions, one of North America's leading stand up paddleboard (SUP) instructors in the industry. Earning high recognition for travel the Coral Island SUP was honored by Outside Magazine, as "Best of Travel" and features the only multi-day, SUP island to island snorkel adventure in Belize.

Check out our latest Coral Island SUP deals on our trip specials

Belize provides the ideal location with the second longest Barrier Reef in the world. Paddlers can look forward to being immersed in Belize's spectacular marine habitat with its palm studded islands, coral reefs, mangroves and abundant sea life.

Coral Island SUP has something for every skill level and combines beginner through advanced skills development, downwind coaching and expert local interpretation, in one of the most incredible tropical marine environments. We have together meticulously built the ultimate multi-day stand up paddleboard experience for all levels. The only guided lodge to lodge SUP adventure in Belize.

Explore the barrier reef live this week on Instagram! - Follow Norm Hann as he guides paddlers: https://www.instagram.com/normhann/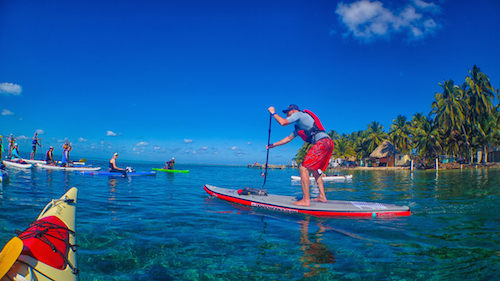 Norm coaching a skills session at South Water Caye

Find out more about the Coral Islands SUP trip with Norm Hann Expeditions in this video:

Norm Hann is currently in Belize on our first Coral Islands SUP with Norm Hann Expeditions trip for 2017. We chatted with Norm to find out what he packed for the trip to Belize and his key pieces of gear for paddling in the sun. Here are his 3 favourite items for paddling in the tropics:

1. SHELTA SUN HAT
Last fall while down at the Pacific Paddle Games in California I met Jurgen Schulz, owner of Shelta Hats and he passed along one of his Osprey Hats, specifically designed for standup padding and paddle surfing. I was amazed at how comfortable and cutting edge this sun hat was. Jurgen and team designed this "no flop" sun hat with patent pending Winged Vision Visor that prevents the brim from flopping in your face even when it gets wet or windy. This hats a game changer for sure. Perfect for Belize.

2. BUFF
Is the Original Multifunctional Headwear that offers styles for almost any activity, weather and taste. My first year in Belize I burned the back of my neck pretty good and since then I have brought a Buff down with me. These Buffs can be worn a variety of different ways and are lightweight, easy to pack and really handy on a warm water trip. You will find multiple uses for this sweet piece of gear.

3. POLARIZED SUNGLASSES
Investing in a good pair of polarized sunglasses will really help you protect your eyes while in the tropics. On top of that the polarization brings the stunning coral reefs alive with great clarity and the ability to see all of those amazing tropical marine species from the deck of your sup enhancing your experience and connection to the water. I have always used Maui Jim Sunglasses as a fishing guide on the BC coast, they are expensive but are worth the money and last.
If you go:
The next trip departure dates for the Coral Island SUP with Norm Hann Expeditions for 2017 are: Feb 4th, March 11 and April 1st. This trip is ideal for those paddlers seeking the adventure of a guided and fully catered SUP journey combined with the comforts of small lodges in spectacular locations. Along with Norm Hann's skilled instruction and coaching on select departures, this adventure is ideal for those who want to improve their standup paddleboarding skills. Contact us or call 1-800-667-1630 for more information and to reserve your spot!