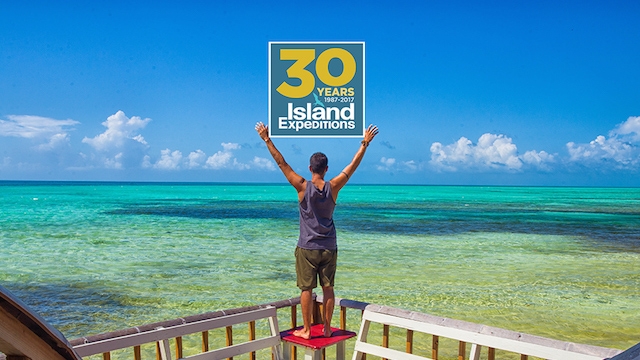 Since January, we have been randomly selecting a winner every week as part of our 30 Year Celebrations. All guests who made trip reservations for 2017 were automatically entered for a chance to win one of these cool prize offers. We are still giving away these prizes until the end of April 2017 so there's lots of winners yet to come. You could be next!

View All 30 Year Prize Winners - So Far
30% Trip Discount Winners:

We have been giving away weekly 30% Discount Draws on trips booked for January, February March and April 2017. For guests who booked any Island Expeditions trip or Bocawina Rainforest Resort stay, were automatically entered in the running to be selected for a 30 % discount.

All the excited winners so far and what they had to say about winning:

Jan 20th Winner: Larry Mathews "...Thanks For The Discount!!! My wife and I are very excited for our upcoming adventure to Epic Belize. We started to search for a new adventure destination and discovered what looks like a top shelf tour with Island Expeditions. We called Brendan during Hockey Night in Canada one Saturday night, and he was awesome. He gave the details of the trip, and we were immediately sold. We have called back several times to be sure we were buying and packing the right equipment. The folks in BC were always friendly, accommodating and gave us good advice. Since our trip starts on Super Bowl Sunday, Brendan did promise to post us some scores and highlights. We are looking forward to a new adventure and excitement on the rivers, bays, mountains and jungle. Bon Voyage!..."

Jan 27th Winner: Robert Levin "... I thought I lived in paradise until I went on a trip with Island Expeditions to Belize and experienced both the Crooked Tree wetlands and the Lighthouse Atoll and Half Moon Caye. It was truly a real paradise not only for the wildlife, warm sun, sand and surf, but the people of Belize. The attitude, lifestyle, warm and inviting nature of the Belizean people had a great effect on me. I can't wait to return and learn a bit more Kriol! Island Expeditions knows well how to do Belize and is very well organized, staffed professionally and centered on safety with fun..."

Feb 3rd Winner: Vicki Copeland "... What a nice surprise to be a winner! And Happy 30th Year Anniversary! We are so excited to go on our Lighthouse Reef Getaway. Several years ago, we went on the Ultimate Adventure Trip and had a marvelous time. Island Expeditions is AWESOME! Thanks!!..."

Feb 10th Winner: Julia Dyck "...I am delighted winning the discount. Half Moon Caye is truly a paradise. I had a wonderful time snorkeling off the island, kayaking and kayak sailing. The staff are professional, well organized and take the time to teach you skills needed for the activities. This is my second adventure with Island Expeditions and I can't wait to book for next year..."

Feb 17th Winner: John Winkley "...We are very excited to be a winners! Originally this spring, a family group of four was headed to Cuba for an obstacle course race. The organization we used was terribly unorganized from the beginning, and the whole process was frustrating, we never were able to speak with someone, and ultimately it was cancelled. (fortunately for us). With every shut door, there was one opening up...We still wanted to go somewhere tropical, and thought of Island Expeditions. This will be our second trip, and I called IE and within a few minutes we had a great plan for. When you call IE, you get to speak to a familiar voice. The IE staff is easy to work with and they make the planning easy and effortless. We went to Glovers Reef for our first trip, and look forward to going to Lighthouse Reef next month. Thanks IE for this experience, It's always been a pleasure working with you!.."

Feb 24th Winner: Lori Greenwood "...Thank you Island Expeditions. My trip to Half Moon Caye in January was truly amazing! I will never forget the aquarium and the night snorkel-WOW! The staff were fantastic, our reef guide Bryan really impressed me, he knows so much about the creatures that live there and knows exactly where to lead you, we were in the water a minute and saw our first nurse shark. I wasn't sure what to expect with the food in such a remote location but Bol, the chef, really took care of us, I was amazed at what came out of that little cookhouse, and was always too full to need any of the snacks I had brought along. It was a pleasure spending time with those guys, you too Chris & James- "the camp guys band". What a great group of people to be marooned with..."

Mar 3rd Winner: Tracy Bell "...Being chosen as a winner was such a great surprise! Snorkeling is my favorite vacation treat, and Island Expeditions never disappoints. Half Moon Caye is my all-time favorite destination and I cannot wait for my trip at the end of the month. It's amazing to lay in your tent as the sun rises and watch the frigates and boobies as they hunt for their breakfast. The snorkeling at the aquarium is so amazing -- unbelievable coral formations and so many species of fish life. Being able to "unplug" for a week and enjoy new friends is just one of the many good things about Island Expeditions trips.."

Mar 10th Winner: Elizabeth Barter

Mar 17th Winner: Eliah Werner "...Winning when you didn't even expect it. Great idea from island expeditions and super excited about the first trip with the team!.."

Weekly Gear Package Giveaways:

In January, February, March and April we have been giving away Island Expeditions T-shirts & Hats, which guests can use on their adventures in Belize.

The winners so far:

Jan 20th Winner: Lisa Bennett

Jan 27th Winner: Joan Commerford

Feb 3rd Winner: Anne Wyllie

Feb 10th Winner: Rosemary Karcher "..Your sweet news was just in time for Valentine's Day! Lou and I are excitedly looking forward to our return to Lighthouse Reef next month! When we retired last year and drafted our "bucket list," returning to Belize for snorkeling with you was at the top (and middle, and bottom!) The Island Expeditions staff, both before and during our trip, makes this adventure easy and magical! Please thank everyone for us!.

Feb 17th Winner: Joan Scruton

Mar 3rd Winner: Rob Sawatsky

Mar 10th Winner: Florence Masson

Mar 17th Winner: Anne Marie Dyckman

Free Lunch:

We have been giving away $25 Gift Cards to Darden Restaurants (in the US), and The Keg Restaurants (in Canada). Darden Restaurants Gift cards can be redeemed at any Red Lobster, Olive Garden, LongHorn Steakhouse, Bahama Breeze, Seasons 52, Yard House, or other Darden Restaurant in the U.S. The Keg Gift Cards can be redeemed at any Keg location across Canada.

The winners so far:

Jan 20th Winner: Sandra Laye "...Thanks so much for the news that I won a promotional lunch as part of the Island Expeditions 30th anniversary celebrations. Wow - very exciting! And I love the Keg. I am SUPER excited to be going on my very first Island Expeditions trip in a little over a month - Glover's Reef and Rainforest Canopy here I come! My snorkeling, paddling and trekking gear is already out and ready to go. Thanks again!.."

Jan 27th Winner: Kelly Wharton "...Great trips, great experiences and now a free lunch-IE is the best! ..."

Feb 3rd Winner: Ron Albinson "...Hey, thanks for the free lunch. Just got back from Belize and Glover's Reef Adventure Trip. The Island Expeditions crew in Dangriga and Glover's Reef were so helpful and professional. We really enjoyed ourselves..."

Feb 10th Winner: Mary McCullough "...This is my fourth year of travelling with Island Expeditions and you can't find a better trip anywhere. We have done the Lighthouse Reef trip twice before and the Ultimate Adventure trip once and have chosen the Lighthouse Reef again this year. It's paradise. So beautiful, so much fun. Everyone is so nice, it's super well organized and a real adventure. It's so hard to leave every time so we keep coming back! Happy Anniversary!..."

Feb 17th Winner: Christopher Lewis

Feb 24th Winner: Claire Madill "...Whoa! Really? I love lunch! and I'll tell anyone who will listen: the Island Expeditions trip to Half Moon Caye was *the* best trip I've ever been on..."

Mar 3rd Winner: Rodney Lowell

Mar 10th Winner: Kate Thompson

Mar 17th Winner: John Bonin

Have you already travelled with us? Now you can share your travel stories.

If you have been on an adventure with us, we hope you'll have some great pictures and stories of your Belize trip that you can share. All you need to do is upload your pictures here, provide a caption or story about the picture and hit enter. ​Once you upload your picture/story we'll take a look, publish your entry, let you know and send you an Island Expeditions T-shirt or hat. You'll also be entered into a draw for a chance to win a free Amazon Kindle E-reader with popular travel eBooks.

There's Still Time to Win Belize Trip Discounts, Gear and Free Lunch!

We will be randomly selecting a winner every week until the end of April 2017. There's still lots of time. All you need to do is book your Belize trip in March or April 2017 and you'll automatically be entered for a chance to win one of these cool prize offers. There's more. We have some fantastic last minute deals for trips to Belize for this season. Contact us at 1.800.667.1630 or email info@islandexpeditions.com for more details.

Help Us Reach Another Milestone This Year

We're so close to having 10,000 Facebook fans. We appreciate all your support and would love your help in reaching another milestone this year - Like Us on Facebook.