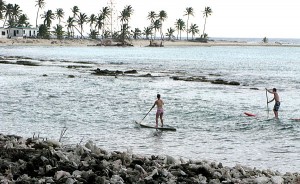 We now have stand up paddleboards at our Glover's Reef and Lighthouse Reef Basecamps. Try out this fun new watersport which combines elements of surfing with canoeing and kayaking. Stand up paddleboarding is an excellent full body workout, and a great way to develop core strength and toning.
We have boards that are wide and stable, ideal for beginners and more advanced C4 boards with sharp lines and built for performance. Our guides are happy to provide instruction for those trying the sport for the first time, if you are an experienced SUP paddler doing your thing on the water don't be surprised if your fellow guests are watching and asking for pointers!
When the conditions are calm and the winds are light our boards are fast and responsive and a joy to paddle. Inside the protected lagoon of the atolls, paddling amongst the tropical fish and coral reefs is a dream come true for SUP paddling. One of the things we like best about SUPs is how much crazy and colourful marine life we see when paddling from the stand up position.
If the wind is blowing the SUP's can be a real challenge to control in chop and waves. For those with a little more paddling experience, ask your guides about a downwind paddling option. We'll carry you upwind by motorboat so that you can enjoy the challenge and thrill of a downwind paddle over the shallow reef flats back to our basecamp
Our Island Basecamp Adventures include accommodations, meals, professional guides and sports instruction, plus unlimited use of kayaks, snorkels, stand up paddleboards and other equipment.
Glover's Reef & River of Caves - 7 days,7 nights
Lighthouse Reef - 7 days, 8 nights
Glover's Getaway - 3 days, 2 nights
Lighthouse Getaway - 3 days, 2 nights
Lighthouse Atoll is Belize's most remote and spectacular atoll, and home to the Blue Hole, made famous by the legendary underwater explorer Jacques Cousteau. Glover's Reef Marine Reserve is a World Heritage Site, and considered to be one of the richest tropical marine environments in the entire Caribbean Sea.