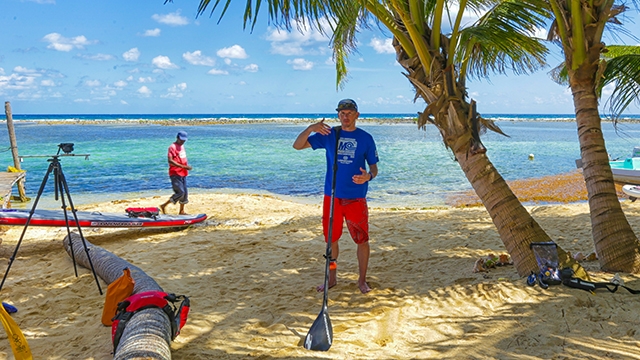 A few years ago we partnered with Norm Hann and his company Norm Hann Expeditions to launch the first ever lodge to lodge SUP and snorkel journey in Belize. Norm is one of the top SUP instructors in North America and has been working alongside our Belizean guides on our unique Coral Islands SUP trip.

Norm is based in Squamish, BC and he specializes in offering SUP and eco adventures trips to the Great Bear Rainforest on the remote north coast of British Columbia. Norm is an instructor trainer for Paddle Canada and offers industry leading standup paddleboard skills and instructor training in all disciplines of SUP.

We recently chatted with Norm to find out about his background, passion for paddling and his upcoming visit to Belize as guest instructor on our Coral Islands SUP with Norm Hann trips.

Tell us about yourself and how you got into Stand Up Paddleboarding?
Before moving to British Columbia, I grew up in Sudbury, Ontario where I played university and national level basketball and became a high school teacher. Wanting to work in the outdoors full time, I left Ontario and moved to B.C to pursue a career as an adventure guide and to enjoy the outdoor sports found on the coast. I began paddle boarding in 2008 where I was attracted to the sport through its connection to the ocean, the fitness, competition of racing and a new and exciting way to surf and explore the coastline.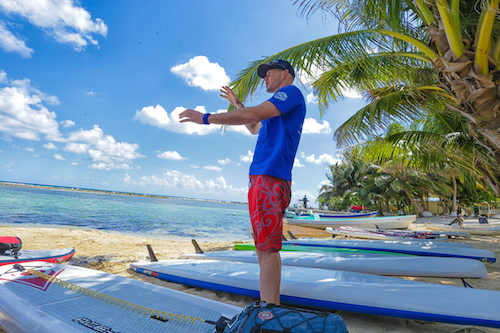 Norm teaching a SUP skills clinic

What is paddling the "Norm Hann" way and tell us about your coaching methods?
I began a career as a high school teacher and basketball coach transitioning into a passion for guiding clients and leading individuals from around the world in the Great Bear Rainforest. Now I'm a member of Paddle Canada and instruct standup paddleboarding at the highest level. So I have pretty much spent a lifetime involved with sport, coaching, guiding, teaching and taking care of people. I guess if there are three things I focus on in terms of SUP, it would have to be having fun, focusing on good technique and connecting to, caring for and respecting the environment you're paddling in.

How does Belize differ from other places that you have paddle boarded?
Belize is an incredible place to paddle in with warm water, idyllic tropical cayes and a beautiful culture that still harvests from the ocean. One of the aspects that stands out the most to me is paddling along the pristine meso american reef system which is the second largest barrier reef in the world. It's pretty incredible paddling from caye to caye in 4-5 feet of water along the reef where you can see all kinds of tropical marine species.

You and Tim (Island Expeditions Trip Director) worked together in Belize to design the Coral Islands SUP by Norm Hann trip itinerary and to train and certify the Belizean guides. What were some of the highlights for you from this experience?
It was great to connect with Tim and to see his passion for paddling in Belize. Tim has been in Belize a long time and his experience was valuable for helping to design the Coral Island SUP trip. The program first started with my visit to introduce the sport to the staff and guides. We had a great time that first year as it was all about fun and introducing the sport safely while looking for new SUP opportunities. Like Tim, I saw the massive potential for SUP in Belize and so the following year I was back again to guide yet another multi day paddleboard trip in Belize and Central America.

We also continued the training with the Island Expeditions guides and we now have six Paddle Canada certified instructors, who focus on safety, interpretation and technique. Belizean guides like Kimike, Terrence, Capistrano and Mario are natural waterman and have spent their life on the ocean and on inland rivers and waterways. Combined with the Paddle Canada training and an existing knowledge of their local marine and coastal environment...the sky's the limit for the paddleboarding program in Belize.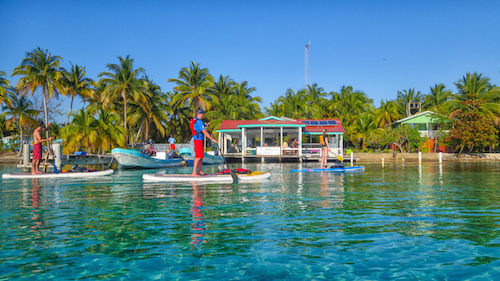 Paddling to the lodge at Southwater Caye

You guys came up with a pretty interesting SUP program, the first of it's kind in Belize and the Caribbean. In the process, were there any particular challenges that stood out? Can you give us some of the highlights?
I would say the biggest challenge for the program was at times dealing with the wind with inexperienced paddlers and being flexible enough to change the itinerary to either get out of the wind or take advantage of the wind. One of the fun aspects of the sport is downwinding and Belize provides an incredible opportunity to downwind. We did our first downwinder last year and had a blast.

On Day 1, we teach a skills clinic and get paddlers ready for not only improving their technique but getting comfortable dealing with wind or having the wind at their back. If the wind is not at the right angle then we head to the protected mangroves for a completely different flat water paddling experience. We have been experimenting with a sail on the board and they are very effective for travel in a straight downwind scenario. We also have a full time support boat so that gives us the ability to look for different options based on local weather conditions and to access amazing snorkeling areas as the SUP provides a great platform to dive from. The highlight for sure though has to be paddling along the reef crest when we paddle from Tobacco Caye to Southwater Caye.

What would Island Expeditions guests expect when they are in Belize taking the Coral Islands SUP trip when you are there and some trips when they will be with the trained guides?
Clients can expect a really incredible and unique place to paddle. The Belizean guides do an amazing job with interpretation and connecting you to environment. It's just such a unique paddling experience with the opportunity to see so much marine life.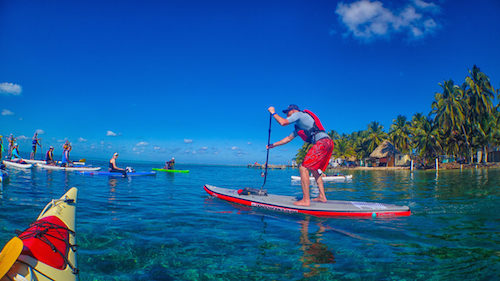 Practicing paddling techniques with Norm
For guests joining the Coral Islands SUP trip, what are some key ways they can prepare so they can make the most of the experience? What kind of experience or skill level do you need to participate in this SUP trip?
First of all, if you do not have a lot of experience and if you want to come on the trip then ideally I suggest finding an instructor in your local area who can introduce you to the sport safely and teach you how to correctly paddle. After that it's a matter of getting out to paddle consistently before the trip if you can. Having some experience and a bit of paddling fitness will help you to enjoy the week. We have had people with very little experience which is fine since I spend a lot of time teaching and coaching while we are on the trip. We also have our dedicated skills clinic on Day 1 that will greatly improve technique and skills. There is no doubt, that with the week of coaching you will be a better paddler when you leave Belize.

Can you give us a quick rundown on some of the SUP equipment (paddles, boards - the brand names and models etc) Island Expeditions will have down there in Belize and how they work in that environment?
Island Expeditions has done a great job outfitting this trip with good equipment. Tim has been very conscientious about what boards we are using for the trip. We use Werner paddles and BIC touring boards which are stable, efficient and contribute to a fun and enjoyable paddling experience. We have also been using inflatables which also work well. Personally, down there I will use my 12'6" Boardworks Inflatable Raven.

What makes the Coral Islands trip unique from other SUP trips you have experienced?
Since all of my other trips are in Canada, Belize is quite different! Warm water, lots of sun and like the Great Bear Rainforest...Belize has a rich, intact marine environment. I will never forget the first time I put my head under the water during a snorkel with guide Kimike. I could not believe the colors of the reef and the diversity of life. Tobacco Caye is my favorite island and it grows right along the reef crest as does South Water Caye. There are lots options for paddling and it's just an amazing country to spend a week in.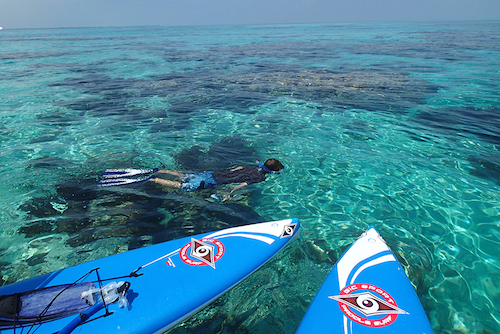 Snorkeling from the paddle boards

What are 3 'must have' personal gear items to bring with you on the Coral Islands SUP trip?
Bring a good sun hat with good coverage. I love my Shelta Hat.
Good water footwear to deal with the reef and that protect the top of the feet from getting burned on the paddleboards.
A GoPro or some type of waterproof camera. It is nice to take shots of the amazing underwater marine life in Belize.
What was your favorite "Belizean" new food you've tried on the trip?
By far my most favorite Belizean food was the conch soup! I could eat that all day long, so good!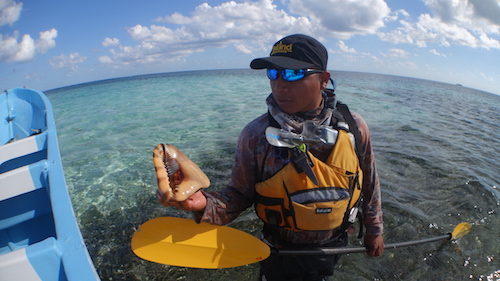 Guide Capi with a conch

If you go:
This is a great trip for anyone who is looking to learn more and improve their SUP skills in a beautiful and warm tropical environment.

There are five departures for the 6 night Coral Islands SUP trip for the 2016/17 season. Norm Hann will be guest instructor and trip coordinator on just 2 departures this season - January 28, 2017 and February 4, 2017. For more information visit the Dates and Prices page.