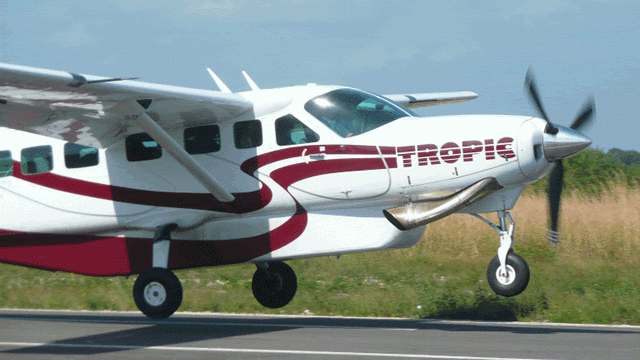 Getting to and around Belize is easy, thanks to lots of transportation options and a great infrastructure. We explore the best ways to get around Belize and visit all that this incredible country has to offer.

Where is Belize?

This maybe basic, but it is essential knowledge. Belize is located in Central America. To the north of Belize, is the Yucatán Peninsula, Mexico, to the west and south is Guatemala and to the east is the Carribbean Sea. Belize is about 290 km (180 mi) long and 110 km (68 mi) wide.

Belize Map

Flights to Belize

The easiest and most popular way to get to Belize is by flying into the Philip S. W. Goldson International Airport (BZE) in Belize City. There are five major US airlines and five other airlines that fly into Belize.

For more information visit our Belize Flight Information page.

Flying to Belize from Europe?

American Airlines offers a flight that departs London Heathrow with a short connection in Miami before landing in Belize City. This flight eliminates the need to have an overnight connection in the US. The flight runs year-round with the outbound flight operating four days per week on Friday, Saturday, Sunday and Monday and the inbound flight operating daily.

Getting Around Belize

Once you are in Belize, you can get around by plane, bus, water taxi, boat, car or even kayak! Check out our Belize self guided and kayak rental trips if you want to explore the Belize Barrier Reef by sea kayak on your own self-propelled adventure.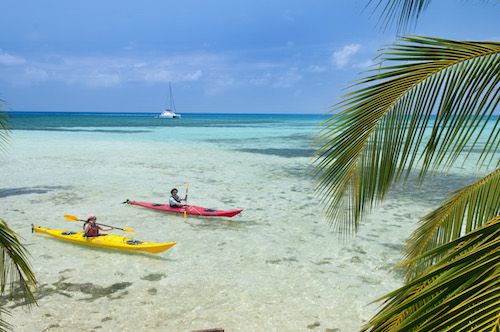 Kayak rental in Belize

Domestic Flights in Belize

One of the fastest and easiest way to get around Belize is by flying with one of the domestic airlines:

Tropic Air

Tropic Air flies to 11 domestic destinations within Belize including Corozal (CZH), San Pedro, Ambergris Caye (SPR), Caye Caulker (CUK), San Ignacio (CYD), Belmopan (BCV), Placencia (PLJ), Punta Gorda (PND), Dangriga (DGA), Orange Walk (ORZ). They also fly to destinations in Mexico, Guatemala and Honduras. Tropic Air offers a free baggage policy on domestic flights and free re-booking of domestic flights, if your flight into Belize International is delayed.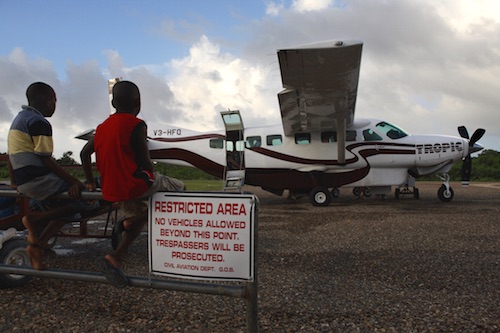 Tropic Air Belize

Maya Island Air

Maya Island Air serves 11 destinations in Belize including Caye Caulker, Corozal, Dangriga, Placencia, Punta Gorda, San Pedro Town, Savannah, Caye Chapel, Kanantik (Stann Creek) and Tower Hill (Orange Walk).

Belize Domestic Flight & Hotel Packages

If you need help with accommodation and domestic flights for the night before or after your Belize trip, make sure you check out this page. We have a great prices available on flights and hotels at the Belize Biltmore Plaza hotel and Bocawina Rainforest Resort.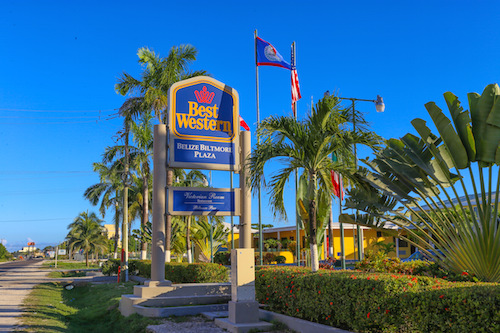 Biltmore Plaza Hotel in Belize City

Belize Bus Services

Belize has a good bus system, that is both inexpensive and reliable. This is how the locals get around and this travel option is a great way to immerse yourself into the culture of Belize.

Buses can be caught at bus terminals but can also be flagged down on the roadside. Major centers and destinations will typically have bus service to and from the area several times each day. Bus service to Belize's more remote villages and locations may only be available once or twice each day. There currently are not any reliable online resources for bus schedules, but once you are in the country, it is useful to ask some of the locals or go to a bus station. The major bus stations in the country are in: Belmopan, Belize City, San Ignacio, Benque, Dangriga, Placencia and Punta Gorda.

Tip: A useful and up to date resource to read for getting around Belize by bus is the Belize Bus and Travel Guide blog.

Taxi

Taking a taxi in Belize is a convenient way to get around Belize, especially when traveling shorter distances. Taxi companies operate out of all cities, and larger towns, and their vehicles are easy to identify with their green license plates. Taxi rates in Belize are very inexpensive and should be negotiated with the driver before getting into the vehicle. In most cases it is a fixed fare. Please note: Taxis will take US or Belizean currency.

Car Rental in Belize

Renting a car in Belize is a great option if you want to experience self-guided travel. Belize has a well-planned highway and road system and all of Belize's mainland cities, towns and popular attractions can be reached by car. Car rental agencies are based in Belize City as well as at Belize International Airport and other larger tourist destinations such as San Ignacio and Placencia.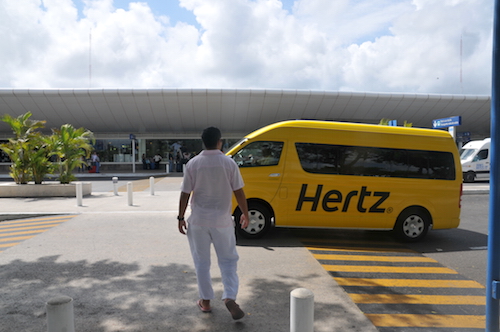 Hertz car rental at Belize International Airport

Water Taxi and Boat Charters in Belize

Water and taxi and boat charter is the main way to get around Belize's numerous cayes.

Water taxis make regularly scheduled trips between Belize City, Caye Caulker and San Pedro, Ambergris Caye. There are also daily charters between Porto Barrios, Guatemala and Punta Gorda, as well as Chetemal, Mexico to San Pedro, Ambergris Caye, Belize. If you are looking for a boat charter to get to Lighthouse Reef Atoll, Glover's Reef Atoll or Southwater Caye Marine Reserve: contact us directly and our experienced staff will help you plan your route and your adventure in Belize.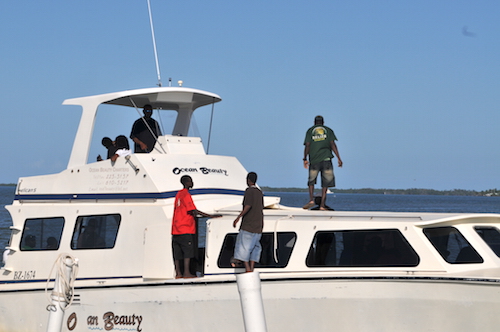 Boat charter in Belize

Save time, stress and book a trip to Belize that includes all ground transportation!

All our Belize trips include ground and/or boat transfers from the departure point. Let us help you get to the hard to see places in Belize including Lighthouse Reef, Glover's Reef, remote Mayan Villages and the islands in the Southwater Caye Marine Reserve. We offer year-round adventures in Belize to some incredible destinations including the Mayflower Bocawina National Park, Tobacco Caye, Hopkins and Placencia.

Questions?
There's a lot of ways to get around Belize! Our travel planners here at Island Expeditions have first hand knowledge of getting around in Belize. We can help you work out the best travel options, so give us a call at 1.800.667.1630 or email info@islandexpeditions.com for more information.

Happy Travels and see you in Belize soon!