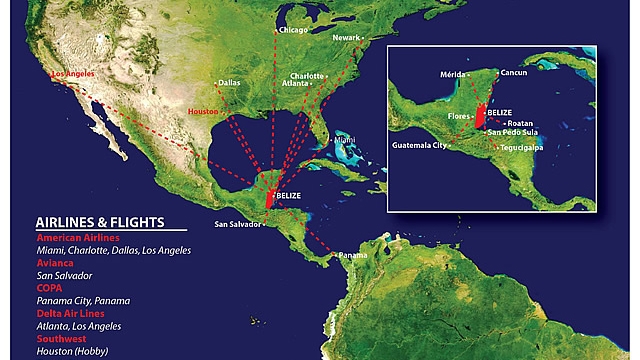 Need to get away and warm up but not sure how to get there? We have good news. As we approach the start of 2017, taking that much needed Belize vacation has never been easier. Just this year, we have seen new direct flights open up to Belize City from Toronto, Denver and Houston. American Airlines have just introduced a new schedule for flights from the UK, allowing guests coming from London Heathrow to arrive in Belize on the same day. This is all very exciting news for travellers thinking about escaping to Belize in the middle of a cold and long winter or at anytime of the year. There's so much to do there now...even in the summer!

In this post, we explore the best options to book flights and how to find the best fares possible so you can get there even on a budget. Although, we don't book fares for our guests, we are more than happy to provide assistance in finding flights to Belize for your dates of interest.

Contact Us Today And Find Out More About Our Trips to Belize

Start with a Flight Research Tool

We suggest using Google Flights to help you find the best deals and routes for air travel. For a bit of a techy background - Google purchased ITA in 2011. This is the company that powers airline comparison shopping for sites like Travelocity, Priceline, and Expedia. So you can be comfortable knowing that your Google Flight search will likely pull up all the same results as other flight search engines. Google Flights search function is fast as well. There are some other great features on Google Flights such as the 'Date Tip' bar. This will tell you that by traveling on different dates (usually a 1 or 2 earlier or later) you could get a better airfare. The 'Track Price' function allows you to receive emails with price changes and travel tips for the route you have in mind.

Book Directly with the Airline

Once you have found the flight to Belize that works for you, you will be given options on how to book at Google Flights. At this point, we suggest booking directly online with the airline. By booking directly with the airline you will eliminate paying any service fees that you may possibly encounter with other online travel agents.

Southwest Airlines - The One That Does Not Show Up On Flight Searches…

Southwest Airlines now offers direct flights to Belize City from Houston and Denver. However, Southwest Airlines fares are only available to book directly. Their flights will not show up in Google Flights or other search sites such as Expedia.

Southwest Airlines offers a nonstop flight to Belize from Houston's Hobby Airport's International Terminal. You can also take advantage of connecting service through Houston from Chicago (Midway), Dallas (Love Field), Denver, Los Angeles (LAX), New Orleans, Oakland, San Antonio and San Diego.

Southwest Airlines announced that starting March 11, 2017 they will be operating a new seasonal direct flight between Denver, Colorado and Belize City, Belize. This new flight will operate on Saturdays, between the periods March 11, 2017 to April 22, 2017.

Southwest Airlines have been offering amazing 'Wanna Get Away' fares for travel to Belize on select dates.

WestJet - Direct nonstop flights from Toronto to Belize

WestJet now offers direct flights between Toronto and Belize, two days per week on Wednesdays and Saturdays. WestJet will depart from the Toronto Pearson International Airport at 9:15am and arrive at Philip S.W. Goldson International Airport, Belize at 12:59pm. The return flight will depart Belize around 1:50pm.

American Airlines - New flights from UK to Belize

On November 4, 2016, American Airlines introduced a new flight that will eliminate the need to have an overnight connection. Before visitors from Europe could not travel to Belize on the same day. The new flight will depart London Heathrow and offer a short connection in Miami before landing in Belize City. The new flight will run year-round. The outbound flight will operate four days per week on Friday, Saturday, Sunday and Monday and the inbound flights will operate daily.

The Cheapest Way to Get to Belize

If you are visiting Belize on a budget and are looking for the cheapest option to get there, this is one option to explore. Take a flight to Cancun (there are many cheaper charters flights available to Cancun from both North America and Europe) then hop on the ADO Bus on their overnight service from Cancun to Belize City. Tickets are approximately $45 USD one way and the journey takes about 8 hours.

Tropic Air offer a direct flight service from Cancun (CUN) to Belize (BZE) with fares starting at $230 USD one way.

If you go:

You're getting warmer. Once you have found your flights to Belize for that perfect price, contact us right away at 1.800.667.1630 or email info@islandexpeditions.com and we will start planning the rest of your trip. Make sure you look at our Belize trip specials page for the latest offers and sign up to our newsletter for all our news and exclusive offers.