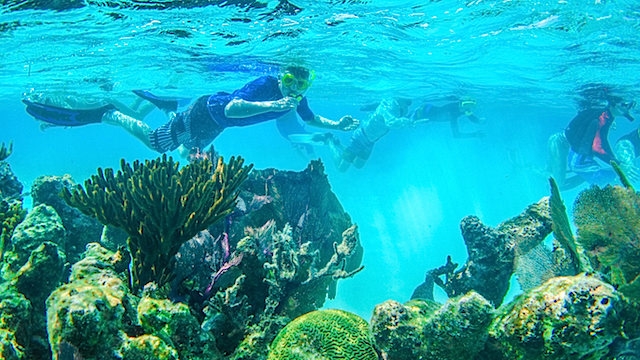 The Belize Barrier Reef stretches from Bacalar Chico to the Bay of Honduras. It is home to hundreds of small islands (cayes) and is known for its spectacular corals and abundant marine life. The Belize Barrier Reef is the ultimate destination for a tropical snorkeling adventure.

Check out our Belize Snorkeling Adventure video.
Your Guide to Belize Barrier Reef Snorkeling

Where To Snorkel in Belize

Belize has an expansive network of marine parks and there a few places on earth to match the undersea world of Belize. The premiere destinations for snorkeling in Belize are the Southwater Caye Marine Reserve , Glover's Reef Atoll and Lighthouse Reef Atoll .

These detailed maps show some of the most popular dive and snorkel sites in Belize:

Lighthouse Reef Atoll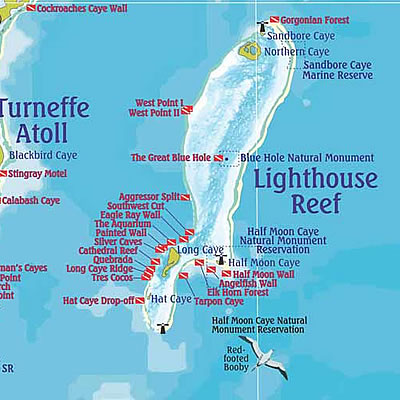 Glovers Reef Atoll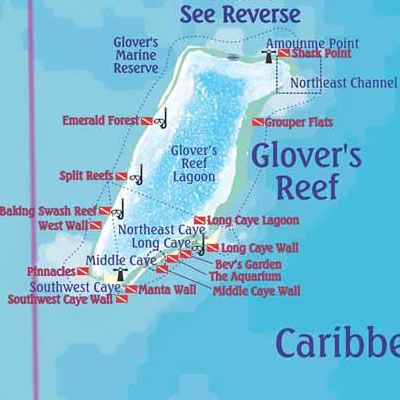 Southwater Caye Marine Reserve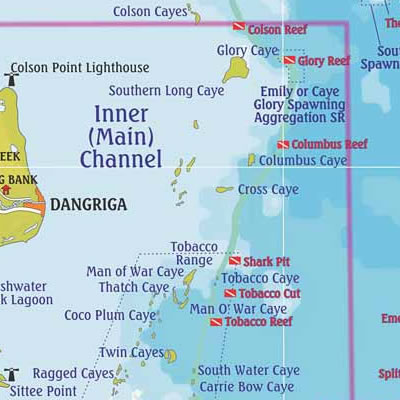 When To Snorkel in Belize

You can snorkel in Belize all year round. However, the dry season is from November to May and is generally the best time to visit and snorkel the Belize Barrier Reef. Visibility remains constant year-round away from the mainland shore.

What to Wear for Snorkeling in Belize

For a Belize snorkeling adventure, a lightweight wetsuit or a spandex/lycra dive suit is recommended and this will keep you from getting cold, especially when spending extended time in the water. Another option is to wear polypropylene or capilene long underwear and this method doubles up as protection from sunburn. Wearing a wetsuit or long underwear also reduces the need for full body application of sunscreen in the water, as residues from sunscreens will harm corals and cause bleaching.

Snorkeling with Sea Life in Belize

Belize is home to hundreds of the world's most unique underwater creatures. Some of the more interesting creatures you can expect to snorkel with in Belize include:

West Indian Manatee

Manatees (or sea cows) are gentle giants that live their lives in the water, even though they are mammals. Growing up to 15 feet in size, the females are larger than the males and can weigh up to 3000 pounds, though typically they will be 10 feet and 1500 pounds. Some of the best areas to spot these incredible creatures are at the Village of Gale's point, near Dangriga and the Swallow Caye Marine Reserve, which can be accessed from Caye Caulker or Ambergris Caye.

Manatee in Belize

Rays

There are three main species of rays you can look out for when snorkeling in Belize; the southern stingray, the spotted eagle ray and manta rays.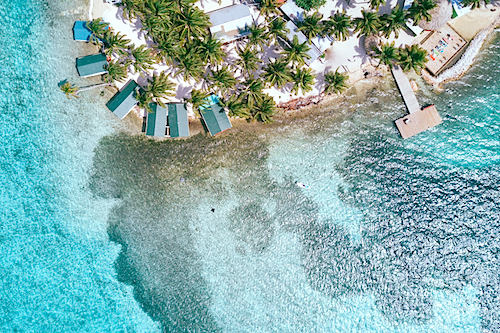 Can you spot the ray? Snorkeling in the clear turquoise waters at Tobacco Caye, Southwater Caye Marine Reserve.

Sea Turtle

Belize is home to three species of sea turtles. The green turtle, the hawksbill and the loggerhead turtle. Sea turtles congregate around Belize due to the ideal feeding and nesting conditions. A Belize snorkel trip is a once in a lifetime chance to experience these fascinating reptiles in the wild.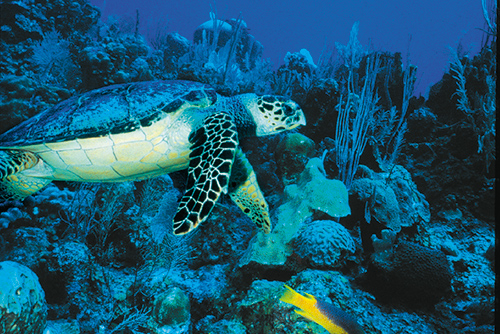 Snorkeling with turtles in Belize

Whale Sharks

The whale shark is not a whale, but it is the largest fish in the world. Whale sharks gather in Belize during the spring months when their food supply of snappers is spawning in the area. One great spot to see them is at Gladden Spit, near Placencia in the southern part of Belize. Their gentle nature and calm demeanour make them a popular ocean giant for snorkelers to swim along with.

Related Links:
Ready to go? Find the right Belize Barrier Reef Snorkeling Tour from Island Expeditions.

If you go:
Almost all our Belize trips involve snorkeling. You can use our new Trip Search feature to find the perfect Belize vacation. Contact one of our travel specialists at 1.800.667.1630 or email info@islandexpeditions.com and let us help you plan your Belize snorkeling adventure today.