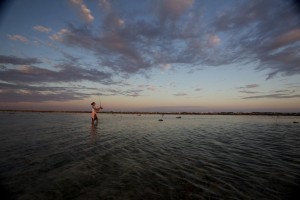 Fly-fishing at Glover's Reef
Dangriga, Belize, February 26, 2013
Island Expeditions will have guest fly-fishing instructor Kelly Steigman and certified yoga instructor Ainsley Magno on select April 2013 Belize adventures on Glover's Reef Atoll. Fly-fishing and yoga add some fun, new dimensions to their popular Glover's Reef and River of Caves and Glover's Getaway Belize vacations, which already include activities such as sea kayaking, snorkeling and stand-up paddleboarding. These trips make it easy for all travelers to get what they want out of a holiday, with activity choices that appeal to diverse interests, and the flexibility to do things together or separately.
Kelly Steigman will be bringing along five complete sets of fly-fishing gear, and will be providing full instruction from beginner casting to fly-tying, as well as techniques for the more experienced. For seasoned fly-fishermen, this is a great opportunity for them to bring down their own gear, and to learn more about saltwater casting techniques and angling in Belize' tropical waters.
Ainsley Madno will be returning to Glover's Reef for her second season, hosting early morning yoga-by-the-sea plus some additional afternoon sessions. Ainsley received her instructor certification near New Dehli, India. She is the founder of YellowYogi.com and Cofounder of LifeHouse Retreats, based out of Victoria, BC.
Belize April 2013 Value-Added Trips
Featuring guest fly-fishing instructor & certified yoga instructor for no additional charge.
Glover's Reef & River of Caves:April 8 & 15 departures. 7 days, 7 nights. $1899
Glover's Getaway: April 14 & 21 departures. 3 days, 2 nights. $549
Island Expeditions Glover's Basecamp Adventures include accommodations, meals, professional guides and sports instruction, plus unlimited use of kayaks, snorkels, stand up paddleboards and other equipment. Glover's Reef Marine Reserve is a World Heritage Site, and considered to be one of the richest tropical marine environments in the entire Caribbean Sea.
The Glover's Reef and River of Caves trip also includes a leisurely float down a rainforest river with inner tubes, exploring a fascinating limestone cave. At the Belize Zoo, guests now get an up-close encounter with a jaguar as they are taken on an insider's tour of the zoo's first-ever of its kind wild cat rescue program.
Book now. Call 1-800-667-1630 for trip information and to request a 36 page free Belize adventure guide.
About Island Expeditions - Leading the way to adventure for 27 years
Island Expeditions specializes in Belize and Yucatan adventure travel, offering small group trips to special places where few others travelers go...remote coral reefs, tropical rainforests and rich indigenous cultures. Trips provide skilled instruction in outdoor activities, as well as fun, learning and genuine interaction with the local people. No experience is necessary and trips are suitable for all levels. Island Expeditions is committed to responsible tourism, conservation and local education, supporting the Belize Zoo, Belize Audubon Society and local conservation initiatives. For student groups, Island Expeditions has been offering specialized programs for high schools, colleges and universities for over 20 years.
National Geographic Adventure Magazine rated Island Expeditions as one of the 'Best Travel Companies on Earth'.